If you have an online store and offer digital products to your customers, you need to add a Shopify digital downloads app. You will find so many digital download Shopify apps available in the store. It is good, but it can confuse you when choosing one app for your store. In this article, you will know about the top 7 best digital download apps for Shopify stores.
List of Top 7 Best Digital Download Apps for Shopify stores
We made this list based on search results, rating reviews, and so on. There are many more good digital download Shopify apps out there. So, if you do not find an app name in our list, there is no way to think that the app is bad. We are sharing the top 7 best digital downloads apps for Shopify stores in our findings.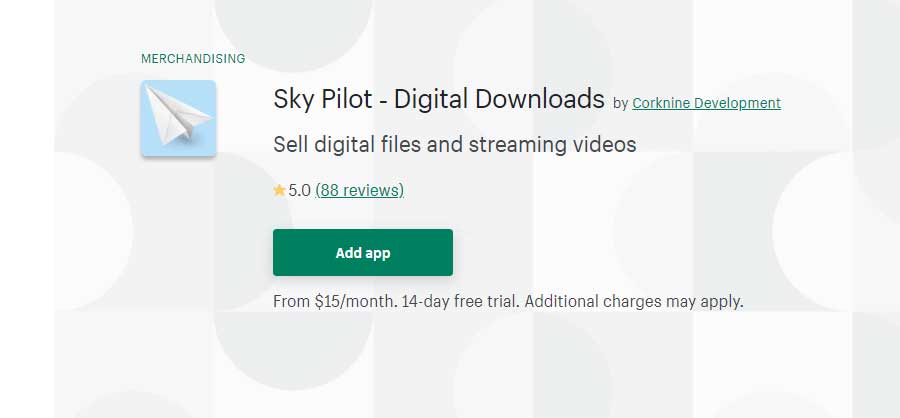 Sky Pilot allows you to deliver all kinds of digital products to your customers. It has a strong security system that monitors access abuse alerts, expired access, and limited downloads. In addition, it allows adding multiple files to a product. When the customers complete the checkout, they will redirect to a page to see the files and download them.
Features:
Deliver multiple digital products

Deliver files to your clients easily and quickly

Attach downloadable links to the items

Make the download process highly secured

Allow you to customize the delivery page
Rating:⭐5.0
Price: 
Lite-$15/month

Basic-$30/month

Advanced-$75/month

Plus-$150/month
If you are running an online store with several digital products, this FetchApp can be your first choice. It can handle plenty of orders and allow you to manage them in one place. It has a unique server system that ensures super-fast download. It also offers great customer service to its users. The FetchApp keeps updating from time to time and adding new features regularly. 
Features
Attach digital files to products

Deliver digital products to your clients

Provide clients the optimum speed of downloading

Manage multiple orders just in one place

Import and syncs items to your shop simply
Rating:⭐4.9
Pricing:
Free

$5/month

$10/month

$20/month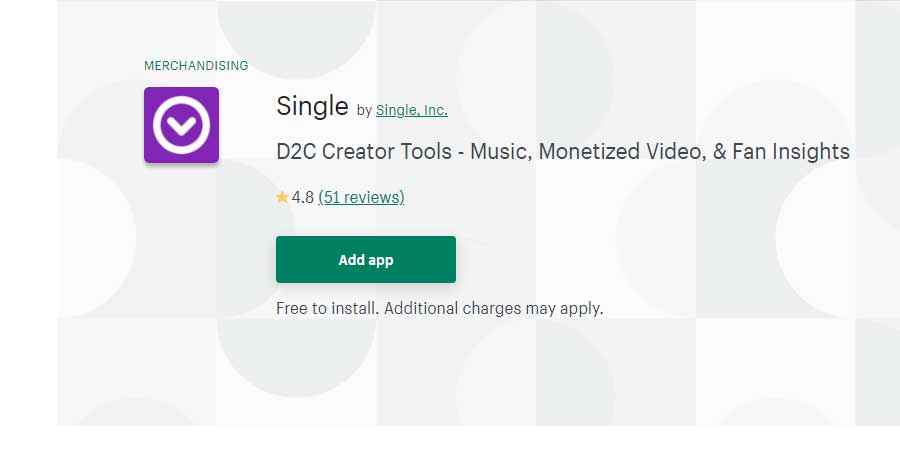 Single is a great app that helps to sell downloadable items, especially music. It offers a lively interface where album templates and audio previews are displayed to attract customers. In addition, this app includes so many developer tools such as staff account, developer mode, multi-store management, and open-source templates to help store owners. This app has many things to offer to its users and makes it easier to sell digital products. Moreover, installing and managing this app is so simple, even beginners can use this app without any trouble.  
Features
Attach links to digital products

Provide you with a lively interface

Allow you to manage products easily

Deliver the items to clients instantly

Display album templates and audio previews
Rating:⭐4.8
Pricing: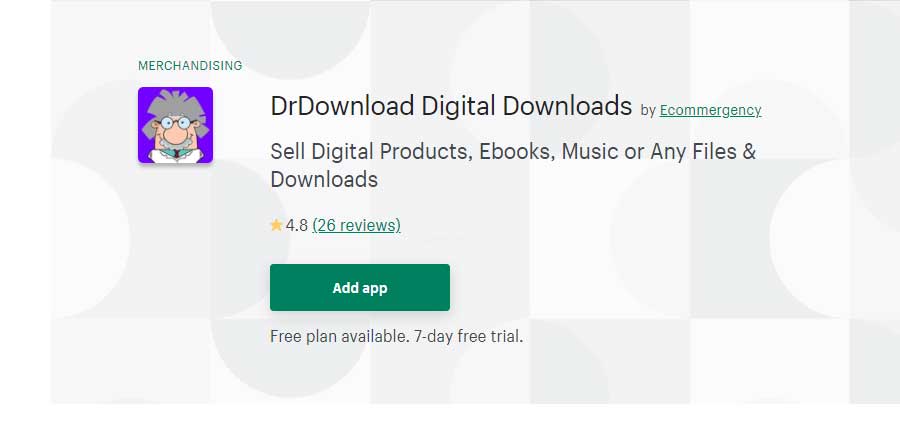 This app easily integrates with Shopify stores and ensures the delivery of digital products automatically. You can use this app to offer all kinds of digital items such as music, ebook, PDFs, and software. You will be able to deliver products through email or directly from your store. In addition, the app's easy management system helps store owners manage all the tasks on one page.
Features
Seamlessly integrates with your store design.

You can deliver your files by email or directly from your store page

You can attach and sell a PDF or an entire mp3 album.

Track and manage all your orders easily

Attach files to products, restrict downloads by time or quantity.

Instantly delivers your digital content; no manual fulfillment is needed.
Rating:⭐4.8
Pricing:
Free

Basic plan- $9.99/month

Pro plan- $19.99/month

Premium plan- $39.99/month
You may also read: Promote Shopify Stores: 8 Proven Tips to Promote Shopify Stores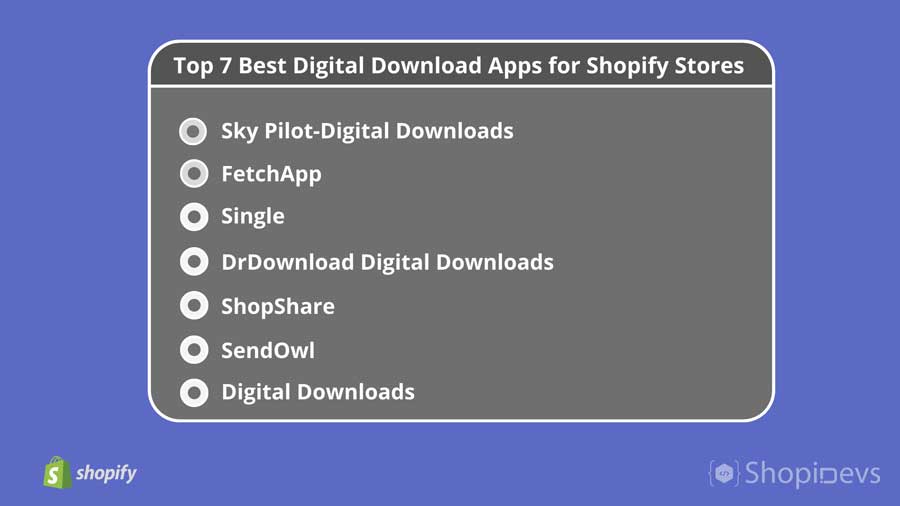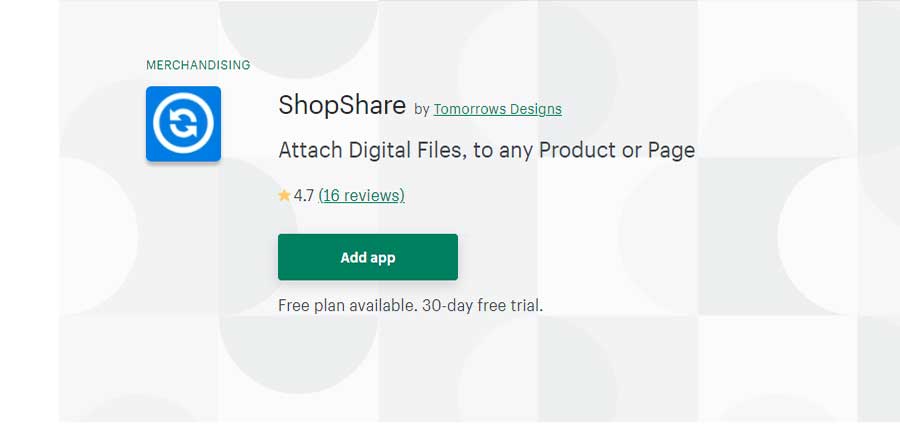 ShopiShare is a very well-known app to store owners who offer digital products. It is so helpful and seamless that inspires store owners to sell digital items more and more. In addition, it allows users to add more videos to their page to attract more customers.
Features:
Offer icons displayed instead of files

Allow you to attach digital files to your items

Fasten the download process

Allow you to view all download analytics

Attach videos to illustrate your items on your page
Rating:⭐4.7
Pricing:
Developer-Free

Personal- $9.95/month

Professional- $14.95/month

Unlimited- 24.95/month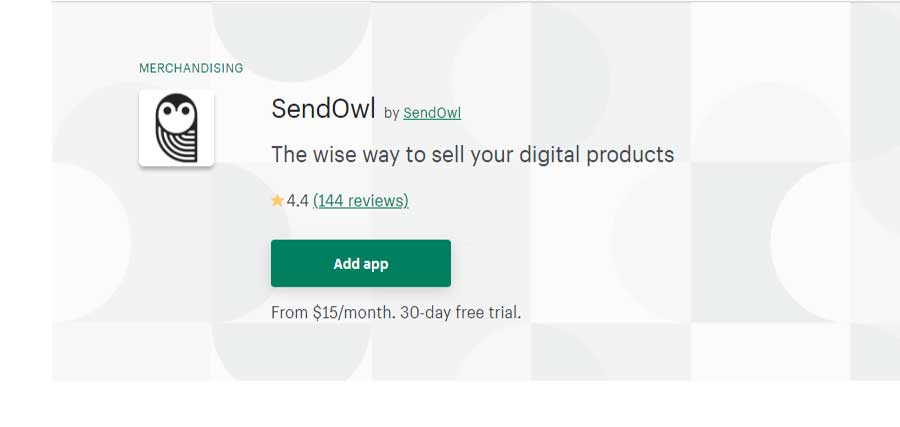 It is one of the most top-rated and popular digital download apps for Shopify. Using this app, a store owner can offer digital products such as photos, audio, videos, ebook, software, podcasts, and many more. This app ensures high security and a smooth process. First, you have to upload your digital products; the rest of the tasks will be done by the SendOwl. If you have a variety of digital products in your store, you should try this app. It is good to deliver multiple files simultaneously, and customers can enjoy a faster download system.
Features
Provide customers with highly secure downloads

Make the download process faster

Deliver files to clients instantly

Allow you to offer multiple digital products to your clients

Deliver multiple files at once
Rating:⭐4.4
Pricing:
Standard- $15/month

Premium- $24/month

Business- $39/month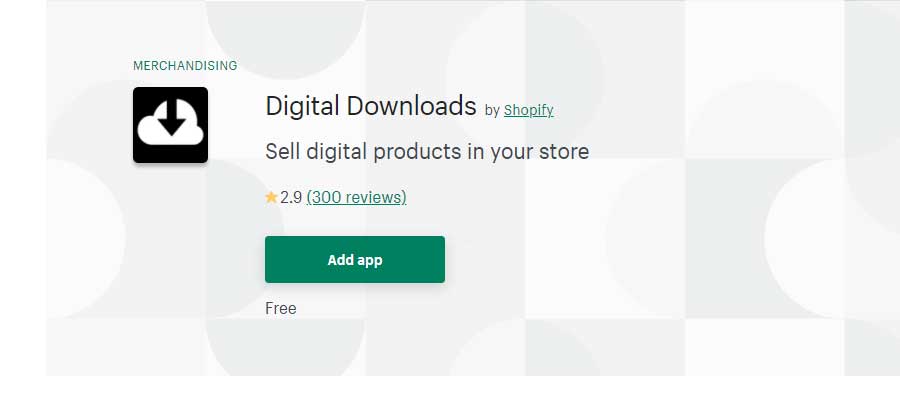 Shopify has apps for almost every feature you need to run a business. To help people selling digital products through Shopify stores, Shopify has its free app called "Digital Downloads." Using this app is easy to use and very helpful for any beginners. Although this app is completely free, it is awesome for basic usage.
Features:
Send the attached files to clients immediately after checkouts

Set downloads limit if it is necessary

Offer digital download links

Attach files to your products

Send updated download links to customers
Rating:⭐2.9
Pricing: Free
To sum up our findings, there are many apps available for digital downloads that you can use in your Shopify stores. Based on our research, among all the digital download Shopify apps, these are the top 7 best digital download apps for Shopify stores. Do you agree with us? If you have different opinions about the list, let us know. We would love to see your list of the best digital download apps for Shopify stores.