Shopify image slider app is created to take your store to the next level. An online store without eye-catching images looks dull and does not attract customers. Image slider apps are the easiest way to display your images beautifully that attracts visitors. When the visitors get interested in your store, they tend to spend more time in your store and browse multiple pages. It will help you inspire them to make a buying decision. In the same way, it will be an excellent opportunity for you to upsell or cross-sell your products.
If you think your store looks dull and does not attract more visitors, you should try a Shopify image slider app. There are so many slider apps available in the store that you can try on your store.
Let's see the 10 best Shopify image slider apps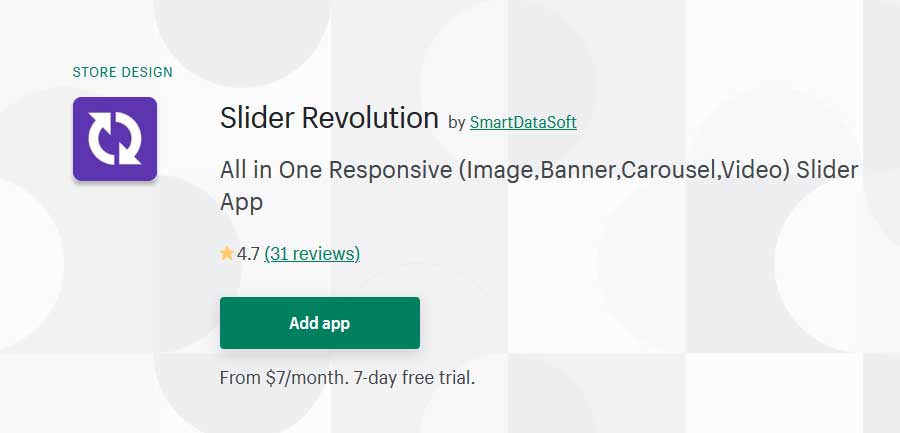 Slider revolution by SmartDataSoft is one of the most popular slider apps in the Shopify app store. If you think coding is not your thing, you will love this app. The drag and drop editor will allow you to display your content with the most vivid visual effects. It is not only a Shopify image slider app; you will be able to create any slider, carousel, hero scene, even a whole front page with it. Besides that, this app allows you to show social content from various social media such as Facebook, YouTube, and Instagram.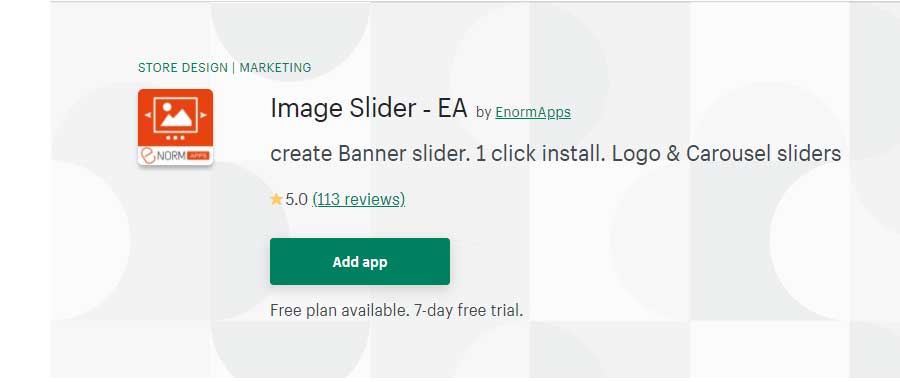 Image Slider-EA by EnormApps distinguishes itself from other Shopify image slider apps with its neat layout. You can create eye catchy logo sliders to draw the attention of the visitors within a few seconds. Whether it's an image slider or a carousel slider, you can keep a neat layout in your store. You can display your brands with an image slider and add links to the images to direct your customers to the specific pages.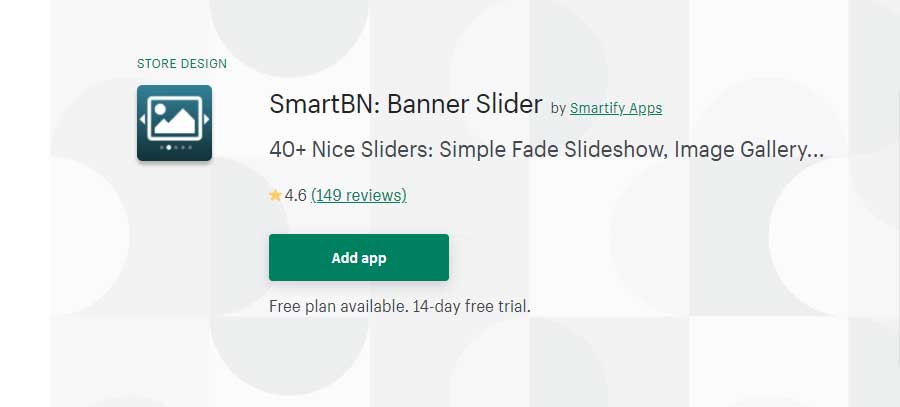 SmartBN: Banner Slider by Smartify Apps has made a great change in the banner slider. You can design different kinds of banners, image sliders, simple fade slideshow, banner rotator, banner slider, image gallery, carousel slider with its friendly back-end management system. It supports more than 40 sliders. Optimizing the loading speed is a fantastic feature of this app. This app is worth trying if you are looking for a good image slider app for your store.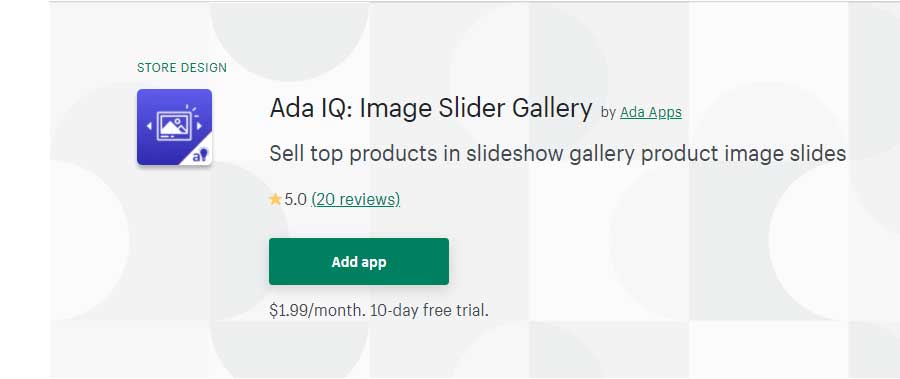 Image Slider gallery by Ada Apps is the best slider app to showcase the most impressive products you have in your store without coding. You can create a slideshow with images and place them anywhere you want on your page. You can even put the same slideshows as many times as you want on the same page. Moreover, there is no limitation of slide numbers in a slideshow. Upload any picture and link it anywhere in your store. This app can be listed as one of the best Shopify image slider apps to promote your products and increase sales.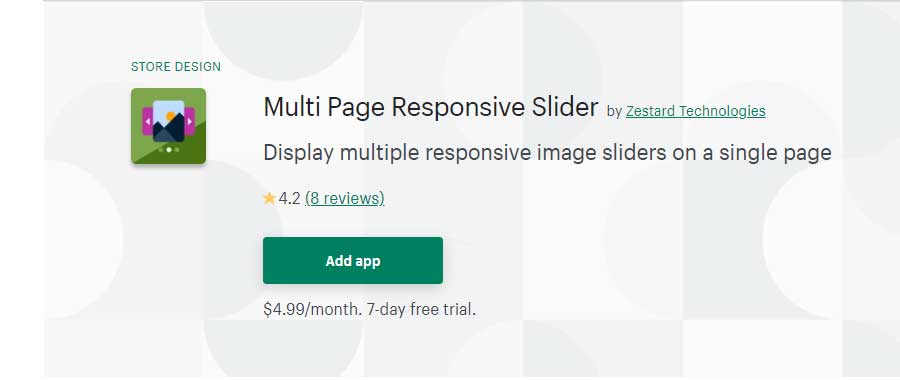 Multi-Page Responsive Slider by Zestard Technologies is very effective in showing multiple responsive image sliders on a single page. Suppose you want to showcase a series of pictures on one single page like a digital photo album. This app is handy for corporate to highlight diversified information such as company background, products and services they offer, and so on on the same page.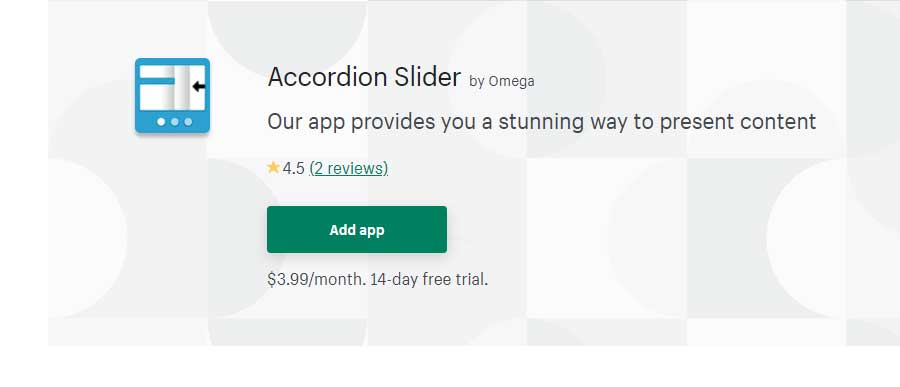 Accordion Slider by Omega is a touch-enabled slider that presents the content with seamless animations and transitions. Displaying your content in accordion style helps you to attract the audience to stay in your store for a longer period of time. It will fulfill your need to use multiple sliders on a single page. Moreover, it ensures a perfect presentation for all kinds of devices.
You may also read: Promote Shopify Stores: 8 Proven Tips to Promote Shopify Stores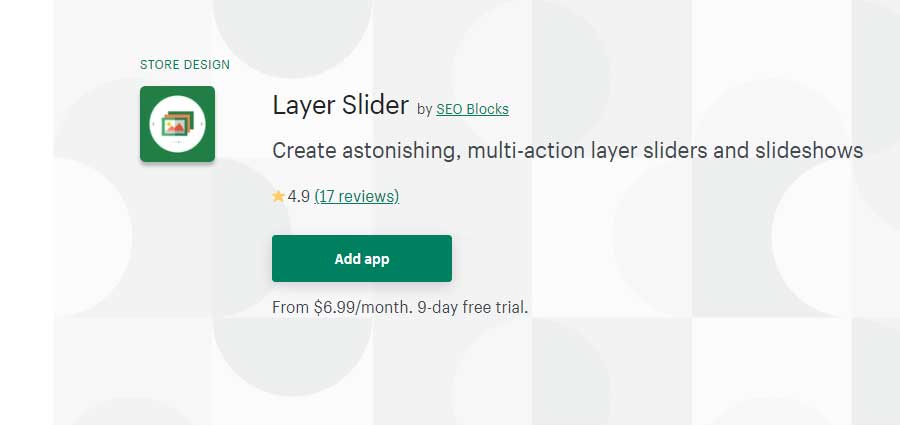 Layer slider by SEO blocks helps to make your content more presentable to your audience by creating stunning, multi-action layer sliders and slideshows. Create a mind-blowing portfolio without coding because this app has a drag-and-drop visual editor at your convenience. It is the slider that will help you spice up your website with high-quality image sliders and extraordinary animation.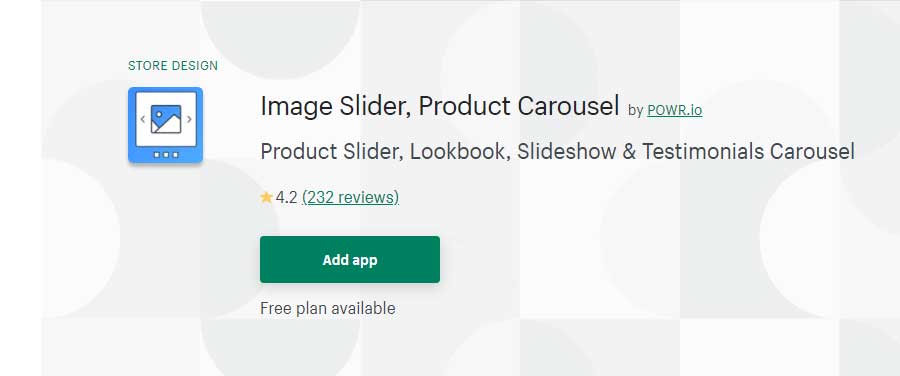 Image Slider, Product Carousel by POWR.io is an awesome image slider that will give you more freedom to play with your style. It would be best to create an image slider, testimonial slideshow, custom lookbook; you should try this app. It will allow you to add captions, keys, slider arrows, images, backgrounds for sliders, and so on. You can also choose from the style of a carousel or slideshow to begin with.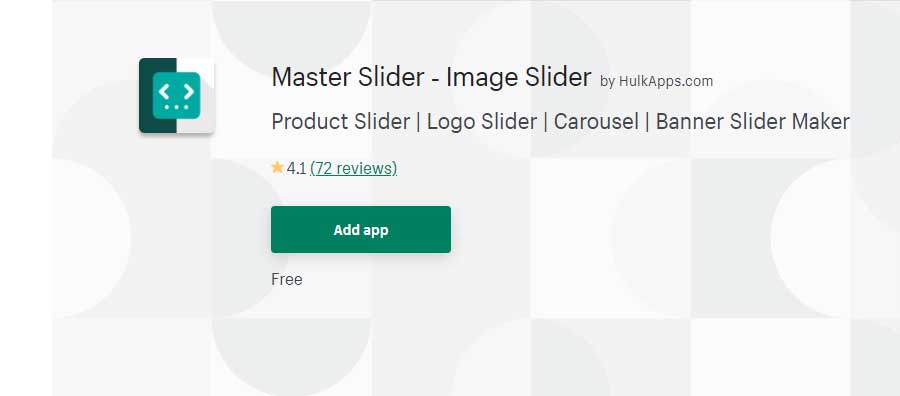 Master Slider‑ Image Slider by HulkApps offers eCommerce entrepreneurs to attract more customers and ensure better engagement with mind-blowing sliders. Using pre-designed templates and customizing them to match your brand that what you really need to distinguish your brand from those of others. To ease this customization process, it has come up with an easy drag and drops editor. If you need to use multi-language texts on your sliders, it is the slider app The text displayed on your slideshow is supported in all languages, and the app is responsive on all mobile devices.
Elfsight Image Slider by Elfsight is a Shopify image slider app that will help you with various options to make your sliders more interactive so that the visitors will not be able to avoid them. It works great when you want to create clean and modern features with the fullscreen background color. You can also add various elements such as texts, titles, badges, and buttons to make your sliders more appealing.  Moreover, you can create fantastic image sliders that can fulfill your demands. 
These are the 10 best Shopify image slider apps that you can try in your store to make your content more visually presentable. Remember, your customers will not stay on your website if you cannot draw their attention. Therefore, you should create eye-catching content to create a good impression on your customers at the beginning so that they get interested in staying longer in your store. Moreover, using this method, you can retain your customers as well.