CRO Shopify or Conversion Rate Optimization Shopify is a crucial technique that can elevate the conversion of your eCommerce. If you have a Shopify eCommerce store but do not have the desired conversion from your visitor, you should definitely try CRO. Do not have proper knowledge about CRO? Do not worry, I am giving you a complete guideline about Shopify CRO.
CRO Shopify tactics for eCommerce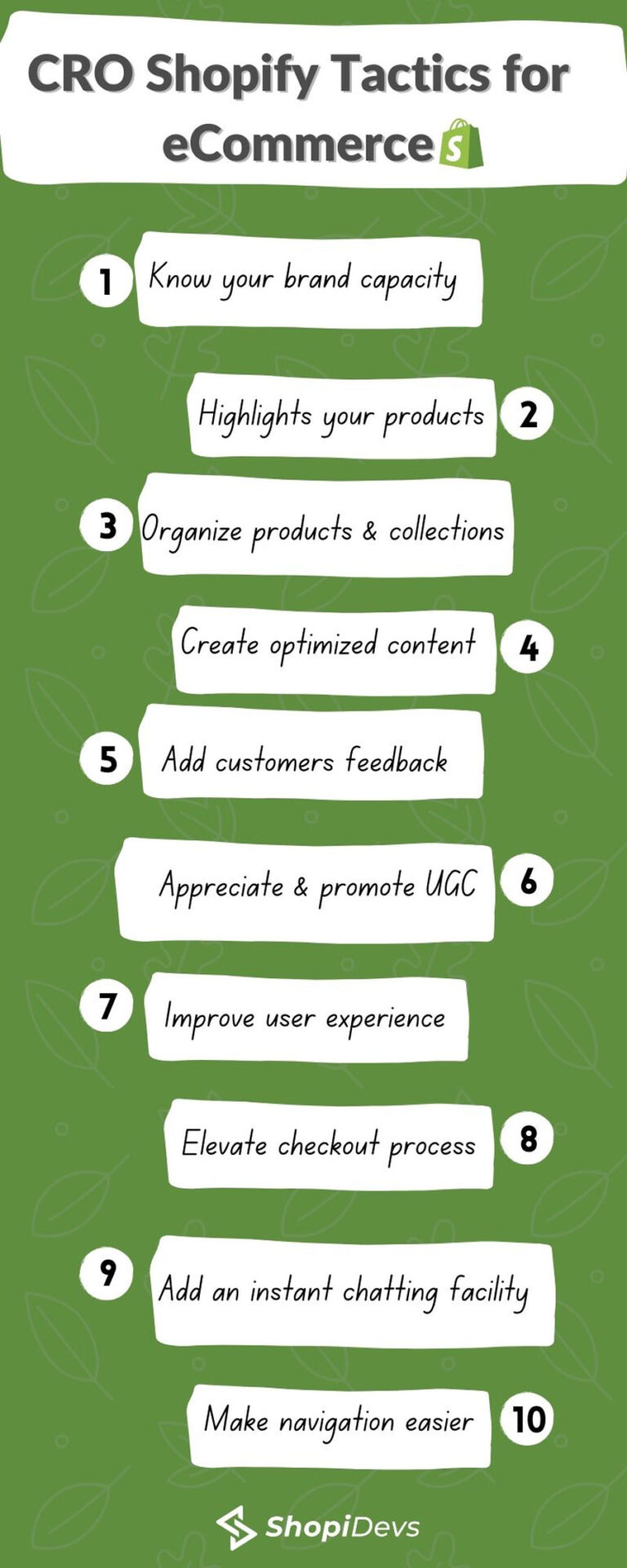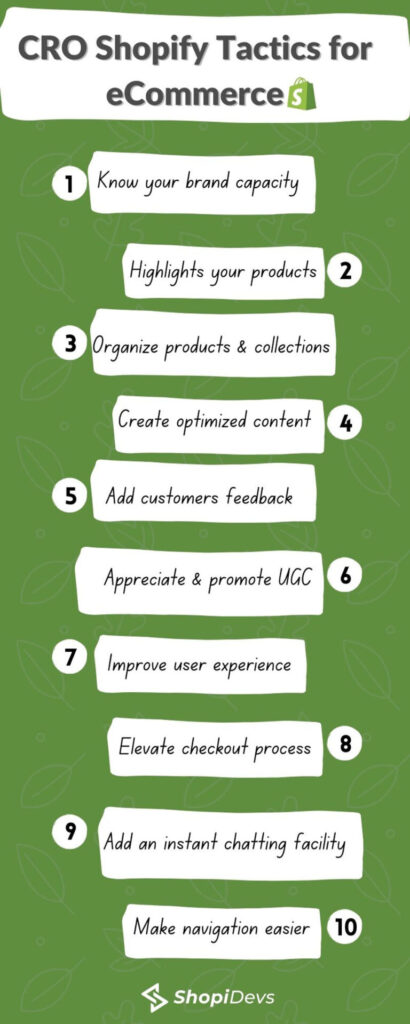 1. Analyze data to know your brand capacity
When you have been running your eCommerce store for a while, you can get the data from Shopify's build dashboard or Google analytics. This data provides valuable insights that help you understand the strength and weaknesses of your brand. If you are aware of your brand capacity, it will help you create new strategies or adjust current strategies to reach your goal.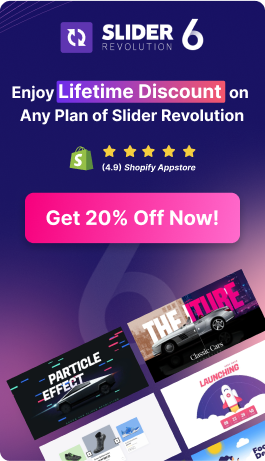 2. Highlights your products
The most important thing about your eCommerce store is your products. Make sure you highlight the products properly. There are some things that you may consider to highlight your products.
Add clear & high-quality product images
Add multiple images
Add images from different angles
Write a detailed product description
Use proper keywords for SEO
3. Organize products & collections
In Shopify, you can organize your products in the most user-friendly ways. Here, you can optimize individual products as well as a group of products. You can group similar products based on different criteria and that is called "Collection" in Shopify. If you want to get more information on this topic, you can read How To Organize Products On Shopify. You will learn some tips to organize your products in the best way in the Shopify eCommerce store. Organized products and collections help to get the result of successful CRO Shopify.
4. Create optimized content
The content you place in your store can be a great way to increase conversion. You need to consider all types of content such as text, images, audio and videos. If you have a good number of visitors and you have products on your site, it can be your content for what customers are leaving without making a purchase. On the other hand, having reach content on your eCommerce store can attract more visitors and convert them into customers.
5. Add customers feedback
Nowadays, people have a tendency to purchase products from the store that has good customer feedback. People trust the word of mouth and customer reviews more than advertisements. So, if your store has no customer feedback yet, you consider adding customer feedback to build customer trust. When a website becomes more credible to the customers,
6. Appreciate & promote UGC content
UGC refers to the content created by the customers. UGC is great for a brand as it shows another level of brand loyalty and customer satisfaction. When your customers are talking about your brand and sharing content on social media, it increases the social proof and credibility. So, consider UGC as a powerful technique to perform CRO Shopify.
You may also read: How to Dropship from Home Depot to Shopify
7. Improve the user experience
User experience plays a vital role in conversion. If your site fails to provide a good user experience, you will never get the desired conversion. Bad user experience leads to a high bounce rate and it's bad for CRO Shopify. Besides that, you need to ease the customer's journey. You can also attract users using different eye-catching sliders, banners, popups, sticky notification bars, and so on.
8. Make a faster and easier checkout process
A lengthy and complicated checkout process is not user-friendly that increase the number of abandoned carts. When you are ensuring an easy and minimal step checkout process, customers will be able to complete the process and purchase from your store.
9. Add an instant chatting facility
Customers have many queries when they browse your store and they want to communicate with you. The problem is many eCommerce stores have no instant chatting system which makes it harder for the customers to communicate with the brand. As a store owner, you need to minimize the customer's effort to fulfill their queries to adopt CRO Shopify. At present, there are many awesome chatbots out there to fulfill your needs. You can choose anyone based on your budget and other preferences.
10. Make navigation easier
When we are talking about eCommerce stores, there are tons of categories and sub-categories of products that may seem difficult for a user to find out the desired one. If you make the navigation easier, it will improve the user experience and increase the conversion. It's better to avoid complex site structures if you want to turn your visitors into customers.
Conclusion
Now you know the tactics of CRO Shopify that can help you increase the conversion rate on your eCommerce store. Apply the tactics to your eCommerce store and see the magic of it. It will dramatically increase the conversion rate and boost your revenue.