Hi there! Have you ever try WhatsApp integration for Shopify? In this article, we will discover how to integrate WhatsApp into the famous eCommerce platform Shopify in a few steps and why it can be a fundamental operation for your eCommerce.
Shopify is an eCommerce platform that allows the user to create, customize and manage their online store with just a few clicks, without any prior programming knowledge. Already more than a million entrepreneurs have chosen it for the management of their online sales.
Shopify allows all its users to use 256-bit SSL certificates for payments, which guarantees maximum security for customers. Check-out pages are reliable and professional-looking, leading the user to conversion.
In addition, within the platform, it is possible to integrate thousands of applications and tools of all kinds, from e-mail marketing to feedback collection. In this sense, we want to talk to you about how to integrate one of the main messaging applications, WhatsApp, to better manage communications with your reference target.
What are the Differences Between WhatsApp and Traditional Live Chat Tools?
Anyone who is starting to take their first steps in conversational marketing has probably wondered: why not integrate a simple traditional Live Chat tool (ex:- Shopify Live Chat tool) instead of WhatsApp integration on the website?
We seek to understand the reasons why integrating a live chat is not a definitive solution, but a method that does not promise good long-term results in a communication strategy.
In the first place, because a live chat is not an asynchronous channel, that is, it is necessary for the user to be online so that there can be an interaction with an operator, making communication confined within the web page.
With WhatsApp, on the other hand, you can easily reach your customers through their smartphones wherever they are and at any time, overcoming the communication barriers that live chats have.
In addition, with the famous messaging application you can save the history of the chats that are made with users, keeping track of each interaction with them, and thus having valuable data available to improve future interactions.
One of the most important advantages of WhatsApp is the high message reading rate, which greatly increases the probability that a user will purchase your products or services.
However, the use of WhatsApp does not allow knowing exactly from which page the visitor arrives, much less the product that he is evaluating at the moment he starts the conversation.
How to Add WhatsApp Chat in Shopify
If you are thinking of developing a sales strategy through WhatsApp integration, then you should be able to direct the traffic of your online store directly to the famous instant messaging platform.
The use of this channel can be particularly effective in the sale of products or services where the client frequently requests guided assistance for the purchase: consider for example the sale of a travel package, an insurance policy, or perhaps an object that requires some kind of customization.
The advantages of communicating with your clients via WhatsApp are many: it allows you to create a friendlier relationship with the user in the first place and allows both parties to communicate at any time.
The best way to connect your Shopify store users to WhatsApp is to install a chat widget directly on the website. This solution is very effective in generating numerous conversations with website users.
The first step to install a chat widget is to create an account, you can do it through this link. Once the registration process is complete, all you have to do is access the dashboard.
Within the platform, it will be possible to configure the widget, connecting the main instant messaging channels. By clicking on the WhatsApp icon you can integrate your WhatsApp account.
When WhatsApp is successfully linked, you can install the chat widget in your Shopify store. Just copy the widget code and follow one of the following alternatives:
1) Installation through Google Tag Manager: if you have a Google Tag Manager account, you will need to install a container within your Shopify store.
Once the container is configured in Google Tag Manager correctly, you will only have to add a custom HTML tag, copying the code from the widget, so that it is directly integrated into the website;
2) Installation through the Shopify dashboard: if you have all the access credentials available to your Shopify store, all you have to do is go to the Shopify control panel, click on Online Store, and on Themes.
At this point, going down the theme drop-down menu, click Modify code. Find the code "theme. liquid" and paste the widget code directly into the <head> tags.
ATTENTION: if you do not have experience in this type of configuration, go to an expert, since the code "theme. liquid" is a base template of your Shopify store. Every mistake or a small modification could compromise the appearance or the functionality of your store.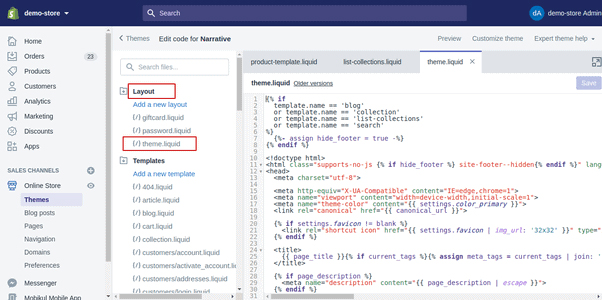 At this point, the chat widget should be visible on all pages of your website, if you can't see it, try to wait a few minutes, if it doesn't work, try again reviewing all the configuration steps.
How to Increase the Sales of Your Shopify Store Through WhatsApp
Assembling a sales team on WhatsApp will bring enormous benefits in terms of conversions and above all, it maximizes the lifetime customer value since it will be possible to create a more lasting relationship with customers.
Using WhatsApp as a sales channel is an opportunity for your company that wants to expand, given the great scope of this instant messaging application, in which almost 100,000 million messages are exchanged daily.
The leads obtained through WhatsApp will have a very different value for your sales strategy, given the incredible display rate of WhatsApp messages, due to push notifications, typically absent for email.
WhatsApp can turn out to be a complete tool, with which it is possible to send or receive photos, videos, voice messages, and documents. This enables more detailed, content-rich communication that can communicate your offer more effectively.
With the WhatsApp Business account, it is possible to integrate catalogs, in such a way as to make your products even more visible, and make a showcase parallel to the Shopify store available to all users.
In addition, it is possible to use WhatsApp to request feedback on products or on assistance for the offer, in such a way that you can continuously receive important evaluations about the performance of your business, on which you can base yourself to take corrective actions.
But be careful not to be too invasive, which could backfire on your business and alienate potential customers. An overly aggressive approach could separate customers from your store, rather than attract new buyers.
So we recommend avoiding spam or overly insistent messages, by all means, always maintaining attractive communication, giving users the motivation to interact.
It is, in fact, a channel that is particularly effective for inbound marketing, that is when it is the user himself who initiates the conversation with the company, generally to obtain more information about a product.
You May Also Read: Shopify Plus Vs BigCommerce Enterprise: Platform Comparison
Shopify: Choosing between WhatsApp Business and WhatsApp Business APIs
As we have seen, the benefits derived from this messaging channel can be enormous, that is why some versions of the application are offered for companies that can be used to achieve their objectives.
The first is the WhatsApp Business version, the free version for companies that want to take their first steps on the platform, which allows adding business information, the product catalog, and, recently, also adding products to a cart. It is designed primarily for small/medium businesses.
However, the default interface of WhatsApp Business presents several limitations, one in particular: not allowing the use of more than one agent simultaneously, which complicates the management of a large number of conversations.
To remedy the various problems, the Zuckerberg brand colossus has launched the WhatsApp Business APIs, that is, the access keys that allow WhatsApp to be linked to external platforms, for more structured management of interactions with the target audience.
WhatsApp Business APIs are designed for large companies that want to expand their presence in the famous messaging application, schedule automatic messages, transactional notifications, or chatbots.
To gain access to the WhatsApp Business APIs, you need to have a verified Facebook Business Manager account and a phone number that is not linked to a WhatsApp account.
After this, it will be necessary to select the most suitable Business Solution Provider for the needs of the company.
Using WhatsApp in Shopify: How to Handle Large Volumes of Conversations
Given the benefits derived from a messaging channel as popular as WhatsApp, at this point, all you have to do is start building your sales team on this channel. However, the default WhatsApp Business interface does not allow it to be used by more than one device simultaneously and it is not designed for multi-user management.
If you intend to receive large volumes of conversations to direct to your sales agents through WhatsApp, you must necessarily use an external platform that allows the management of a WhatsApp account from more than one location and designed to optimize collaboration and communication. management of chats by a sales or support team.
If you already have an account and you have added your WhatsApp account within the platform, you can immediately invite up to 100 sales agents, and allow them to respond to conversations through WhatsApp and the most famous instant messaging applications, or sea, Facebook Messenger, Instagram Direct and Telegram.
The conversations generated will be distributed automatically, casually, within the dedicated sales team. This way, each agent will be able to interact with the users, and in the event that the agent is not available, the algorithm will be in charge of reassigning the contact to another agent.
You will be able to have total control over instant messaging channels, thanks to the analytics module, which collects all the data and measurements related to the management of messages and the performance of the sales team.
By programming automatic responses and tagging contacts, you will be able to organize your company's sales processes in the best way possible and categorize all your clients and potential clients in a simple and intuitive way.
Finally, it is possible to access the history of the conversations, make a backup of it that can be saved and consulted at any time, in order to obtain interesting insights related to your store.
If this article has been useful for you to configure your WhatsApp account in your Shopify store, please remember to share it or leave a comment. Thank you very much for reading, until next time!