There are many digital tools online designed to help today's entrepreneurs sell online. However, many of these solutions focus on companies of a certain size that want to grow. For businesses that need advanced features from day one, it is important to find an eCommerce platform with the right backend scalability.
A handful of companies, from Magento to Shopify, enable a more enterprise-scale level of selling. Today, we'll look at some of the biggest contenders in this landscape: Shopify and BigCommerce.
Both Shopify and BigCommerce allow users to create stories in a variety of sizes, with a wide selection of features. They are also two of the most trusted purchasing solutions for today's business leaders.
For business-level companies, Shopify and BigCommerce we have specific solutions for the sale of large volumes. Shopify Plus serves some of the largest companies in the world, from Death Wish Coffee to Leesa. BigCommerce Enterprise has customers like Toyota and Gibson to brag about.
The Basics of Shopify Plus and BigCommerce Enterprise
Shopify Plus is Shopify's leading solution, aimed at helping businesses scale. You can enjoy page speed up to 3x faster than anything you get with BigCommerce, sell on 21 channels, and process up to 10,979 payments per minute.
Shopify Plus supports up to 5,300 apps to help you fine-tune your business functionality, and there's also 24/7 global technical support. Shopify also has Service and Application partners that you can access if you need additional assistance.
Aside from a wide range of features, Shopify Plus offers 24/7 customer support, one of the world's largest collections of apps and partners, a suite of native eCommerce automation tools, personalized payment discounts, and access to a password-protected store as well.
Shopify Plus, customers grow at a rate of around 126% more year-over-year.
BigCommerce Enterprise promises the kind of meaningful experiences that companies need to build at the enterprise level. There is absolutely no transaction fee and you get a full-featured store with multiple currencies, price lists, and 24/7 technical support.
BigCommerce customers can create unlimited staff accounts and combine sales channels on Amazon, eBay, and more. There are discounts, coupons, and gift cards to explore real-time shipping quotes, and a fully customizable payment environment. Extended functionality is also available through the app market and SSL support is available.
You can even create Google customer reviews, segment your customers, and design custom solutions with unlimited API support.
Shopify Plus Pricing vs BigCommerce Enterprise Pricing
When it comes to choosing the perfect eCommerce site, monthly fees are always an important consideration. Both BigCommerce Enterprise and Shopify Plus offer a pricing plan that you can scale based on the needs of your audience.
For this particular review, we will ignore the smaller plans available in BigCommerce and Shopify, but there are a variety of options available if you are not already at the enterprise level.
Like most business solutions, the BigCommerce and Shopify offerings do not have a direct price attached. There is no fixed dollar amount for BigCommerce Enterprise. Instead, the company encourages users to communicate and discuss their needs with a professional.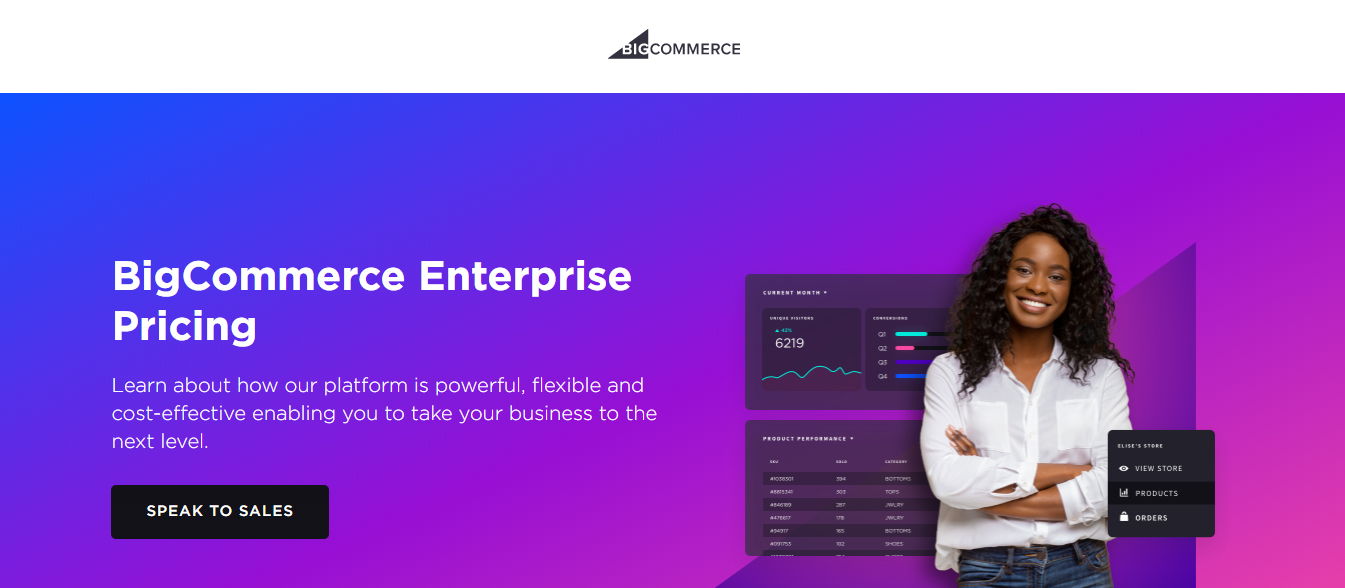 The amount you spend will depend on the type of growth stage you are in. However, it's worth noting that it costs nothing to migrate to BigCommerce, and there are no additional transaction fees to worry about, which is not the case with Shopify.
The only way to avoid transaction fees with Shopify is to use the Shopify Payment Solution, this is true when you access the Enterprise version of Shopify as well. The Shopify payments service is good, but it may not be ideal for all business owners.
Shopify Plus is a bit more descriptive about its pricing structure than BigCommerce, warning customers that its package will generally start at around $ 2000 per month. However, this is only a base cost. Again, you'll need to reach out to the team to take an in-depth look at your pricing needs, which means you could end up paying more.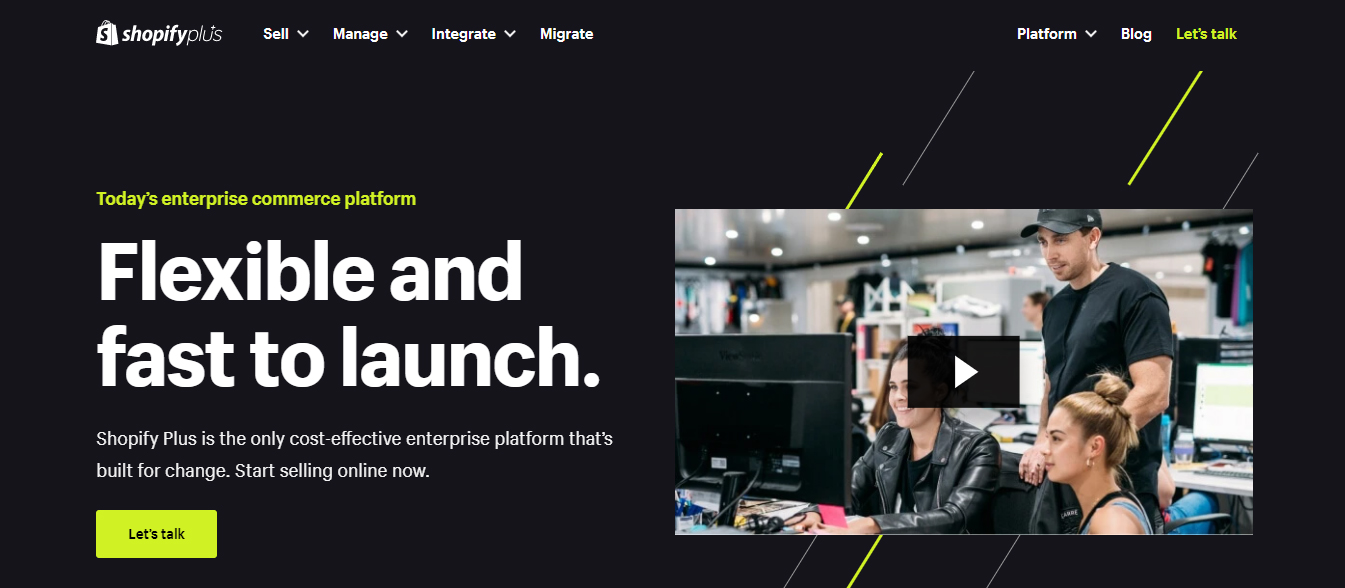 Again, with Shopify Plus, if you are not using the Payments service, you will have to think about the additional costs of transaction fees, which can go up to 2%.
Ease of Use
The first thing to know is that using a business solution for eCommerce will always mean that you have additional functions to access. More features are great, but it also means there is a higher learning curve when you are determining how you should use the service.
BigCommerce and Shopify both offer mobile-optimized websites as standard, with the freedom for users to navigate on their smartphone or tablet. Shopify Plus has access to Shop Pay, which is a one-touch payment optimized for mobile devices, while BigCommerce cannot offer this functionality.
Shopify is a bit easier to use than BigCommerce because the solution is designed to be as user-friendly as possible. BigCommerce can be very scalable, but Shopify guarantees that even if you've never built your own website before, you'll be comfortable getting started.
Shopify helps, setting up a website can be as simple as filling out forms. You can go further and use things like the mobile SDK to add your own features and capabilities to a mobile app, but this is not a requirement.
BigCommerce is a bit more advanced. There's a drag-and-drop feature with BigCommerce, and this solution is a bit more flexible than Shopify's because you can choose exactly where you want each component to go.
BigCommerce comes with more out-of-the-box features available so you don't have to add so many extras yourself. You can create things like individual page checkouts, product reviews, custom URL structures, and related product listings for free. There is no excess bloatware and you also get the benefits of Google Cloud Platform with 99.98% uptime.
While both Shopify and BigCommerce are relatively easy to use, the business nature of both tools means that you may need a little help from a tech professional to fully take advantage of the benefits of all the features. It can take time to get used to such a feature-rich platform.
Shopify Plus Design vs BigCommerce Enterprise Design
Design is always an important consideration when creating a website. BigCommerce offers something called an "advanced customization framework", for more attractive storefronts. The editor allows you to create and change the look of your solution online without writing any code.
As mentioned above, BigCommerce has a fantastic drag-and-drop editor that is extremely flexible and easy to customize. You can go the extra mile to make your website stand out without having to write any code. Of course, if you know a bit about development, there is also the option to access popular code libraries like CSS and HTML.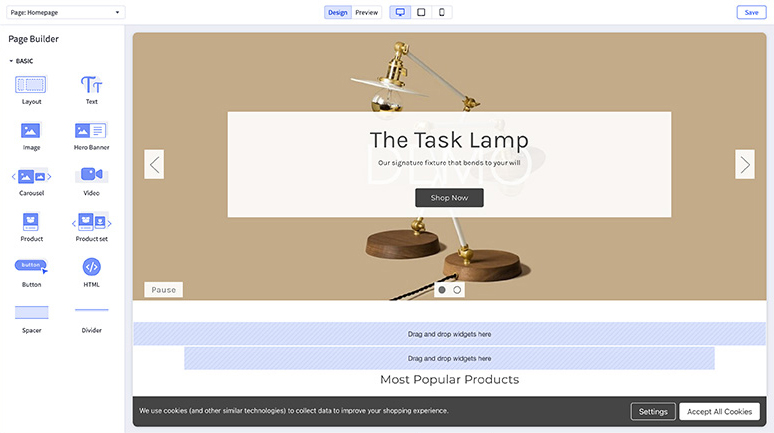 There are several payment theme options available with your BigCommerce Enterprise solution, but they cost almost twice what you would pay for Shopify. Each theme also comes with a few different styles to choose from. If you don't mind paying more, or if you were thinking of getting a custom theme in the first place, this might not be a problem. Although they are expensive, the themes are very attractive.
Shopify also makes it extremely simple to build a powerful store with its Enterprise solution. You can access the code behind Shopify to experiment with CSS and HTML. Shopify also has an extensive library of themes that are often modern and professional.
There are several paid theme options with Shopify if you want to go beyond what's available in the free section. Plus, with Shopify Scripts, developers have the freedom to customize checkouts and shopping carts without spending a fortune.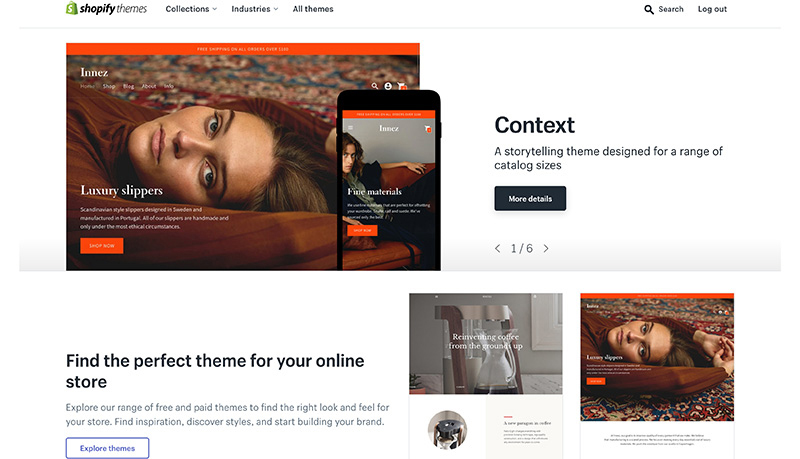 Merchants on Shopify can minimize CSS and JavaScript to improve their QSEO, add logic to templates, and develop complex customizations for more personal experiences. Shopify webhooks and APIs also offer a variety of customization options. You can link your store to back-end systems and tools, making the platform more flexible.
Shopify Plus enables developers to further customize the platform through a built-in App SDK and encoding in their preferred language.
Shopify Plus Features vs BigCommerce Enterprise Features
BigCommerce and Shopify both offer the option to sell on a variety of channels, which is ideal for enterprise businesses. BigCommerce has a channel manager involved within the backend technology that makes multi-channel commerce simple and effortless. You do not need to jump between different environments to check its performance. Instead, you can track multichannel sales in one environment.
BigCommerce Enterprise offers you a full-featured solution for selling on channels ranging from in-person point of sale solutions to eBay and Amazon. With both B2B and B2C capabilities, there are no limits to what you can achieve, and businesses can create shopping experiences anywhere through app devices, DXP ​​, and CPS systems. BigCommerce is ready to support a variety of API integrations.
It's also worth noting that BigCommerce adds no cost to your migration. Although you may have to pay something if your migration is complex, BigCommerce adjusts prices for each business.
Shopify Plus merchants can use Shopify Payments to sell in an advanced range of currencies and charge in their own currency at each store. The storefront is extremely customer-friendly and the checkout experiences ensure that merchants can deliver pleasant results to their customers.
With BigCommerce, you can only choose between displayed currencies and customers cannot see invoices in their preferred currency, which can be a bit of a problem.
Shopify POS also means that businesses can sell across multiple locations and open pop-up stores in the real world without compromising things like customer, order, and inventory management. The Sales Channel SDK means that the trade can appear within any mobile application or marketplace, and it can connect users with millions of products on a large number of platforms.
Plus, Shopify also has an additional buy button which means you can add eCommerce to your site with just a little bit of code. You can insert collections and shopping carts in just a few clicks, and a JavaScript SDK means you can easily retrieve products and collections from your store with a simple and lightweight service.
Sales Features
If you are looking for an eCommerce solution like BigCommerce Enterprise or Shopify Plus, chances are you need something with strong (and reliable) sales features. The good news is that both tools have something to offer.
Shopify is often among the best products in the world when it comes to sales features, with BigCommerce right behind. Both tools offer things like:
Shipping tools for your online store, including the option to set shipping locations, modify rates based on order value or weight, and shipping labels.
SSL Certification – You get an SSL certificate from both solutions, so you can give your customers much-needed peace of mind.
Multi-channel selling: options to sell on various platforms, including Pinterest, Instagram, and Facebook.
Multiple payment gateway options for your shopping ecosystem, so you can appeal to a wider range of customers.
SEO and marketing functionality to get your website to the right people online.
BigCommerce Enterprise and Shopify Plus are both great sales solutions, but they take a slightly different approach to deliver the features businesses need.
BigCommerce, for example, is likely the best option for you if you want to manage credit card payments, marketing, and more with built-in features. The functionality you need comes in as standard with BigCommerce, so you'll be ready to go as soon as you sign up.
Several out-of-the-box eCommerce features available in BigCommerce are only available in Shopify through plugins and integrations, such as:
Social Proof Tools – You can allow customers to submit reviews and testimonials with BigCommerce without having to search for separate apps.
Real-time shipping quotes – Make sure you provide an accurate shipping price for any products you need to deliver.
Unlimited Staff Accounts: Collaborate with multiple staff members on the perfect eCommerce experience for your audience.
BigCommerce also allows users to offer multiple examples of the same product, such as a shirt in various sizes and colors, while Shopify supports around 100 variants based on 3 options. Although 100 options may seem like a lot, it is nothing compared to the 600 variants of BigCommerce.
Although BigCommerce offers you a host of out-of-the-box features, Shopify is the product of choice if you want to customize your site to suit specific customer groups. There is a wide range of third-party apps on the Shopify Plus app store that you can use to connect with your customers on a deeper level.
You can use Shopify plugins to connect to your CRM, improve front-end functionality, create forms with custom fields, and much more. Shopify allows you to connect all the tools and systems you use to run your business via API and Shopify Plus partners, or you can use a headless architecture to create a custom storefront.
Although the wide range of customization options can make Shopify seem more complicated at first, there are tons of automation features to make the experience simpler and more streamlined. You can also create shopping experiences to suit virtually any business with Shopify. For Shopify In addition to users, there are even tools for augmented reality and 3D product videos.
Shopify Plus also comes with access to Shop Pay, which makes it much easier for your customers to pay quickly. On top of that, you can customize the checkout experience with a number of shipping rate management options, custom discounts, and product recommendations.
Marketing of Shopify Plus and BigCommerce Enterprise
Marketing is an important part of running a successful business. In marketing comparison of Shopify plus vs BigCommerce enterprise, BigCommerce Enterprise comes with more built-in solutions than Shopify, including a full-featured online store, with unlimited staff accounts. You also get expert support from BigCommerce and a variety of SEO features.
BigCommerce Default URLs follow a best-in-class format to ensure you get the best possible experience when trying to reach your customers. There are also tons of webhooks to connect additional tools, automatic sitemaps, metadata, and Google shopping integration with one click.
You can segment your customers with BigCommerce, and make sure you offer a personalized experience to everyone on your list. There is also the option to send automatic abandoned cart recovery messages to anyone who does not continue with their payment.
Shopify Plus is all about making it easy to get massive sales. As mentioned above, you can easily sell in a number of ways with Shopify, including augmented reality systems so that you can allow your digital customers to experiment with products before spending money; that's a feature you just can't get from most providers.
Shopify also comes with a host of SEO support, including customizable URLs, headings, and automated sitemaps. You can create discounts and gift cards to drive sales, gain access to sales and profit receipts, and check your analytics for useful information.
There is also the added benefit of the Shopify academy to help you build the most advanced sales strategy with the help of experts in your field. All of that, and you can create custom automation strategies that include abandoned cart emails, proactive messaging, and more.
You May Also Read: 5 Shopify Website Design Tips To Create A Beautiful Shopify Store
Support and Security
Whether you opt for BigCommerce or Shopify as your business solution, there is a chance that you may need to access some help at times. Although these SaaS tools are very intuitive, having the right support on hand can give you great peace of mind when you are building your store.
Both BigCommerce and Shopify offer 24/7 phone support, live chat support, access to the help center, a community forum, video tutorials, and email support. It's no wonder the support strategy is so comprehensive, as many website-building solutions make things better for higher-paying customers.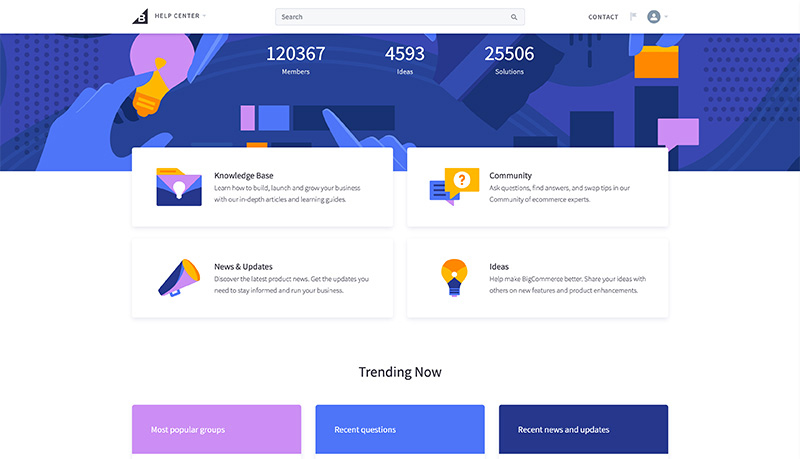 eCommerce businesses on both Shopify and BigCommerce can access all the guidance they need to do things like integrate with other retailers, access PayPal payments or set up ERP connections. A bonus of Shopify is that you can find notices and links throughout the panel that link you to relevant articles in the knowledge base when you are setting up your eCommerce store.
With so many solutions for guidance and help, you shouldn't have a problem with any of the website builders. However, it is worth noting that some actions available with BigCommerce and Shopify, such as using API calls, may require professional assistance.
From the Shopify security and BigCommerce security perspective, you also get a great deal of personalized support. Your Shopify and BigCommerce store will immediately have their own SSL certificates, and you can even upgrade to a more advanced certificate with BigCommerce.
For la, BigCommerce and Shopify stores go beyond solutions like WordPress, to make sure you can access PCI compliant standards to handle transactions. Combine the wide range of features, such as social media integration, high bandwidth, and faceted search, with the incredible support and security of Shopify and BigCommerce, and it's hard to separate the two.
Shopify Plus vs BigCommerce Enterprise: Which is Better?
Choosing the right eCommerce store builder for your business is a complicated but important process. The solution you choose can make a big difference to your conversion rates and your ability to connect with customers.
It pays to make a list of the things that matter most to you in service in any setting. Want lots of product options and integrations with tools like PIM to make sure you can organize your inventory? Looking for a marketplace like Shopify deals, so you can find Shopify app deals to handle things like multi-currency conversions?
In addition to the monthly cost of paying for your website builder, you may also want to consider processing fees and additional expenses. Both Shopify and BigCommerce Business products will be more expensive than a store for a small business. However, that doesn't mean that store owners can't get a good deal. For example, while Shopify has many APIs, SKUs, and integration options, BigCommerce can save you money because the features you need are already integrated.
In general, you should consider BigCommerce If:
You want to access all the functions you need out of the box
You have a lot of inventory with different product options.
You want easy workflows and drag-and-drop creativity
You love great customer service and support
Alternatively, you may want to use Shopify if:
You want more control over the website functions
You need more options between third-party applications
You value predesigned and unique theme options
You are a fan of a simple and efficient interface
Conclusion
So, now you may get the total concept of Shopify plus vs BigCommerce enterprise. It's no wonder business owners have such a hard time choosing the right website builder these days. There are so many options and also several different package options. With a Shopify store, you have everything from Shopify Lite to Shopify Plus. With BigCommerce, you can start small and move towards the perfect business environment.
BigCommerce and Shopify are great tools, although Shopify offers more support for integrations with tools like ShipperHQ, and BigCommerce gives you what you need integrated. Good luck finding the solution that works for you.