Are you curious about the Shopify partner dashboard login & Shopify collaborator account? If yes, then you are at the right place. In this article, you will know how to create a Shopify partner account, how to get Shopify collaborator access from the clients, and many more.
What is a Shopify collaborator account?
A store owner uses Shopify collaborator accounts to provide access to the Shopify partners to perform tasks on his store. Its unique access permits the partners to access the sections of a store that they need to perform their assigned tasks. For example, suppose, if a Shopify store owner wants to take a developer's help to design his store, the owner will provide the Shopify collaborator access to the developer. Remember that these accounts are not considered when it comes to counting the staff limit of your store. But One must have to have a Shopify partner account to ask for access permissions from a store owner.
What is a Shopify Partner account?
Shopify partners are those who joined the Shopify partner program. To join this program, you need to create an account, and that is called a Shopify partner account. You can easily create a Shopify partner account and earn money by suggesting others to use Shopify, developing or designing Shopify stores for store owners. It is an excellent opportunity for Shopify experts such as developers, marketers, etc.
How to request collaborator access from Shopify partner dashboard login
Suppose you are a developer and you want to develop others Shopify stores and earn some money. Here you will need access to the store that you will be developing or designing. So, you need to ask for access to the store owner. Let me show you what you need and how you can do that. Then, just follow these steps given below: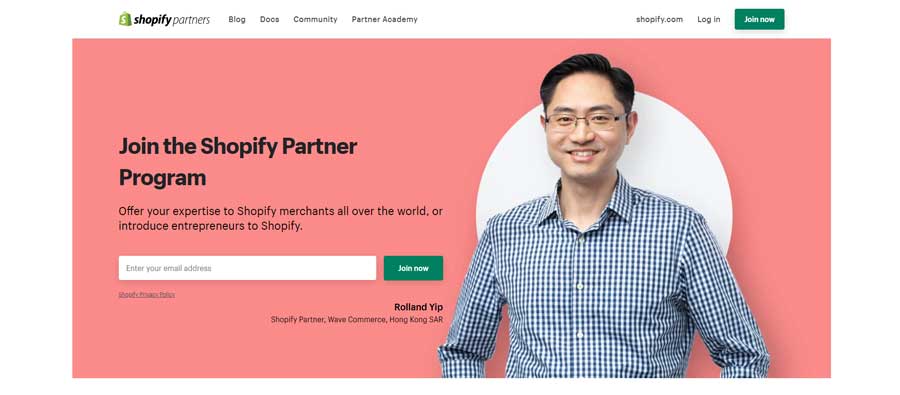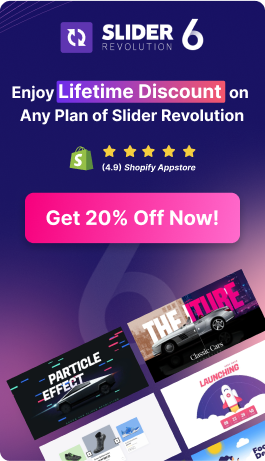 Step-1: Create a Shopify partner account from the Shopify partner login.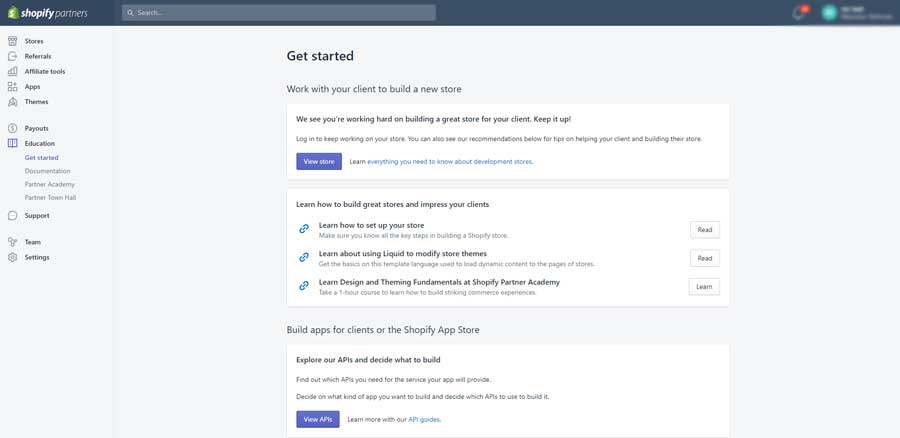 Step-2: Now go to Shopify partner dashboard login.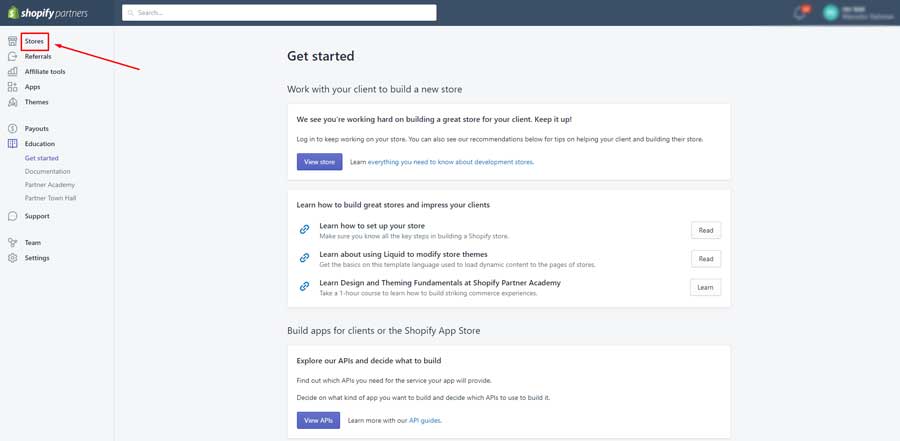 Step-3: Click on "Stores" from your Shopify partner dashboard.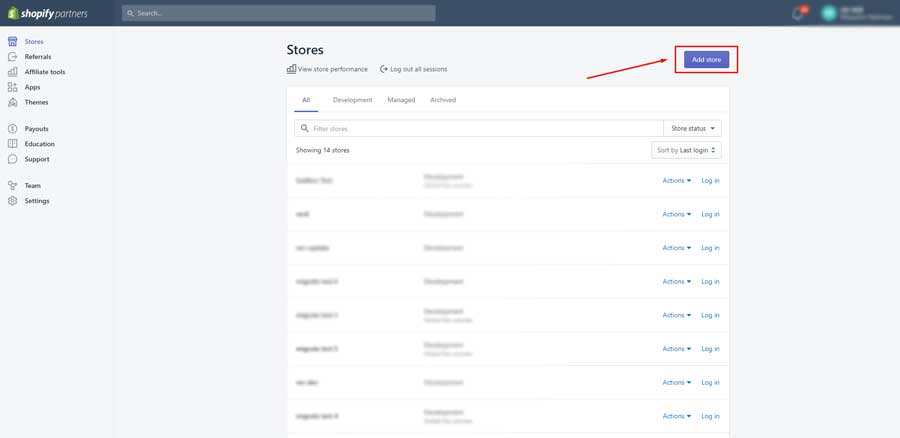 Step-4: Now click on "Add store".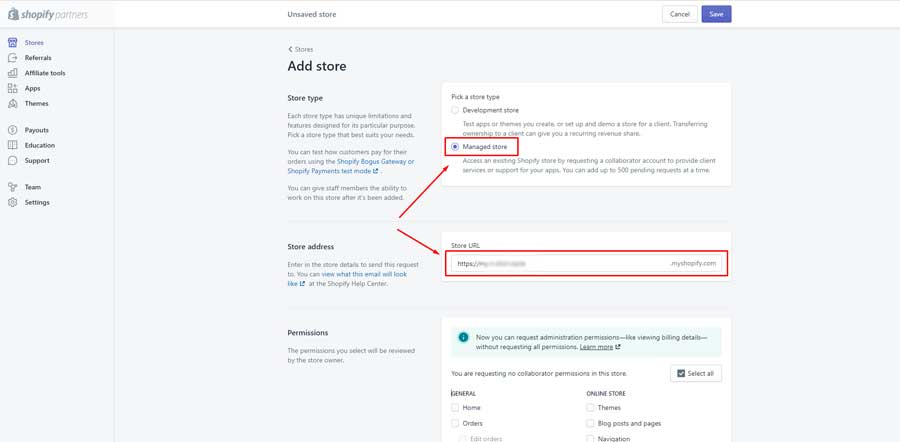 Step-5: Then, from the "Store type", click on "Managed store" and put the "Store URL".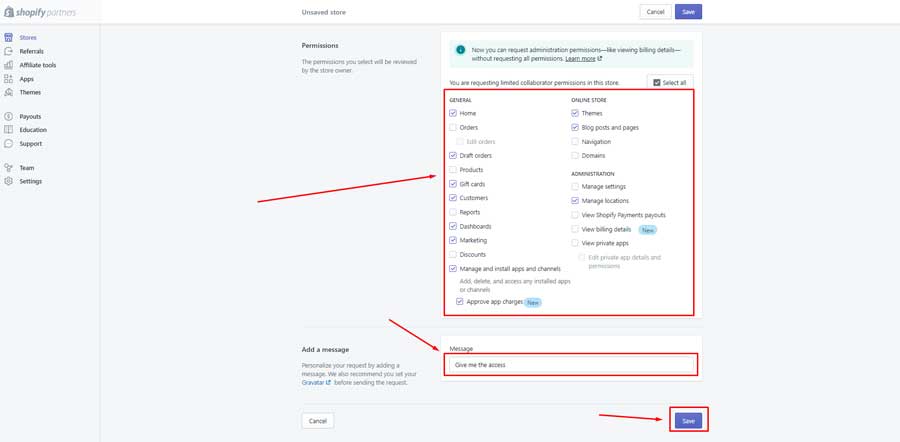 Step-6: Now, you can ask for all permissions or make it specific. You can also add a message if you want and click on "Save".
Removing the collaborator access
This access is given to perform specific tasks by a partner. Once the studies are done, both the merchant and the partner can remove the access. It is a matter of security, that's why every merchant should be very aware of it. Let me show you how you can remove the access from both parties.
Remove store from a partner dashboard: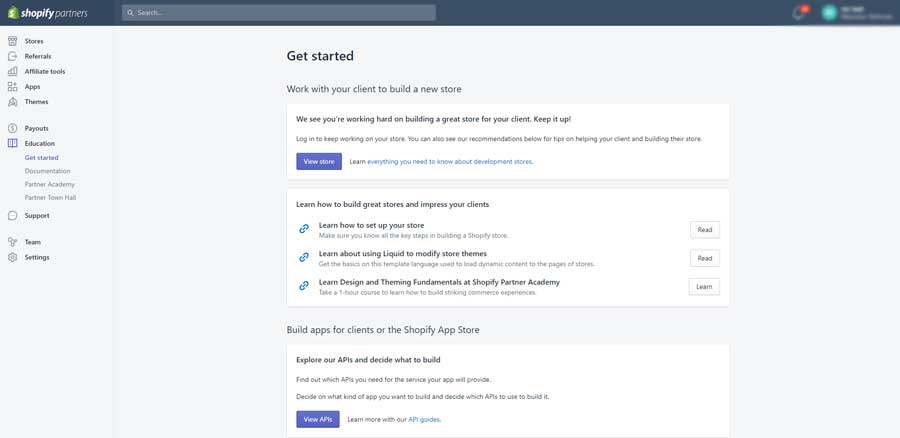 Step-1: Go to "Stores" from the dashboard.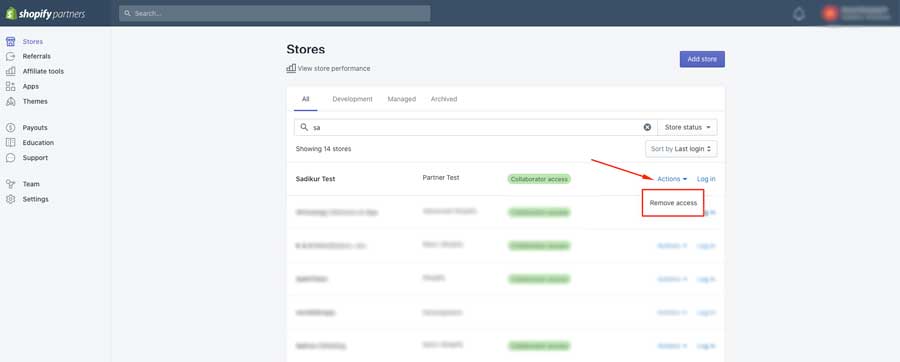 Step-2: Click on the "Actions" button right side of the store you want to remove and click on "Remove access".
Remove collaborator account from the merchant's store: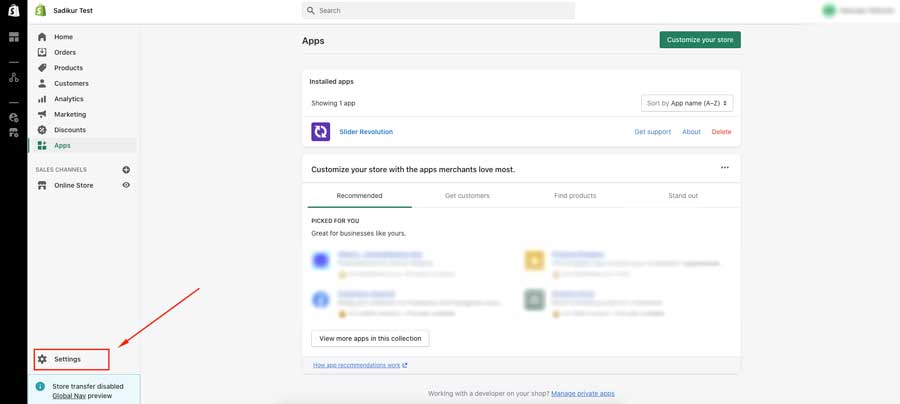 Step-1: Go to "Setting" from your Shopify store dashboard.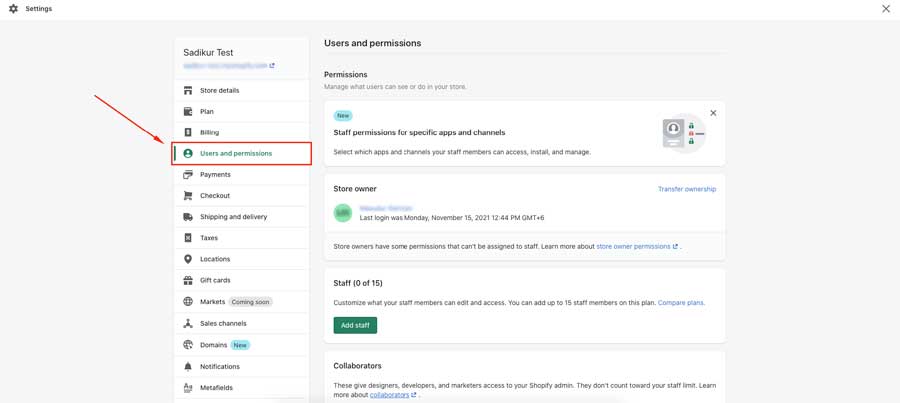 Step-2: Then click on "Users & Permissions".

Step-3: Under the collaborators, you will find the name of the collaborator partner. Click on it.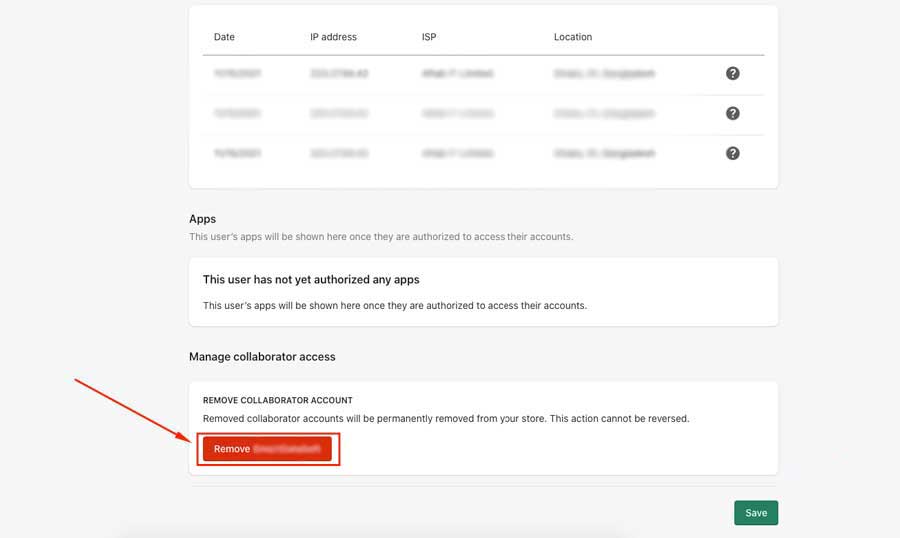 Step-4: Then the bottom of the page, click on the "Remove" option.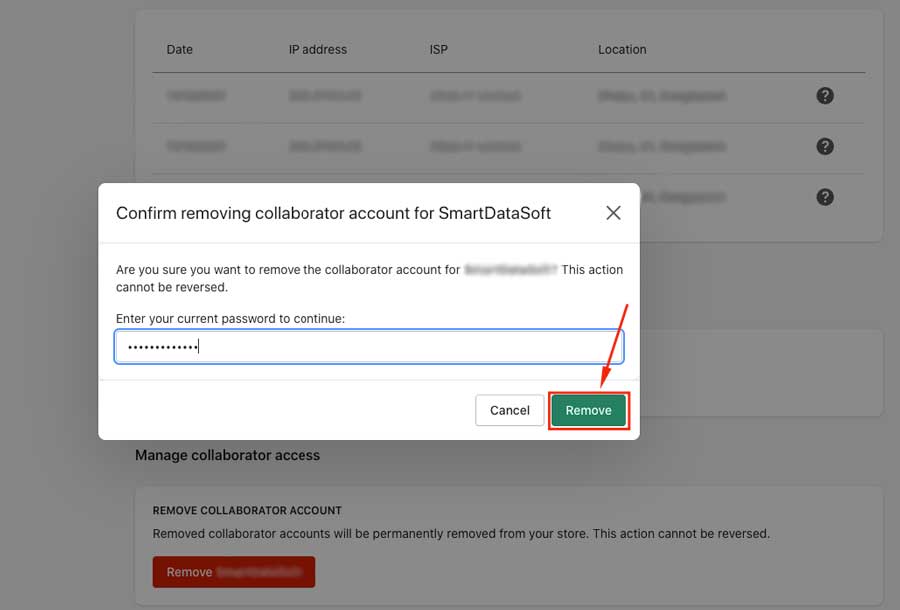 Step-5: Now you need to put the password and then click on "Remove".
Why collaborator account access is necessary
Shopify introduces the collaborator account to ensure a safe collaboration system so that merchants and partners can maintain a good working relationship. This allows the partners to access a certain part of a merchant store to perform their assigned tasks. This is a great opportunity to build the reputation of any Shopify expert by helping the merchants out as a trusted Shopify partner. Tell your clients why you need access to certain parts of the Shopify store so that it will make the clients comfortable giving access to their stores. If it is required, explain in detail to clear the doubt or misunderstanding between you and your clients.
I believe that by reading the above information, you will now be able to create a Shopify partner account and request access to your clients' stores through collaborator accounts.
You may also read: How much does it cost to hire a Shopify expert?