If you plan to run a Shopify rental business, then this is a must-read article for you. This business model is perfect for those who are using or planning to use Shopify. Besides that, if you don't have the time to run a full-time store but want to earn, running a rental business through Shopify can be a great solution for you.
There are many products that are expensive to buy, but people can still use them because of the rental businesses. You will be able to get more audiences for your products when you lower the entry barrier by offering them the rental opportunity. For example, buying a car is expensive and many people can not afford that but the same people can use the car if there is a rental opportunity.
What is a rental business?
A rental business refers to a type of business where people can use expensive products for a specific amount of time at a very affordable price. Generally, people can use products based on hour, day, week and even month without investing a huge amount of money in purchasing them.
Rental businesses are good for both business owners and customers. Many people want to try expensive products but are not ready to invest. They can explore the items for a low price and fulfill their needs. It's not only a matter of expense but also matters of limited need, usage, and storage.
One can get a smoother experience when they plan to do a rental business on Shopify. Shopify is perfectly designed for an eCommerce store. Moreover, its vast opportunity to integrate with third-party apps makes it a perfect platform for running a Shopify rental business.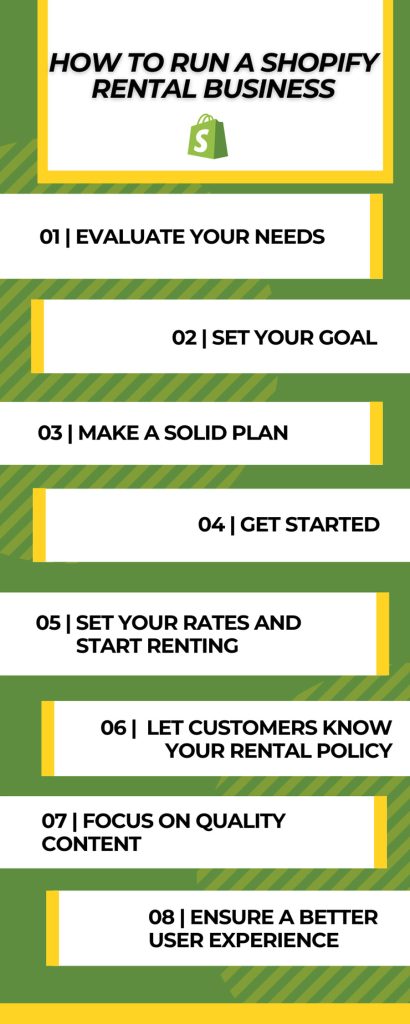 How to Run a Shopify Rental Business
1. Evaluate your needs
What do you need to run the business? This might include a Shopify store, inventory, marketing materials, and more. You should also think about the products you will offer to the customers. Choosing the right products will greatly impact your business's success. It will be a wise decision to do a little market research before choosing the products.
Just like products, you should carefully select your target customers. Targeting your customers right is a prerequisite to starting a business. The mission and vision of your business should be set focusing on them.
2. Set your goal
What are the things you want to achieve from the business? You need to set your business goal first. It will help you make a proper plan and organize the activities accordingly. Without having a distinct goal, you can not justify your progress or set a step-by-step plan.
Whether it's a full-time or part-time business, you should make it clear. It will help you set your goal considering your expectation from the business.
3. Make a solid plan
Based on your goal and needs, it's time to make a proper plan for your rental business. The clearer plan you can make the better you will be able to execute the plan. So, do not rush with making your plan.
It is a good practice to have a written business plan. It works as a guideline during the long journey of your business. It is also recommended to make a detailed plan rather than a brief one.
4. Get started
Once you have evaluated your needs and decided on the items you will need, start creating your store and setting up your inventory. You can use Shopify's built-in tools or find third-party apps that will make the process easier for you.
Shopify is an ideal CMS for running a rental business, although you have to use some third-party apps. All the necessary apps will be found in the Shopify app store and they integrate perfectly with your store.
5. Set your rates and start renting
Once your store is operational, it's time to set your rates and start renting out products. You'll want to keep in mind that while a rental business can be profitable, it may not be as lucrative as running a full-time store. However, if you have the time and dedication to run a rental business, it can be a great way to supplement your income.
Consider checking the overall order procedures before launching your store for the audience. If you face any issue during the checking, you better fix it so that your customers will get a seamless shopping experience.
You may also read: Blogging Vs Dropshipping: Things You Must Know
6. Let customers know your rental policy
You must inform your customers about the rental policy. If customers do not find all the necessary information about renting products on your Shopify retail business website, they may leave your store without making a transaction. As a business owner, you need to make it easier for your customers to get the information they need to rent items from your Shopify rental business.
7. Focus on quality content
No matter what kind of business online, you should be aware of making quality content. Creating rich content for eCommerce ensures more organic traffic from search engines. You should also perform SEO for your website content.
Having a blog on your store also helps you get organic traffic. So, do a little keyword research and find out the relevant keywords for your rental business. It's a great way to build trust among the customers and increase your brand credibility.
8. Ensure a better user experience
Like any other online business, you must emphasize the user experience of your Shopify rental business. If your site has not good user experience, you will lose the visitors. People do not want to spend time on a site that fails to grab their attention at the first impression.
You need also consider mobile-friendliness when you are thinking of creating a better user experience. Remember that people use mobile devices more to buy online nowadays than desktop computers.
Conclusion
Running a Shopify rental business is quite profitable and has long time benefits. If you can plan and organize your activities, the Shopify platform can give you great support to make it effortless.