Shopify Analytics Vs Google Analytics– both of the analytics are great for merchants or online businessmen. It can be a very difficult choice for a decision-maker when it comes to using one of the analytics and passing another one.
If you are facing the same problem, this article is the perfect answer for you. Just read it thoroughly!
Shopify Analytics Vs Google Analytics: Differences to Consider
As I have already mentioned, both analytics offer valuable insights to online businesses, Google analytics has more features than Shopify analytics. So, if you are a person who cares about more features, then Google Analytics will be the best choice. You will get the essential features such as Customer Lifetime Value
On the other hand, Shopify analytics is designed to offer essential insights to Shopify merchants so that they can have a clear idea about what's going on in their business. This analytics is enough to help you maintain your Shopify store and create plans for the future using the previous matrix. So, this can give you a proper analysis of the customer journey.
Which one to use to track the insights of your Shopify store? – Shopify Analytics Vs Google Analytics
As a Shopify user, you have options to use any of the analytics or both of them. We can recommend one for you but we want you to identify your needs and make your own choice.
You can pick Shopify Analytics if you only need information regarding products, inventory, customers, orders, sales and other similar metrics.
You will definitely get more from Google Analytics when you need to know about consumer behavior, marketing campaign results, customer intent, content flow and many critical metrics.
When you are comparing Shopify Analytics Vs Google Analytics, you will be realized which one is the most suitable based on your requirements.
How to integrate Google Analytics in Shopify Store
If you want to use Shopify Analytics on your Shopify store, you do not have to perform any extra tasks or go through any complicated process as you will get it by default. But if your want to use Google Analytics, you need to integrate Google Analytics into your Shopify store.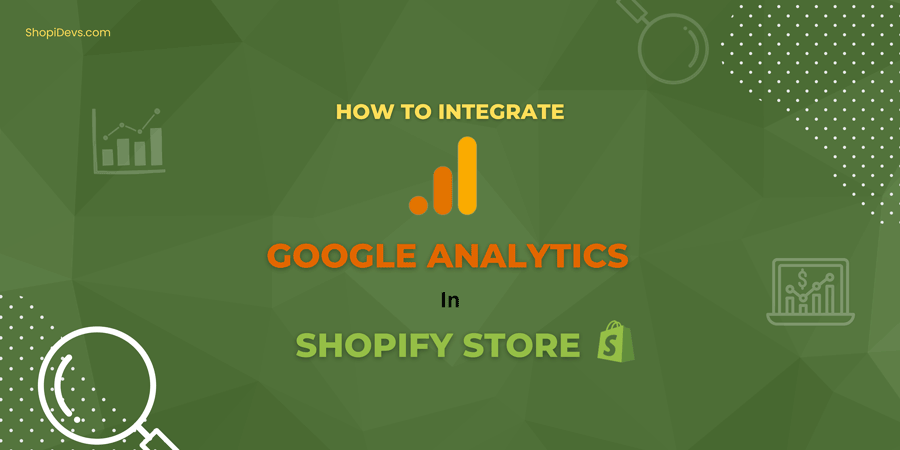 When you have integrated Google Analytics on your site, you can use both analytics. You can easily integrate Google Analytics by following the steps I am sharing below:
Proceed to Google Analytics
Step 1: Open (if you already have an account) or create a Google account using a Gmail account. You can use the Gmail account you used when you created your Shopify store.
Step 2: Now, you need to create a new property for Shopify in Google Analytics. To create a property, click Admin > Account and then select your Google Analytics account for the property. Click "Create Property" in the property column and enter a name for the property. For example, "My T-shirt Store". Then select "Create a Universal Analytics property only." Click "Next." Choose your preferred property settings and click "Create."
Step 3: Now, copy the Universal Analytics property (the unique code snippet) to your clipboard.
Proceed to your Shopify dashboard
Step 4: Click "Online Store" in the left column of your Shopify dashboard and select "Preferences." Paste your Universal Analytics property into the "Google Analytics" field. Click "Save."
Thus, Google Analytics should be integrated into your Shopify store and show the metrics of your users. Remember that you have to set up a unique Analytics property for each Shopify store.
Why use analytics on the Shopify store
Analytics provides you with helpful insights about your customers and business. These metrics are required to understand the overall business condition and make a strategy accordingly. This information provided by analytics will warn you and save you from any kind of change in the market or customers' behavior.
If you keep your eyes on analytics on a regular basis, you will be able to operate your business by running marketing campaigns and other activities properly.
Conclusion
After considering the facts of Shopify Analytics Vs Google Analytics, you should realize that Shopify Analytics offers some useful analytics tools for the merchant whereas Google Analytics offers much more than that. So, it is okay to use Shopify Analytics when you do not need more and detailed metrics to track the performance of your Shopify store. But there is no alternative to Google Analytics when you need high-end insights for your Shopify store.
You may also read: Rich Content For ECommerce- A Guide For Beginners