Shopify is an eCommerce platform that offers you many advantages to easily build and manage your online store. To help you choose the right theme that will take your online business to a higher level, in this article we have made a compilation of what for us are the best converting Shopify themes for online stores.
Shopify is a complete solution with which you do not need to have a contracted hosting or perform any installation. All updates, including security patches, are done automatically. Your Shopify store can be up and running in a few minutes and without the need for technical knowledge or extra investments. The platform guides you step by step through the process of setting up your own store, customizing it to your liking, and finally adding your products.
It is compatible with 100+ international payment gateways. They offer unlimited bandwidth, product inventory, and customer data. You will be able to manage, process, and track orders and payments, which will allow you to focus on your business. In addition, you can add your own domain, add new sales channels in seconds, fill your orders in a simple payment and track the trend of your sales and the growth of your eCommerce. They have a customer service team that is available to help you, which can save you from many future headaches.
You can start your Shopify store with a free 14-day trial, with no obligation. To later go on to choose between one of its three pricing plans, which basically differ in the number of accounts available to staff, transaction costs, and other extra options, such as being able to offer gift cards, fraud analysis, or professional reports. We recommend that you visit their pricing page, to see all this information in more detail.
The Best Converting Shopify Themes for Online Stores
We, therefore, invite you to review our collection of the high converting Shopify themes that we have carefully selected for you.
Wokiee
Wokiee is an exceptional template for Shopify perfect for building a complete online store for the sale of any type of product. It has all the tools and modules to create an eCommerce based on Shopify in a matter of minutes.
Its wide variety of page layouts and styles will allow you to create different structures and satisfy any specific requirement. Everything you need is in the Shopify CMS. Through its content management system, you will have complete control of your website by modifying the navigation menu, the contents of your site, images, products, collections, and much more.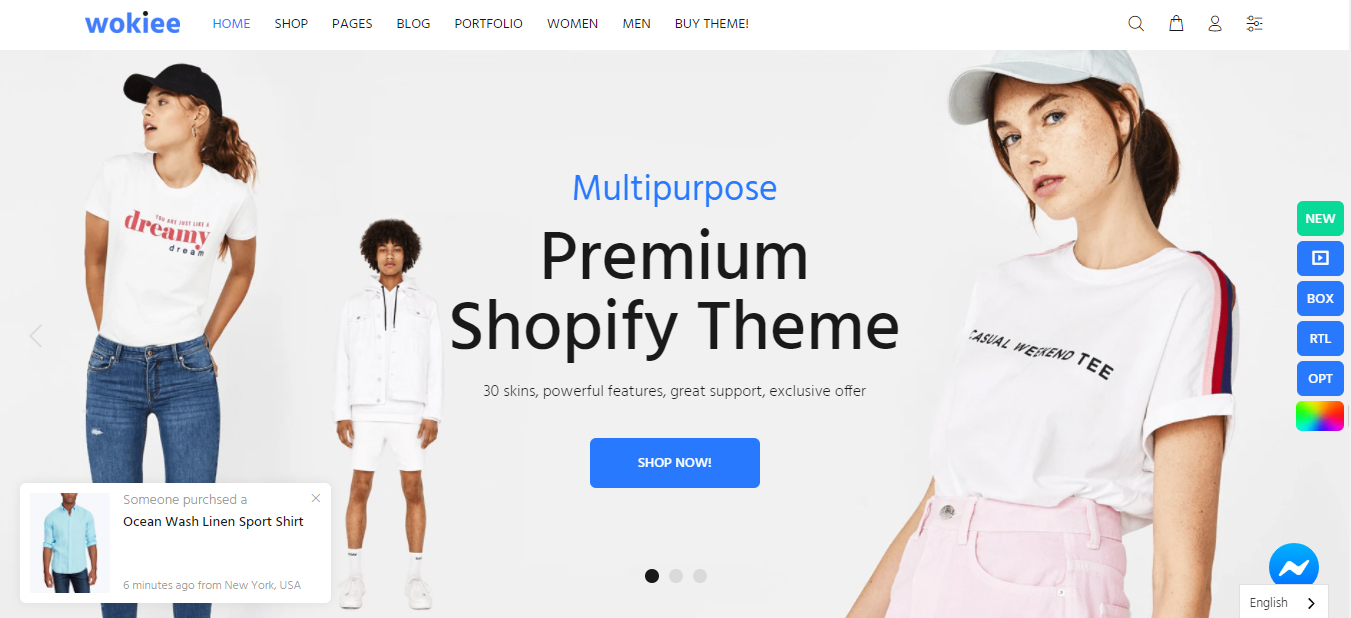 Wokiee comes with 18+ predesigned demos for your home page and 12+ designs for fashion stores, accessories, lingerie, shoes, women's clothing, men's clothing, children's clothing, cosmetics, gothic and rock clothes, sports, mobiles, furniture, books, tools, bicycles, jewelry, hunting, etc. As for the store, it has 8+ styles for the store page and 8+ styles for the product detail page. It also includes multiple header options.
Through a powerful administration panel, you will have a multitude of customization options, leaving your imagination as a limit. As for its optimization, its design is 100% adapted to mobile devices and the loading speed of its pages is super fast.
Wokiee has interesting features such as Mega menus, sections for banners, color and size attribute selector such as images, a multitude of filters, Ajax-based product search engine, import of hundreds of products in a matter of minutes, table for size guides, quick views, and much more.
ELLA
Ella is an elegant and modern premium theme for Shopify stores that has everything you need for professional eCommerce. This theme perfectly combines colors, banners, and content blocks to give your virtual store an impressive look.
She has a large banner through which you can show your newest and current products to immediately capture the hearts of your customers. The information blocks are displayed in a nice and clear way so that your visitors can easily find the information they need.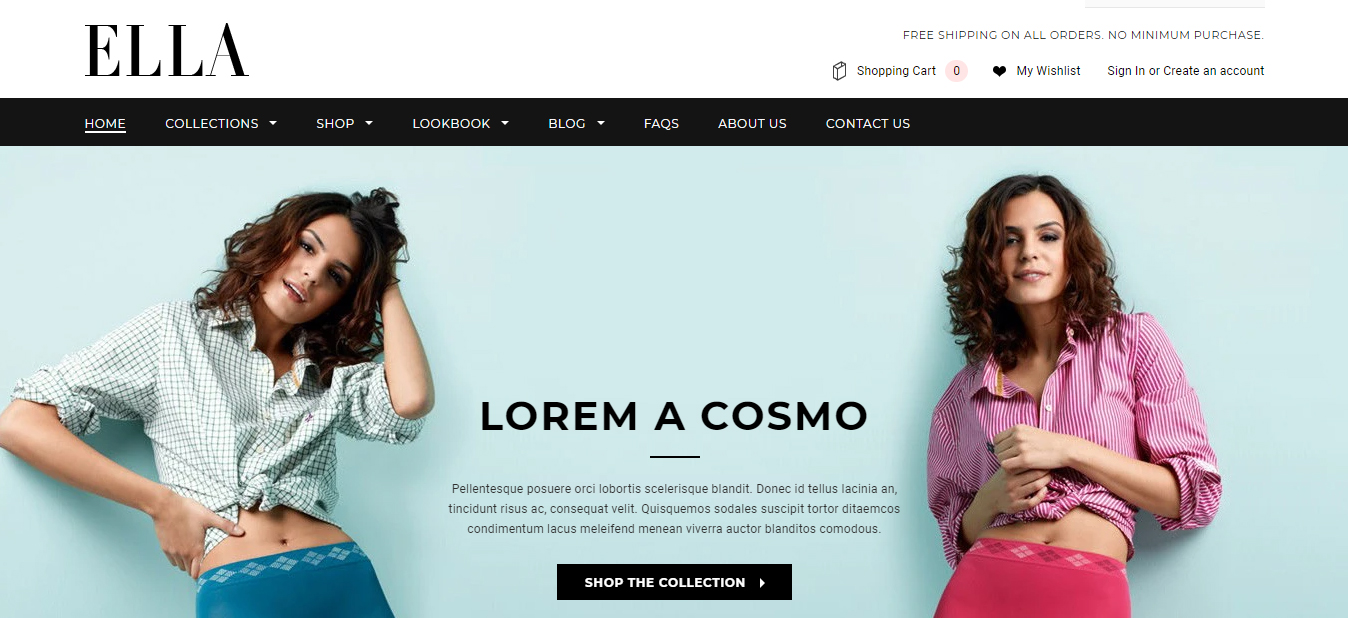 It has a special module for all your categories in an advanced mega menu. You can manage and maintain it from the Shopify administration panel. It also makes use of the latest Ajax technology when your customers apply search filters in your store and when adding products to their cart, without having to change the page. This improves your shopping experience and therefore helps you increase your sales.
It comes with an extension so your visitors can subscribe to your newsletters in MailChimp. Its design adapts to any screen size and type of mobile device. As for its customization options, it supports unlimited colors in most of its elements, the category page has several design options. You can upload your logo and favicon easily.
It offers interesting functionalities such as progressive loading of images, personalized icons and links to your social networks; ready to show color pickers in product variations; infinite scroll Ajax module; collection pages, contact, blog, and more; size guides; user ratings; effects when hovering over product thumbnails; a quick view of products; and much more.
Porto
Porto is a powerful Shopify template that comes with 25+ predesigned demos that span a multitude of store types – fashion, sportswear, electronics, furniture, accessories, footwear, and more. Includes exclusive eCommerce features and free updates. It is extremely customizable through its powerful administration panel so you can use it for any type of online store.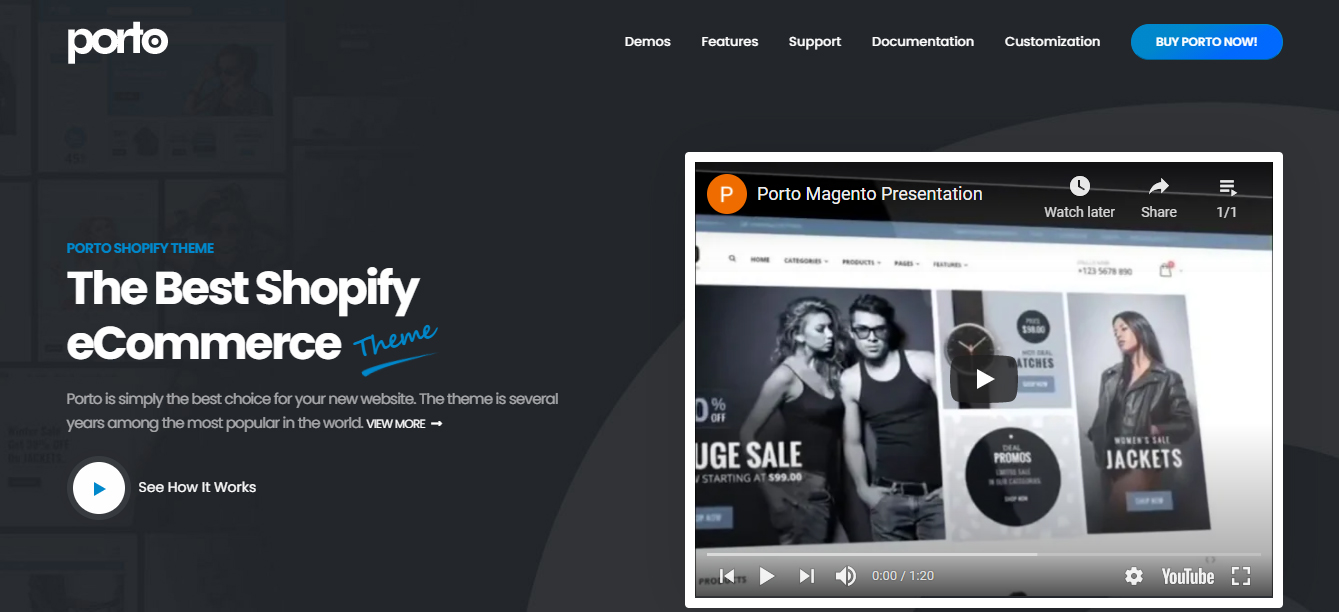 With Porto, you can create unlimited header styles, page layouts, and colors in just a few minutes. It has an impressive vertical mega menu fully customizable with multiple columns of links to your product categories and static content such as images. Also, the collection pages of your store are customizable in columns, banners, width, and more. It comes with the option to display colors as selectors for product variations. It features quick product view, multi-currency support, image switching when hovering over product thumbnails, infinite product loading, and more.
Porto offers a fast loading speed of its pages thanks to its extremely optimized code. Their technical support is exceptional. Its design is 100% adapted to mobile devices and retina (HD). Porto is friendly with search engines like Google and Yahoo, so it will be of great help to position your content.
Gecko
Gecko is a clean and minimal Shopify template that has hundreds of options to help you easily create the online store of your dreams. You will be able to build a multitude of designs combining all the sections already integrated into their predesigned demos.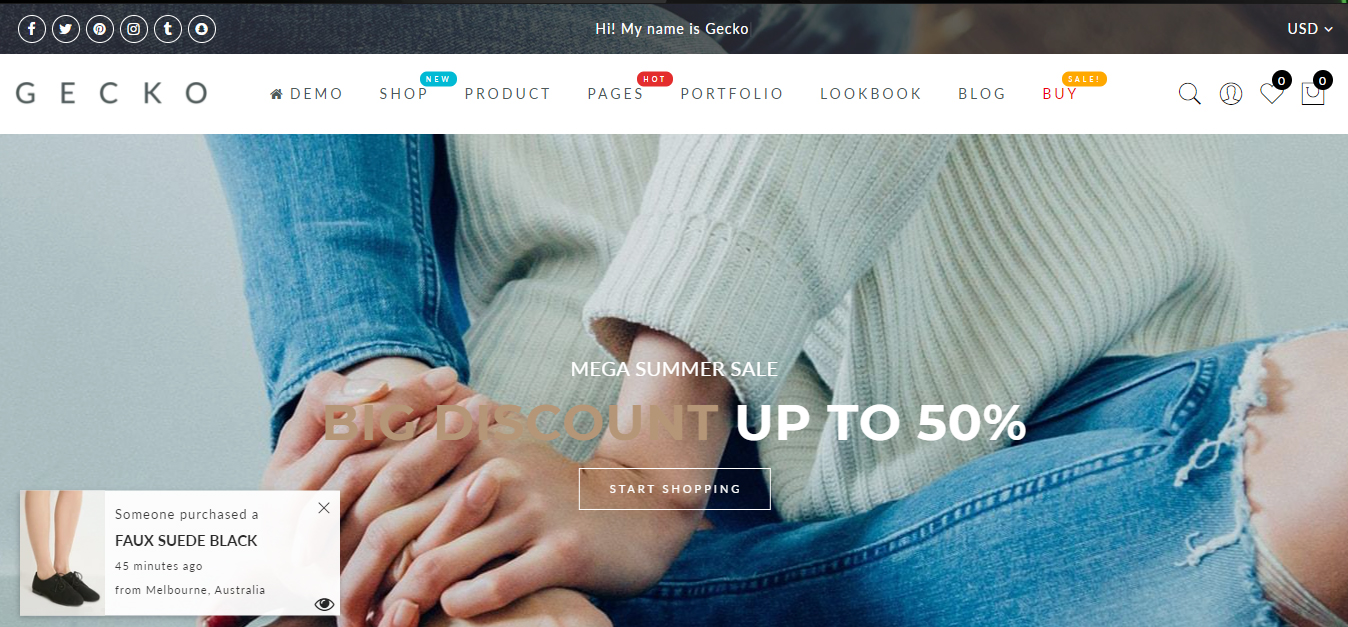 Gecko comes with 1 5+ awesome pre-designed demos for your home page, easy to import, and highly customizable. They cover a wide range of businesses – fashion, womenswear, accessories, green products, furniture, crafts, electronics, and more. Plus, you'll be able to choose from 7+ header styles, 25+ home page styles, 9 product page layouts, 8 color pickers in your product variations, and more.
Your product detail page is designed to optimize conversions for sale. You can include countdown timers and promotional banners on your category pages. If any of the products require express confirmation of the age of majority, Gecko allows you to display a popup for the visitor to report that they are of the age allowed. It also supports putting your online store in catalog mode so that outside certain hours or on certain days your customers cannot make the purchase of products.
Gecko is compatible with the extensions: Ryviu – which adds reviews from Aliexpress and Amazon; Mega Menu – to include mega menus with multiple columns and contents; Shopify Store Locator – to show the location of your store on a Google Maps map; Threshold – to offer free shipping from an amount on your purchase.
Other relevant features and functionalities are: product packages – which allow you to combine several products and sell them together at a discount; collections – perfect for announcing new collections or product lines; Instagram store; in-store filters based on Ajax technology – so your customers don't have to refresh the page when choosing search filters; It is optimized for search engines (SEO); your pages load very fast; its design is 100% adapted to mobile phones; it is ready to translate; supports MailChimp; supports videos in products; and more.
You May Also Read: Why and How to Migrate to Shopify from Your eCommerce
Apparelix
Apparelix is an incredible and minimal multipurpose Shopify template that you can use for any type of online store. Comes with 5+ stunning homepage styles and 18+ ready-to-use predesigned demos spanning a wide range of niches – fashion, clothing, accessories, accessories, glasses, cosmetics, jewelry, watches, spirits, lingerie, books, shoes, food, and more.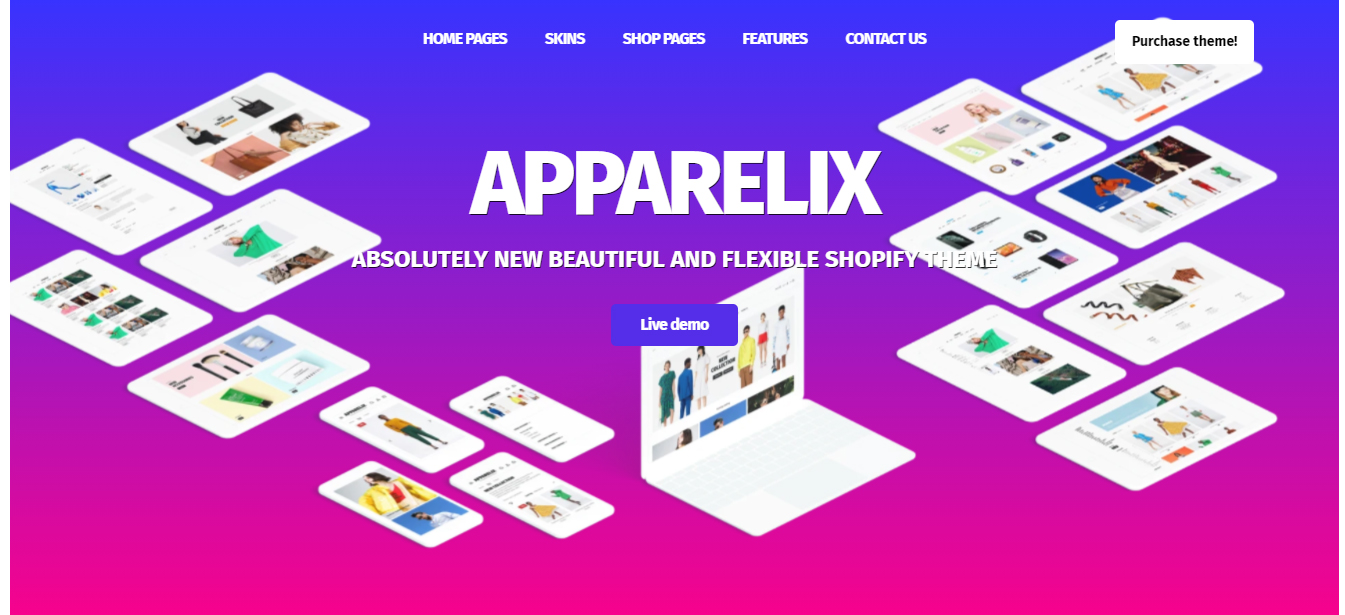 Through its advanced options system, you can adjust its visual appearance to your liking with just a few clicks, such as uploading your logo, modifying the content of the sidebar, and configuring the mega menu. You will be able to add, reorder and delete all the sections you need on your cover page. It also offers 4+ styles of product listing, 4+ styles of the product detail page, various styles of headers and footers, and more.
Its code has been optimized to offer a fast loading speed, which will result in an excellent shopping experience for your users.
Other notable features are impressive Mega Menu; sections for banners; visual color and size selector; a multitude of filters for your store; Ajax-based real-time search engine; custom tabs on products; and much more. With Shopify, you can sell your products on Amazon. Offers 24/7 after-sales support.
Kalles
No matter what you want to sell, Kalles is a template for Shopify that will allow you to build a powerful online store that will provide your customers with a smooth and pleasant shopping experience. Its design is modern and minimalist, which will allow your customers to focus all their attention on your products, avoiding superfluous elements that may distract them. Kalles is fully compatible with Oberlo, one of the largest Dropshipping platforms.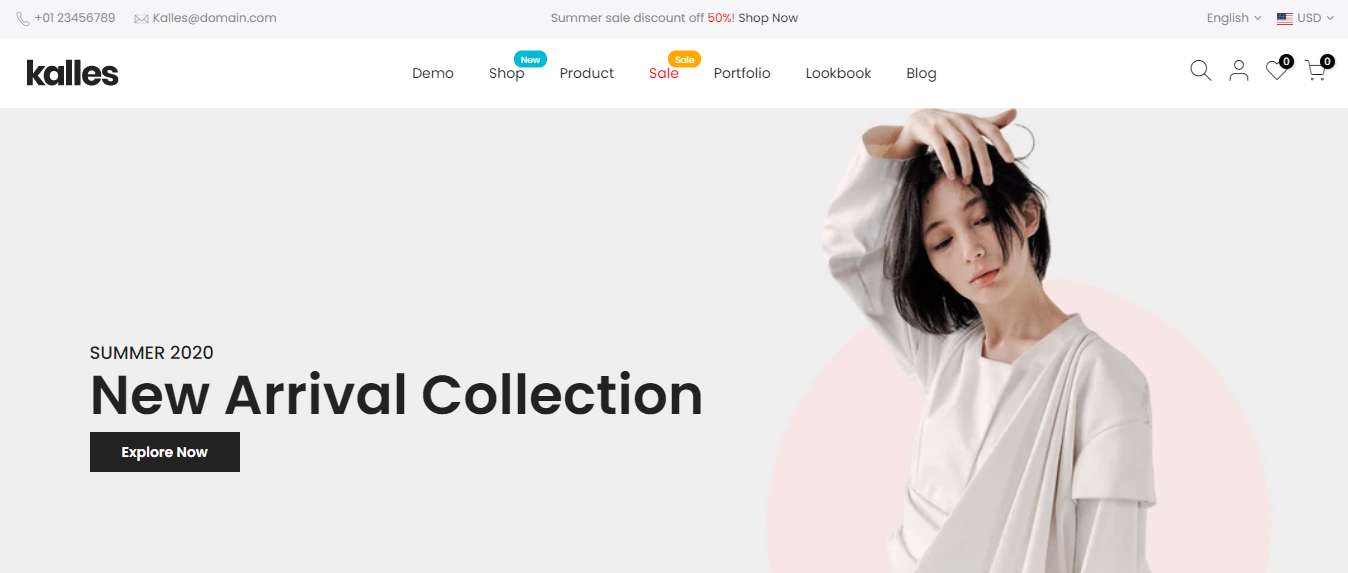 It comes with 25+ awesome fully equipped pre-designed demos. Easy to import and highly customizable, making the creation of your electronic commerce very simple. Shopify's drag-and-drop GUI sections will allow you to add, modify or delete the contents of your pages without knowing any code. It has multiple styles of the store page and product details. And if you want to have a blog, don't worry, because Kalles also integrates this tool that will help you gain greater visibility in search engines such as Google or Yahoo.
Kalles offers an adaptive design so your eCommerce will be perfectly visualized on any type of mobile device, tablet, or computer. Its code is ultra optimized to help your pages load as fast as possible.
On the product detail pages, you can include videos and 3D models, as well as images without the need for custom code or third-party extensions.
Other interesting features to highlight are catalog mode (without shopping buttons or cart); bundled products; a quick view of the product; instant searches; 360º product views; briefcase; images with grouped products; size charts; inquiry form; and much more.
Kala
Kala is a highly flexible and customizable Shopify theme with which you can create your own online store without touching a single line of code. You can import any of its 60+ predesigned demos with a single click to later modify them to your needs. In addition, it has 65+ sections, 5+ product page styles, home page customization with sections, 12+ header styles and 4+ footer styles .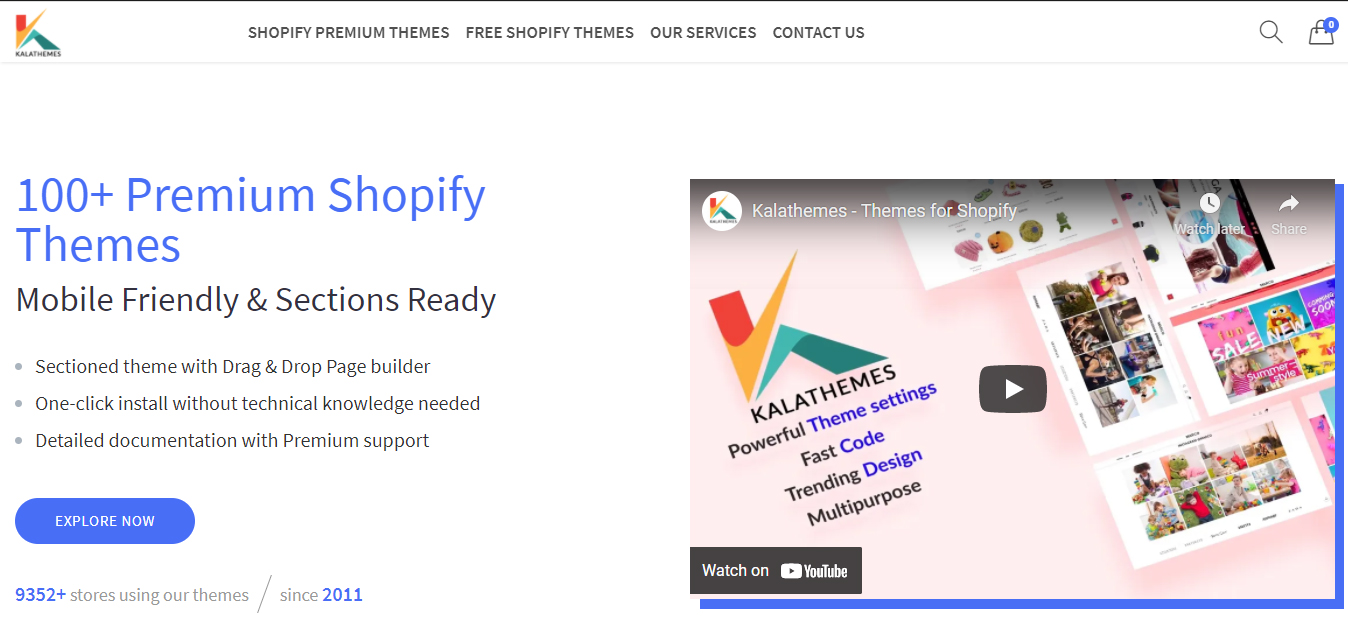 Through its powerful administration panel, you will have complete control over its visual appearance, so you can easily customize it. Using Shopify's drag-and-drop graphical interface, you can include any of its 65+ available sections.
This template is fully compatible with Oberlo, one of the largest Dropshipping platforms.
Kala offers advanced search filters so your customers can quickly find the product they need. The configuration of your products will be very fast and you will not need to resort to third-party applications for the inclusion of meta fields.
Other features it offers are: mega menu; wish list and comparator; color and size selector with images; sliding image viewer builder; offers; discounts; countdown timers; bundled products; promotions, marketing banners, rewards, points programs; zoom in product images; question form; product quick view popup; ratings from other customers; product collections; instant product search; product galleries; Blog; Google Fonts fonts; design adapted to mobile devices; and many more.
Fastor
Fastor is a Shopify template that will allow you to create a professional online store without the need for code knowledge. It includes in the same package 80+ predesigned demos for a multitude of types of stores – fashion, cosmetics, food, furniture and decoration, tools and spare parts, and many other niches.
It has a multitude of features that will surprise you, such as the number of products included in the cart, countdown counters to increase sales, a box that shows information to comply with the European cookie law, integrated Google translator, age verification popup, and more. You will be able to chat with your customers via Facebook Messenger, track the behavior on your website in real-time, show a popup when your visitors try to leave your store, encouraging them to continue shopping. In addition, it has dynamic buttons that are alternative to adding to the cart to, for example, pay with Apple Pay or PayPal.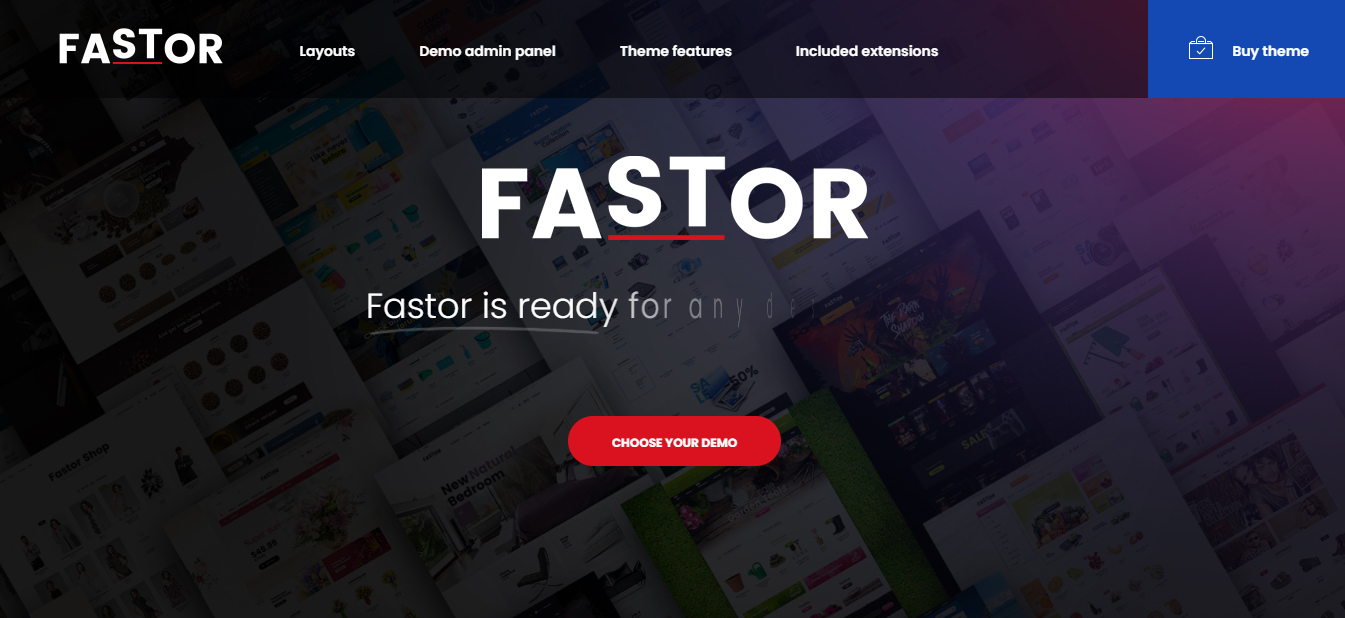 Fastor includes the popular Revolution Slider extension, which will allow you to easily create and manage your sliding image banners. You can also include pins in images to show clothing sets and links to each product page.
Other outstanding features are notifications about products that were purchased by others; 360º views on product photography; a super-fast installation that will allow you to have an online store exactly like their demos; add to cart popup; advanced selector of product variations; powerful mega menu fully customizable; specific menu for mobiles; product loading in categories based on Ajax; Ajax-based search box; quick purchase bar on mobiles; a quick view of products; unlimited filters on the products of your store – color, brand, size, etc .; selector of product variations based on colors, images, sizes; buttons for sharing on social networks; product comparator; and many more.
Basel
Basel is an elegant, minimalist, and professional Shopify theme that uses the most modern Ajax technology to offer the best shopping experience to your customers.
Making use of its drag and drop page builder, its multiple customization and configuration options, it's premium sliding image banner, and Shopify, you will have the ability to create a powerful online store that will display perfectly on any screen size and type of mobile device.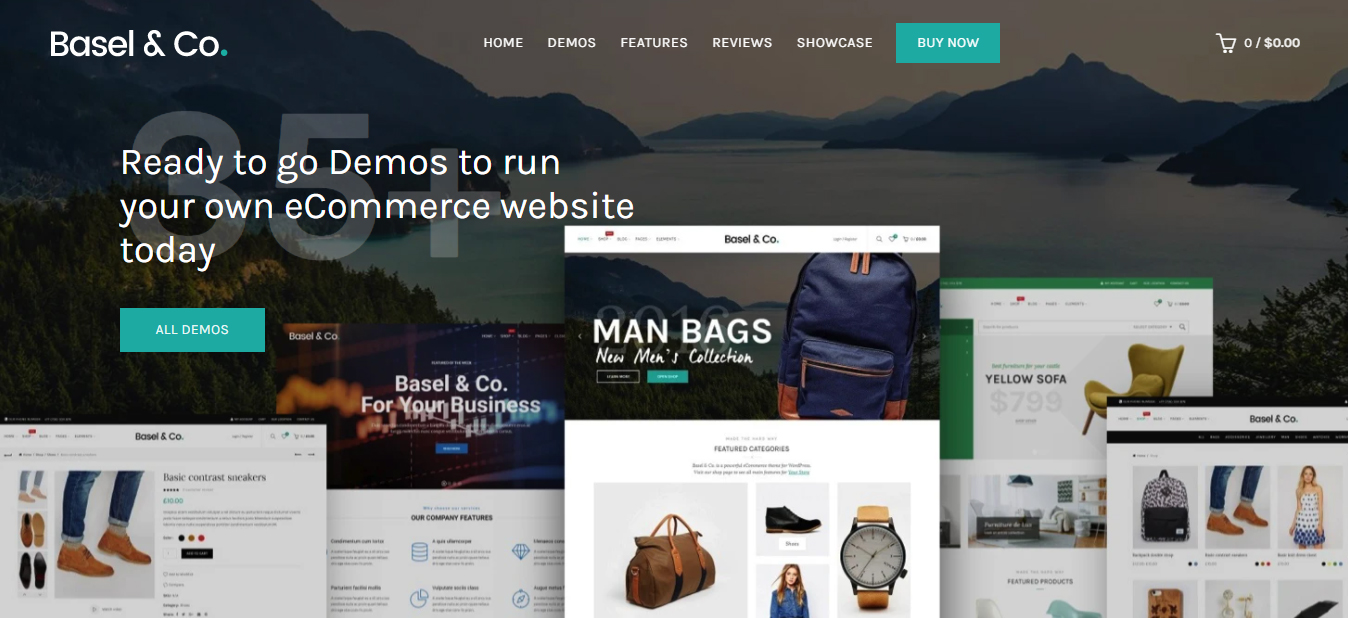 Basel is perfect for all types of electronic stores of clothing, electronics, furniture, accessories, flowers, ecological products, shoes, wine, bicycles, sports, supermarket, lingerie, watches, glasses, or any other product. You have at your disposal 10 predesigned demos for your home page, which you can use as a quick start since they are imported with a single click. Regarding its customization capacity, it is worth highlighting its unlimited variations of headers and footers, unlimited color schemes, and 600+ Google Fonts fonts.
Basel is compatible with such interesting extensions as the Nitro Product Bundle, allowing you to bundle a set of products offering a discount. As we have already mentioned, Basel uses Ajax for the process of filtering products in the store, the search box, and when adding products to the cart, ensuring that customers do not have to refresh the page, which improves their shopping experience. It also has popups for a quick view of products, size, and color selector using image or color blocks. As well as a 360º view of the products. Another interesting feature is a quick buy button on the thumbnail images of your products.
Its code is optimized so that your virtual store loads super fast and supports rich snippets (Google Rich Snippet), which will help improve your SEO. Basel is ready to easily translate into another language.
Avone
Avone is an extraordinary and powerful template for Shopify, easy to use, with lots of features, and with unlimited possibilities. Its responsive design ensures that your online store will be perfectly displayed on any screen size and type of mobile device.
It has 1,000+ configuration options, making it the most customizable template on the market – page layouts, headers, footers, typography, colors, and more. Allowing you to create almost any design imaginable. Plus, it includes the best features for eCommerce.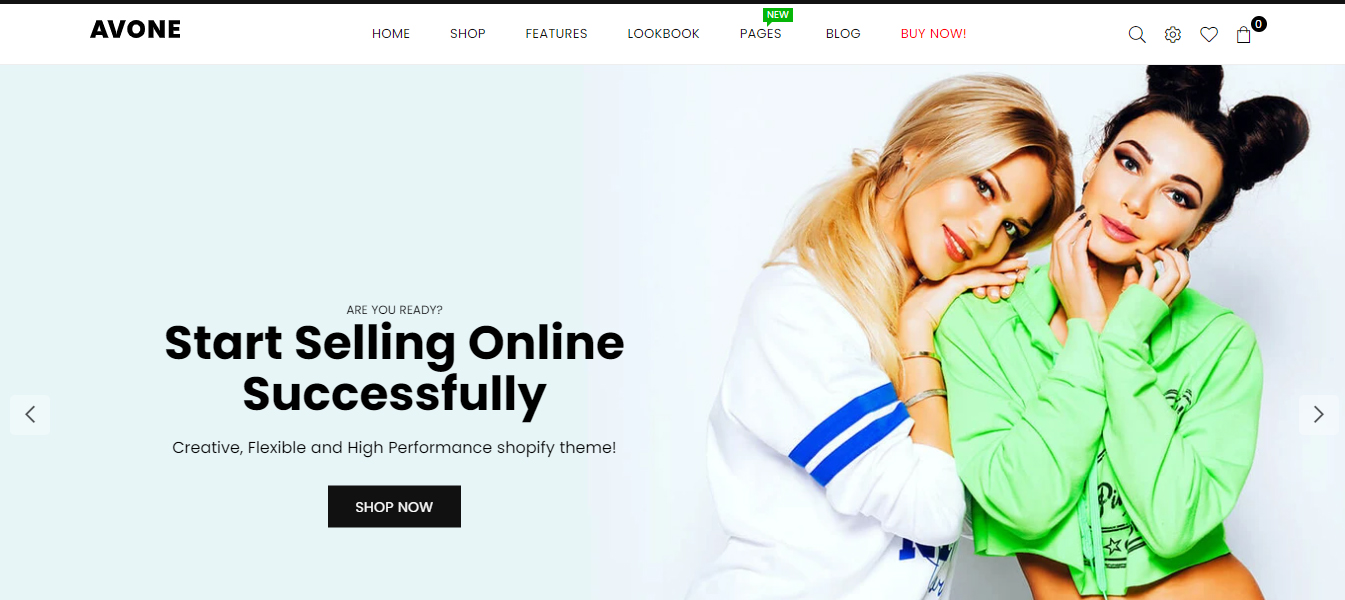 It comes with 20+ predesigned demos for your home page, installable with a single mouse click, with sections that you can move simply with drag and drop. As well as 10+ store page styles, 8+ product page styles, and 10+ header styles. You can also combine sections of several demos to create your own website fully adapted to your needs.
Its list of included functionalities is huge: quick purchase, GDPR compliance, in-product notifications; unlimited filter options about your store; autocomplete in the search box; popup to subscribe to your newsletters; customer testimonials; dynamic labels on products; videos on products; advanced visual selector of product attributes; photo galleries; MailChimp; size guides; mega menu; and many more that we invite you to explore.
Conclusion
We hope this article has been super useful for you to know the best converting Shopify themes to download. Themes should allow you to expand your eCommerce and boost your company to the top, so choose the one that you like the most and that suits you.