We all know that Shopify is now one of the most leading eCommerce platforms. So, it is very difficult to ignore this platform and use another one. But still, there are some good alternatives to Shopify. Shopify is excellent but sometimes people worry about its high costing scale.
For example, if you don't use "Shopify Payments," which is the platform's own payment gateway, Shopify will apply a payment processing fee of up to 2%. But what if you don't want to use Shopify Payments, or if you live in a country where this payment method isn't supported?
As there are many alternatives to Shopify, it's not an easy decision to make. This is because you need a platform that can deliver all the features you need and that doesn't hold you back as your business grows.
Don't worry about it, we've done all the research for you. Let's take a look at some of the best Shopify alternatives out there to help you make an informed decision and choose the one that best meets your needs.
Our pick of the best Shopify alternatives
WooCommerce – The most flexible and customizable eCommerce solution, without any limits
Wix – A solid website builder with everything you need to have a store up and running in no time
BigCommerce – A powerful eCommerce platform with advanced selling tools and dedicated 24/7 support
Squarespace – A user-friendly platform with professionally designed templates and a wide range of mid-level eCommerce tools
Weebly – An easy-to-use drag-and-drop website builder with inexpensive, beginner-friendly eCommerce tools
The Features We Look for in the Best Alternatives to Shopify
We have personally tested all the major eCommerce platforms. After the survey we found that the best have the following characteristics:
Quality/price ratio. One of the main disadvantages of Shopify is its price. All of the platforms on this list offer much better value for money.
Flexibility. Customizing your store and adding product variations should be easy.
Robust eCommerce tools. Powerful tools for viewing, marketing, and managing your inventory are essential to the success of your store.
Excellent SEO tools. Shopify is renowned for its SEO issues. For example, the platform does not allow you to have full control over the structure of your URLs. You must look for an eCommerce tool capable of boosting your positioning in search engines.
WooCommerce – A Flexible and Unlimited eCommerce Platform for WordPress
No doubt that WooCommerce is designed exclusively for WordPress. WooCommerce has amazing features and functions which can be competitive with Shopify. Moreover, WooCommerce considered being free Shopify alternatives as it is free to install.
With WooCommerce, you can create pop-ups with discounts for new visitors, and display related products at the bottom of product pages. Also, you can easily add additional functionality through WordPress plugins or WooCommerce extensions.
WooCommerce is also great for dropshipping. If your product line is limited, you can add products manually. On the other hand, if you want to use dropshipping for a lot of products, you can install the WooCommerce DropShipping extension or the WooDropship plugin to automate the process. These tools will allow you to automatically connect to dropshipping suppliers like AliExpress.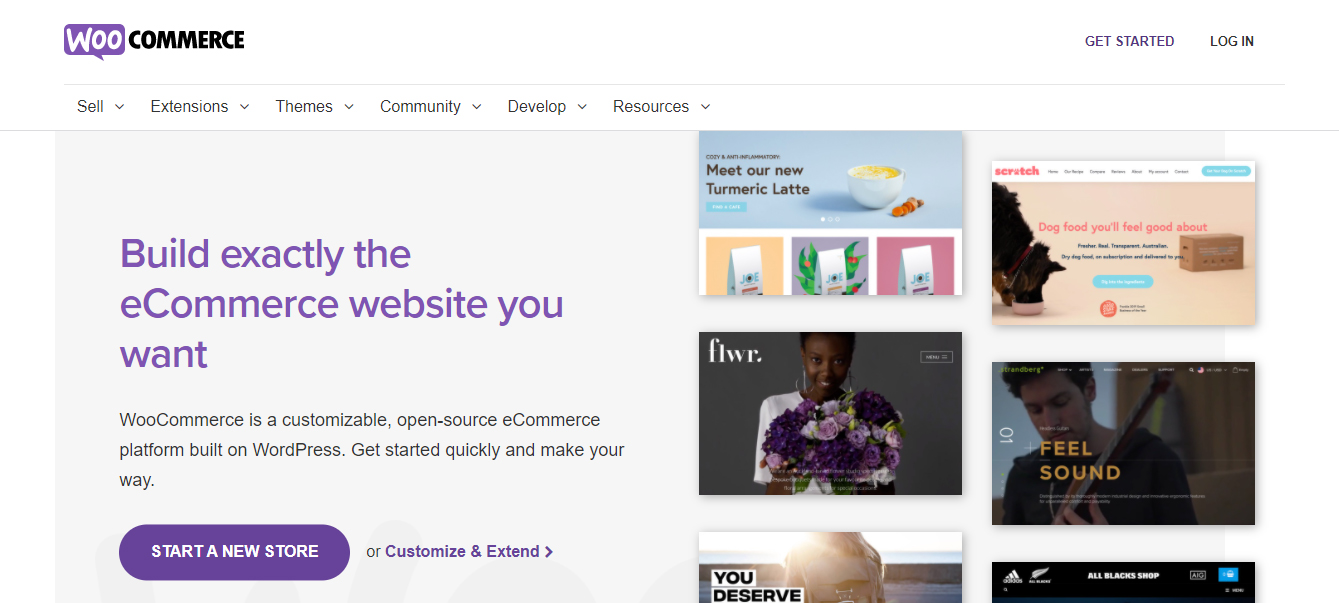 The main downside to WooCommerce is that you have to deal with aspects like security and backups yourself unless you opt for managed WordPress hosting.
You May Also Read: Shopify Vs WooCommerce: Which is the Best Platform for eCommerce?
Features
Flexibility. WooCommerce is by far the most customizable and flexible eCommerce solution on the market. You'll have full control over the look and functionality of your website, and WooCommerce integrates seamlessly with thousands of WordPress plugins. This excellent flexibility means that the products offered and the sales made are unlimited. Besides, you can easily scale your WooCommerce setup as your business grows.
Extensions. WooCommerce doesn't just integrate with WordPress plugins. Indeed, WooCommerce also offers a wide selection of extensions (free and premium). You can accept reservations, offer premium memberships, and even add subscription boxes (extremely popular lately).
Savings. Avoid sky-high subscription renewal fees! The advantage of a WordPress-based eCommerce system is that it's easy to transfer your entire setup to another web-hosting provider at cheaper rates.
Product tools. WooCommerce has an impressive range of tools to help you showcase your products and boost your sales, for example, image and video galleries. The options and variations you can offer are limitless.
Sales features. WooCommerce's WordPress basics really make it stand out. Content creation is easy with WordPress, and you can use plugins to create "landing pages" to boost your conversion rates. You can also embed your products directly into blog posts and pages to increase your sales potential.
| | |
| --- | --- |
| Free try | No, but the platform is 100% free. You will only need to pay for the accommodation. |
| Themes | Thousands, with over 1000 free eCommerce themes in the WordPress catalog. |
| Transaction fees | No. |
Wix – Hundreds of Templates for Small eCommerce Stores
Wix is ​​one of the most popular website builders out there and has a decent range of eCommerce features. If you're looking for a simple drag-and-drop editor for your online store, Wix is ​​a great choice.
Unlike Shopify, Wix does not charge additional transaction fees. (You'll need to pay your payment gateway's processing fees, though.) Compared to Shopify, payment gateway options are more limited, but popular options like PayPal and Stripe are available.
Just keep in mind that while you can set up your store with the free plan, it is not possible to market products without upgrading to a paid plan.
While Wix can't compete with Shopify when it comes to the number of apps available (Shopify has over 2,800), Wix offers a wide selection of eCommerce-focused apps, for example:
Wix Chat, allow customers to quickly ask you questions via instant messaging
Sell ​​Downloads, to help you manage your digital download sales
Wix Bookings, to allow your customers to make reservations on your website
There is also a good selection of marketing apps, including:
Give Coupons, to offer coupons to new site visitors
Social Testimonials, to add social media reviews to your site
Finally, the platform offers powerful analysis apps, including:
Store Metrics, to generate advanced sales reports
Visitor Analytics, to understand your web traffic without going through Google Analytics
Unfortunately, Wix has some drawbacks. For example, unlike Shopify, Wix does not allow you to market your products through other channels, such as Instagram.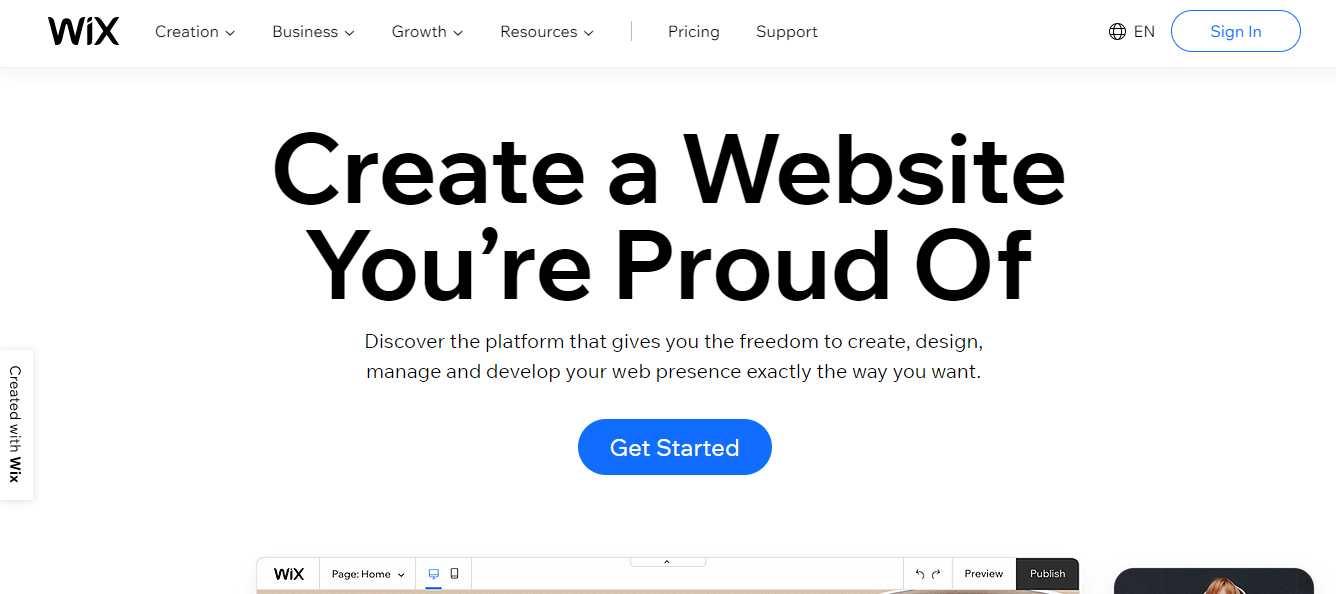 You may also have difficulty selling a large number of digital products with large files due to Wix storage limits (20 GB to 50 GB, depending on the eCommerce plan purchased). The users who don't need extreme-level features can use Wix as alternatives to Shopify.
Features
eCommerce models. One of the reasons that reviews on Wix are so positive is its huge selection of free templates. Over 80 of them are specially designed for eCommerce, but you can customize any template to suit your online store. The only downside: once you've chosen your template, you won't be able to modify it without having to create your website again. You will also need to change the mobile version of your site separately.
SEO. Wix's built-in SEO Assistant provides many tools to help you boost your store's search engine ranking. The assistant provides you with SEO recommendations and even a personalized SEO plan. If you are taking your first steps in the world of SEO, this tool is sure to please you.
Marketing. Promoting your products is easy with Wix's marketing suite, Ascend. While additional fees (on top of your Wix subscription) apply, Ascend is affordable and allows you to easily switch to Ascend plan as your store grows. With Ascend, you can:

Use email marketing and social posts to promote your store
Offer coupons and discounts to your customers
Interact with your customers via live chat
Configure a pop-up window with a personal message to welcome visitors to your site
Manage invoices and quotes
Quickly and easily create and manage a mailing list
Tools produced. To help your products stand out, you can add videos and up to 15 images for each product. Wix supports up to 6 options and 30 variants, and each variant may have a different price. One of my favorite time-saving features is that once you've used a specific variant (such as a color or size), Wix automatically makes it available for other products.
Quality/price ratio. Wix is ​​one of the best eCommerce platforms on this list. For example, the Business Unlimited plan, which includes 35 GB of storage, unlimited bandwidth, advertising vouchers up to $ 300, and free business apps (for example, Site Booster and Visitor Analytics), costs less. expensive than Shopify's entry-level plan.
| | |
| --- | --- |
| Free try | No, but the 14-day money-back guarantee. |
| Templates | Over 500 free themes (over 80 designed for eCommerce). |
| Transaction fees | No. |
BigCommerce – A powerful platform with advanced eCommerce tools
If you're looking for an eCommerce solution that can build sites like Shopify, we highly recommend you consider BigCommerce. Indeed, the platform is easy to use and offers a wide range of powerful and advanced tools for online sales.
BigCommerce and Shopify have similar pricing structures. However, if you compare their entry-level offerings, you will find that BigCommerce offers more features, such as the ability to create gift vouchers. BigCommerce also offers a 14-day free trial. So why you would like to use Shopify instead of BigCommerce? BigCommerce giving you more functions and features at the same price so it is really one of the perfect alternatives to Shopify.
Additionally, BigCommerce can support 600 variations per product. In comparison, the 100 variations offered by Shopify do not look good. Another reason why BigCommerce's plans offer much better value for money.
If you're interested in dropshipping, you'll be happy to hear that BigCommerce offers the AliExpress Dropshipping app to automate the process. You can of course set up your BigCommerce store so that you can do it yourself, but it might take you a lot longer.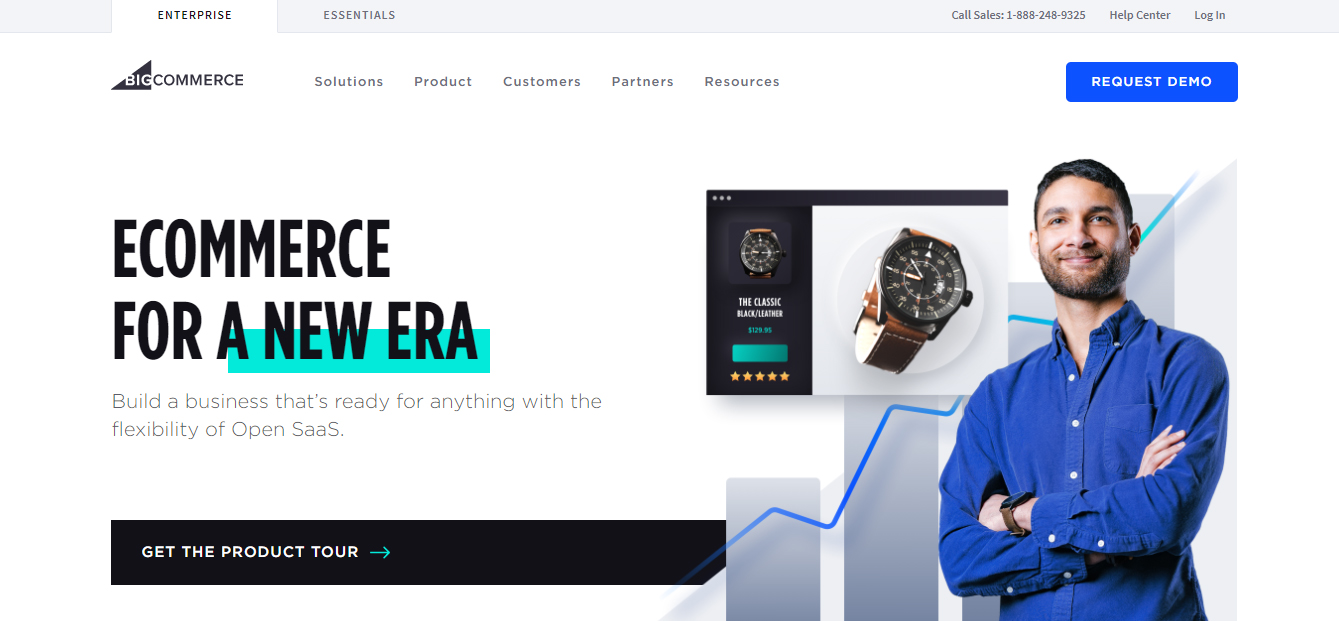 BigCommerce also supports multiple currencies, so that you can sell your products to customers around the world. Visitors to your site can select their local currency when viewing your store, and BigCommerce even lists automatic exchange rates.
However, there is something that we didn't like about BigCommerce: the annual sales caps. In fact, when your annual sales exceed the limit of the subscription plan, you automatically switch to the next plan. And the monthly fees increase by more than double!
Features
Multichannel sales. In order to expand your market, BigCommerce can easily integrate with multiple sales channels including eBay and Amazon. It also allows you to "tag" your products in your Instagram Stories and Posts, which means your followers can view and buy your products without leaving the app.
Payment processing. BigCommerce has partnered with Braintree to offer a huge range of payment processing options, including Amazon Pay, Square, Stripe, Apple Pay, and Google Play. Payment processing fees are very competitive, and BigCommerce does not charge additional transaction fees regardless of the payment processor used.
Vouchers and gift cards. If you want to give gift cards to your customers, it will cost you around $ 50 less per month on BigCommerce than on Shopify. BigCommerce even offers templates for their design!
Referencing (SEO). In order to help your site rank well in search engines, BigCommerce offers dozens of advanced SEO tools, including optimized page architecture, "rich snippets", optimized URLs, redirects. 301 and others. BigCommerce also uses a CDN (Content Delivery Network) to improve the speed of your site, which can also boost your ranking.
| | |
| --- | --- |
| Free try | 14 days, no credit card required. |
| Themes | Over 130 eCommerce themes, including 10 free. |
| Transaction fees | None and PayPal fees decrease as sales increase. |
Squarespace – A Simple eCommerce Platform with Great Designs
If you've read any Squarespace reviews, you've probably noticed that most people rave about their great templates. But you might not know that Squarespace also offers a huge array of eCommerce features. This website builder is very beginner-friendly and should get your store up and running relatively quickly.
Most plans allow you to sell an unlimited number of products, and you will not pay transaction fees if you purchase one of the "Online Store" plans.
Squarespace offers a fully functional 14-day free trial. This will allow you to test all features before committing to a long-term plan.
Squarespace offers an impressive array of tools. For example, Instagram integration allows you to extend the reach of your store and give customers the ability to purchase your products directly from the Instagram app.
In addition, you can use pop-ups and banners to offer discounts to new visitors in exchange for their email addresses. You also have access to advanced analytics features, and you can easily manage your SEO from your dashboard.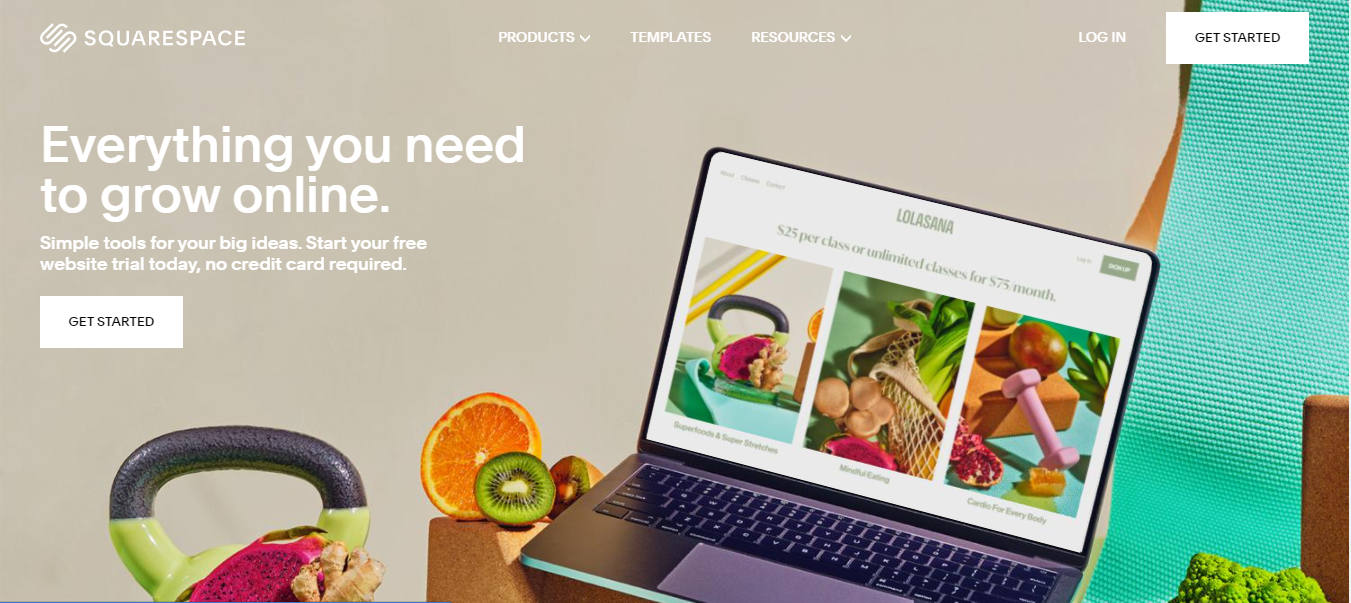 One of the downsides of Squarespace is that you can't create a section just for user reviews. Granted, you can use Disqus to allow users to add reviews to your products, but the accuracy won't be the same as with a dedicated user reviews section. Also, you'll have to add Disqus using blocks of code, which complicates things a bit.
Features
Product display tools. You can enrich your store with videos and image galleries for each product. You can even enable image zoom to allow customers to see your products up close.
Subscriptions. If you want to take advantage of the huge popularity of subscription boxes, Squarespace makes it easy for you. This is because you can create subscription products that will automatically bill your customers every month or every two weeks (there is no option for weekly subscriptions yet).
Sales tools. Squarespace offers an interesting range of tools that can help you market and promote your products. You can not only create discount codes and gift cards but also send abandoned cart recovery emails. In addition, a "Content Manager" saves you time by managing all of your inventory in one place.
Squarespace Commerce App. 

Manage your eCommerce site on the go! This app available for iOS and Android devices allows you to manage your inventory, add product images, provide flash offers and use the built-in barcode reader to automatically confirm the shipment of the order when you scan the barcode on the shipping label.
| | |
| --- | --- |
| Free try | 14 days, no credit card required. |
| Templates | More than 100 models (2 designed for eCommerce). |
| Transaction fees | No charge for the two "Online Store; 3% with the Business plan. |
Weebly – An Ultra-Simple eCommerce Solution for Beginners
If you are looking for the simplest possible eCommerce solution, Weebly is the platform for you. You'll love the registration wizard, which will guide you through the process of setting up your store. According to most reviews on Weebly, the platform is a great fit for beginners and we totally agree.
Even though Weebly offers a free plan, you will need to upgrade to a paid plan if you want to market products. However, there is a 30-day money-back guarantee, so you can try all features risk-free. So Weebly surely is a great choice Shopify alternatives free to use.
If you want to avoid transaction fees in addition to payment processing fees, you will need to purchase the Business plan. And best of all, this package allows you to sell unlimited products. This option is recommended if you want to run a large store through Weebly.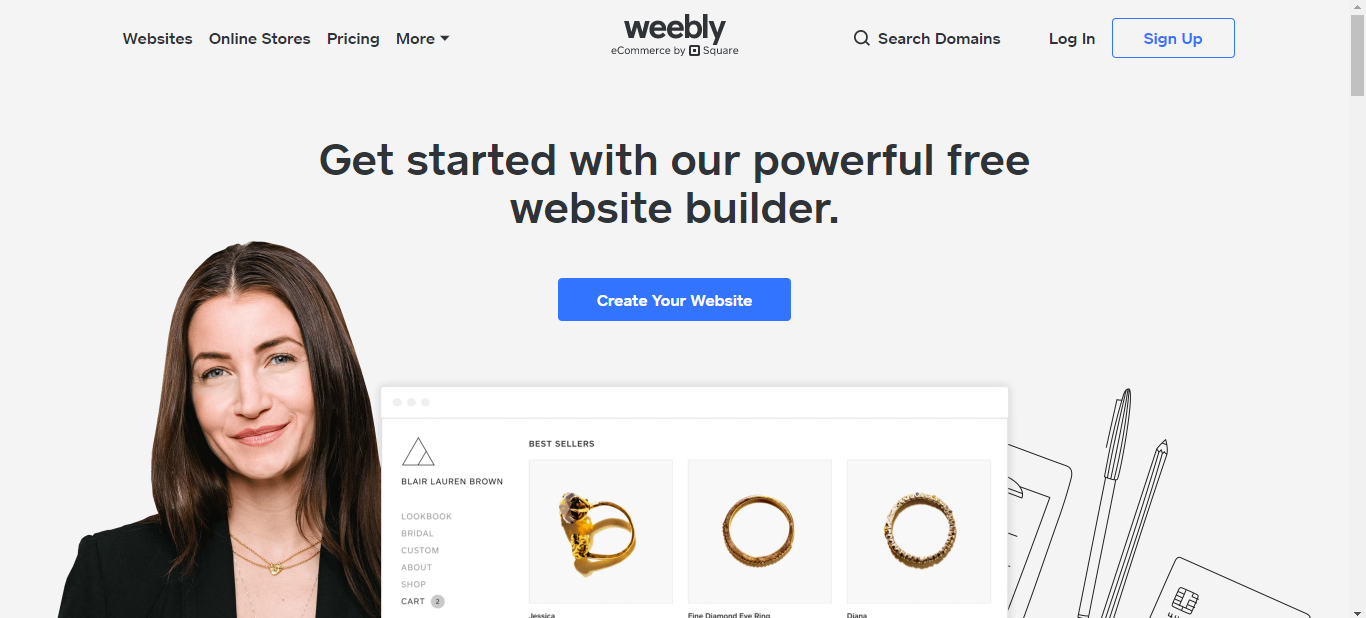 Granted, Weebly isn't the most advanced eCommerce solution out there, but it does give you all the tools you need if you're new to selling online. The platform is scalable, but to a lesser extent than some of the more advanced options on this list, including BigCommerce and WooCommerce.
Features
Types of products. Weebly offers six types of products: physical, digital, donation, membership, events, and services. It's more than Shopify's options.
Intuitive editor. Weebly does not require any technical skills. An installation guide will accompany you throughout the creation of your online store and the addition of your products. The editor's navigation system is also very intuitive. The settings and features are grouped into categories (Website, Store, Marketing, and Insights) and the options are not too many so that you can quickly find the settings you are looking for.
The product search filter. Weebly's built-in product search filter makes it easy for your customers to find the products that interest them. They can filter by feature, for example, color, size or price, or by type. It's a great way to simplify the shopping experience and boost your sales.
Product presentation. Weebly offers an interesting range of tools, such as videos and slideshows, to help you showcase your products.
| | |
| --- | --- |
| Free try | No, but a 30-day money-back guarantee is offered. |
| Themes | Over 80 free themes (including fifteen designed for eCommerce). |
| Transaction fees | 3% for all plans except Business and Business Plus. |
How do You Choose the Best Shopify Alternative?
So which eCommerce platform is right for you? Here are my recommendations.
If you're new to website building and/or selling online and don't expect your business to grow rapidly, go for Wix, Weebly, or Squarespace. Indeed, these website builders are suitable for beginners and will walk you through the process of setting up your online store.
If you have the technical knowledge or are already comfortable with WordPress, choose WooCommerce. It is a free, flexible, and 100% scalable solution, practically without limits. You can set up your store exactly the way you want and easily move your hosting to another provider if you find a better deal.
Finally, if you are looking for a dedicated eCommerce platform but Shopify's pricing dissuades you, and you don't expect a turnover of more than $ 50,000 per year, BigCommerce is undoubtedly the best alternative. . This feature-rich solution offers better value for money than Shopify.
| | | | | |
| --- | --- | --- | --- | --- |
| | Price | Main feature | Particularly suitable for | Ease of use |
| WooCommerce | 0 – $$$ | Everything is unlimited (e.g. products, variants, images, videos, etc.) | Large-scale online stores with "landing pages" to boost sales | 3/5 |
| Wix | $$ | More than 500 models | Small and medium-sized online stores | 4/5 |
| BigCommerce | $$$$ | Exceptional SEO tools | Medium and large online stores | 4/5 |
| Squarespace | $$ | Stunning responsive designs | Small shops that can be managed on the go | 4/5 |
| Weebly | 0 – $$ | Larger choice of product types, including events and memberships | Beginners who want to create a small online store | 5/5 |
Conclusions: 
We tried our best to arrange this list of eCommerce platforms that are alternatives to Shopify. Now it's your choice either you use Shopify or another option that we have discussed. There will also some other eCommerce platforms but you tried to bring the latest 5 to you, but if you have any suggestions feel free to inform us by commenting in the comment box given below.