Your website is the face of your online business. That's why your website must be outstanding to distinguish your brand from your competitors. As people prefer to purchase online more than physical stores, the competition is getting much higher day by day. Shopify theme customization allows you to stay competitive by designing your website in the most unique possible way.
Shopify is widely chosen by businessmen as it has specifically designed for eCommerce. Shopify themes are totally customizable and highly responsive that allows you to build your store with your perfect brand image. If you want to customize Shopify themes, you need to know the exact way to do that.
Do not worry, because I am going to provide the complete guide to Shopify theme customization.
Start with the default theme
When you build a store with Shopify, you will find "Debut" as a default theme to begin with your journey. If the theme is enough to serve your purpose, you can edit Shopify themes now based on your requirements. You can simply edit your store using the theme, add products, and be ready to launch your store. Although the default theme is a free theme, it is customizable and highly responsive as well. You can run your store perfectly by customizing the default theme.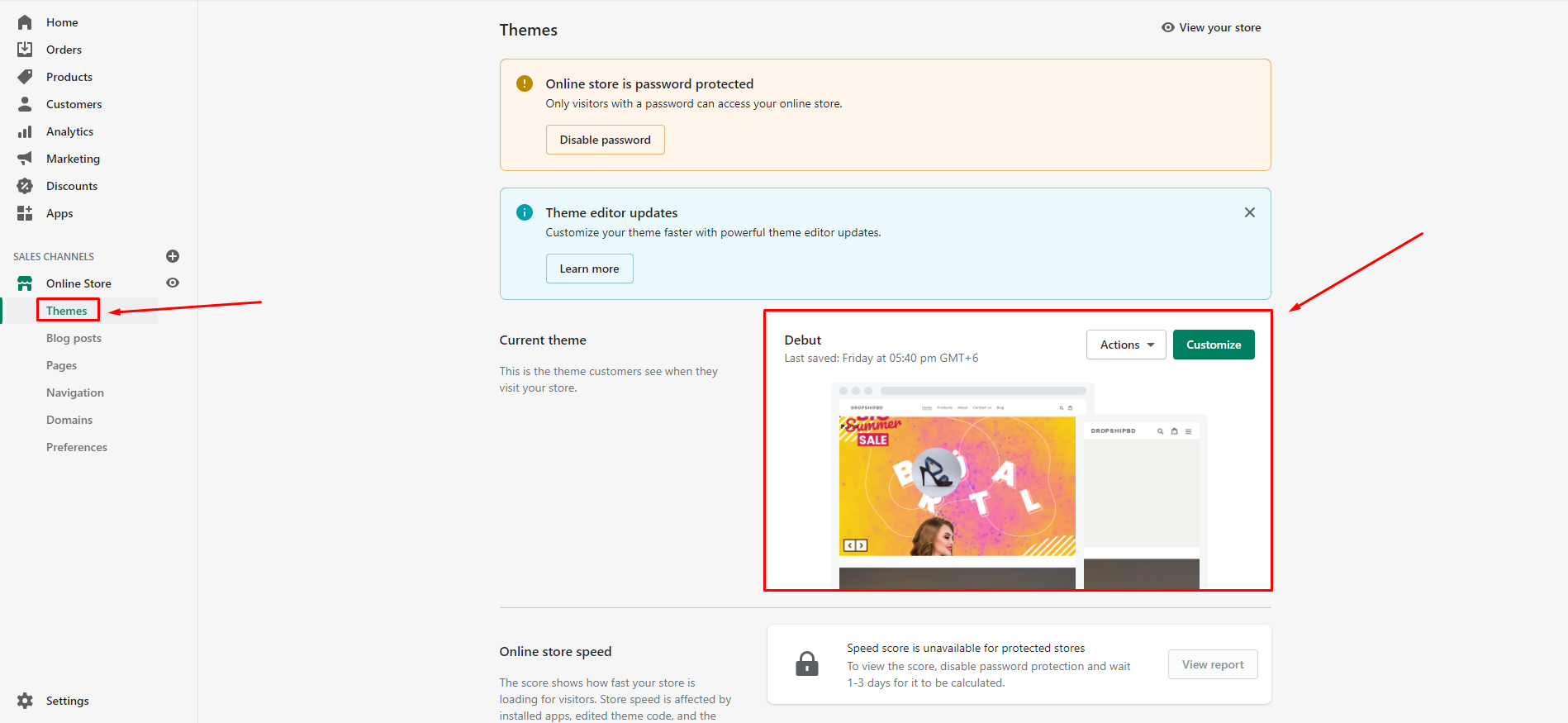 Check out Shopify theme store
Shopify has one of the most enriched theme stores that you can check out for the suitable theme for your store. Shopify has both free and paid themes in the store to choose from.  All of the themes are utterly customizable so that you can redesign your store with proper modification.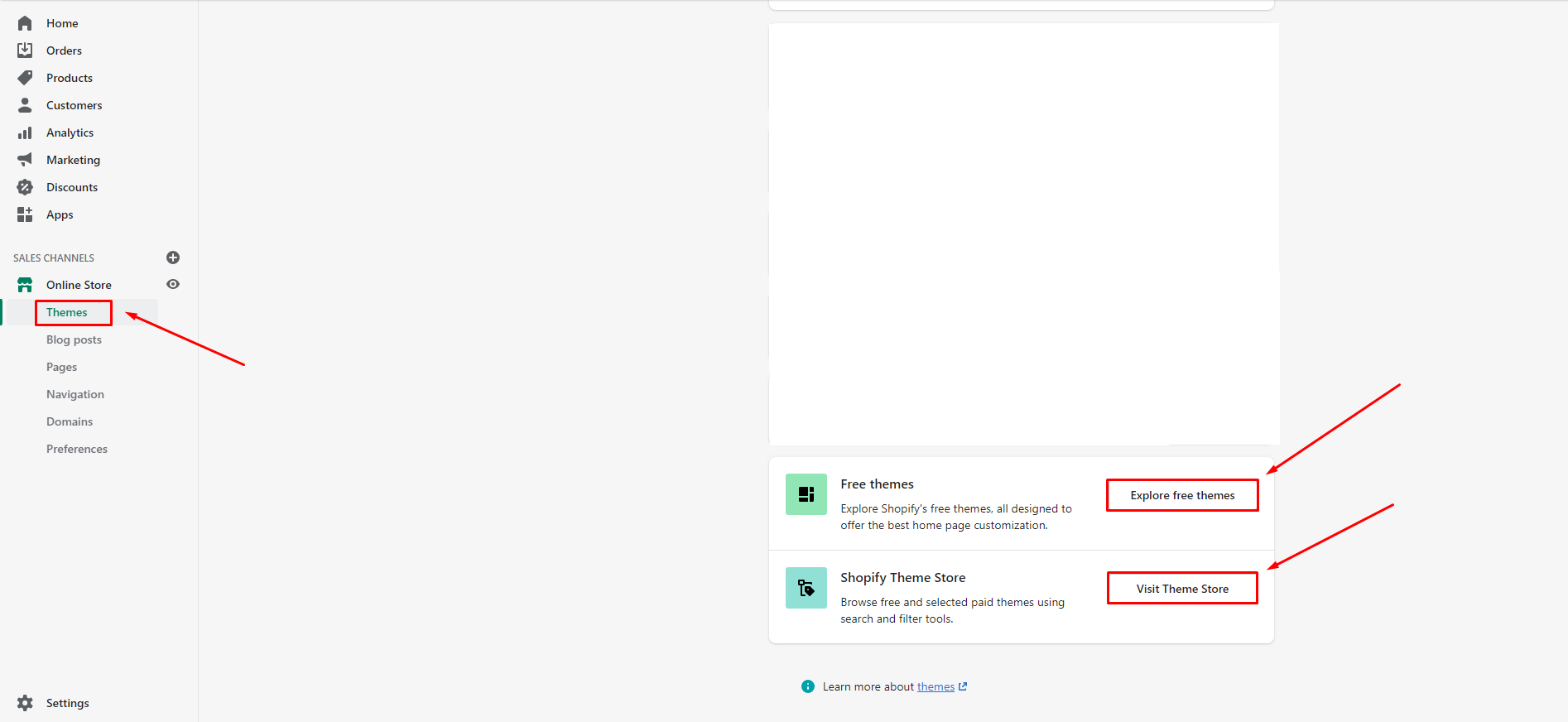 You can go to "Themes" from the dashboard and then click on "Explore free themes" or "Visit theme store". You can get all the Shopify free themes from the "Explore free themes". You will find all the paid themes available in the "Visit theme store". It's better to spend a little bit of time searching for the most suitable theme for your website, no matter whether it's a free theme or a paid theme. These are equally designed to serve the best purpose of the store owner. You will find more and unique features in the paid themes.
Go for a third-party theme
If you have not found your desired theme in the Shopify theme library, you can visit third-party websites. A good number of third-party sites are out there that have the customized themes. You can check popular sites such as Themeforest to explore various third-party themes for your Shopify store. Generally, sites like this often have peer reviews of the themes that can be a great advantage for you.
You can also take the help of professional developers to customize Shopify themes properly for your store. As they are customizing their own themes, you can expect a better result from them.
You may also read: Shopify themes: 8 Best Free Shopify Themes to Choose
Add a theme to Shopify
When you add or purchase themes from the Shopify theme store, you will find them at the theme library. You can customize Shopify themes immediately after adding or purchasing.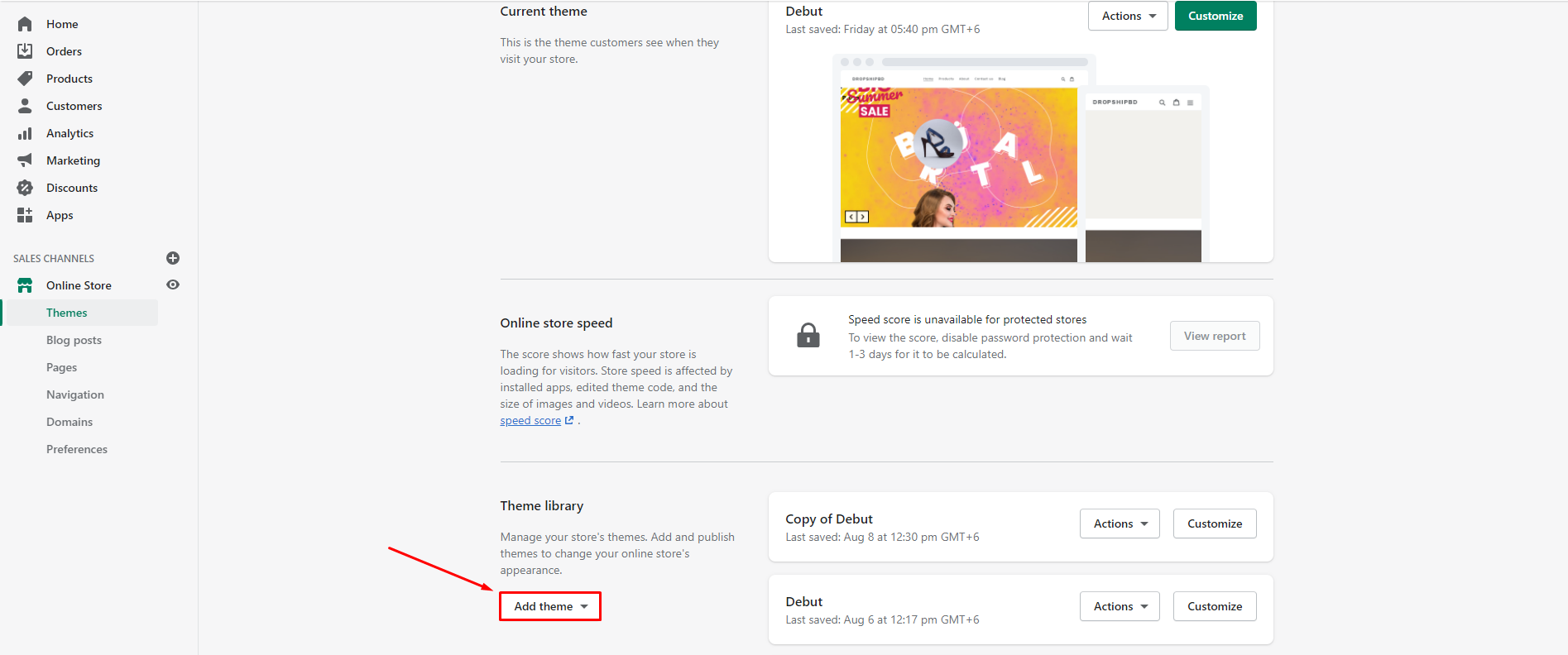 On the other hand, if you purchase themes from third-party sites, you need to add the themes to your Shopify theme library. In order to add themes, go to the "Theme" from the Shopify dashboard. Then click on "Upload theme" under the Theme library.

Now upload a .zip file associated with the theme. After completion of the theme upload, your theme will appear in the theme library.
Let's see the basics of the Shopify theme customization
We have seen the process of purchasing and adding themes in the theme library. Now we will see the Shopify theme customization.

When you have a theme in your theme library, you can start customizing it by clicking on the "Customize" button.
Let me show you the main two approaches of Shopify theme customization. These are- template customization and overall theme setting.
1. Template customization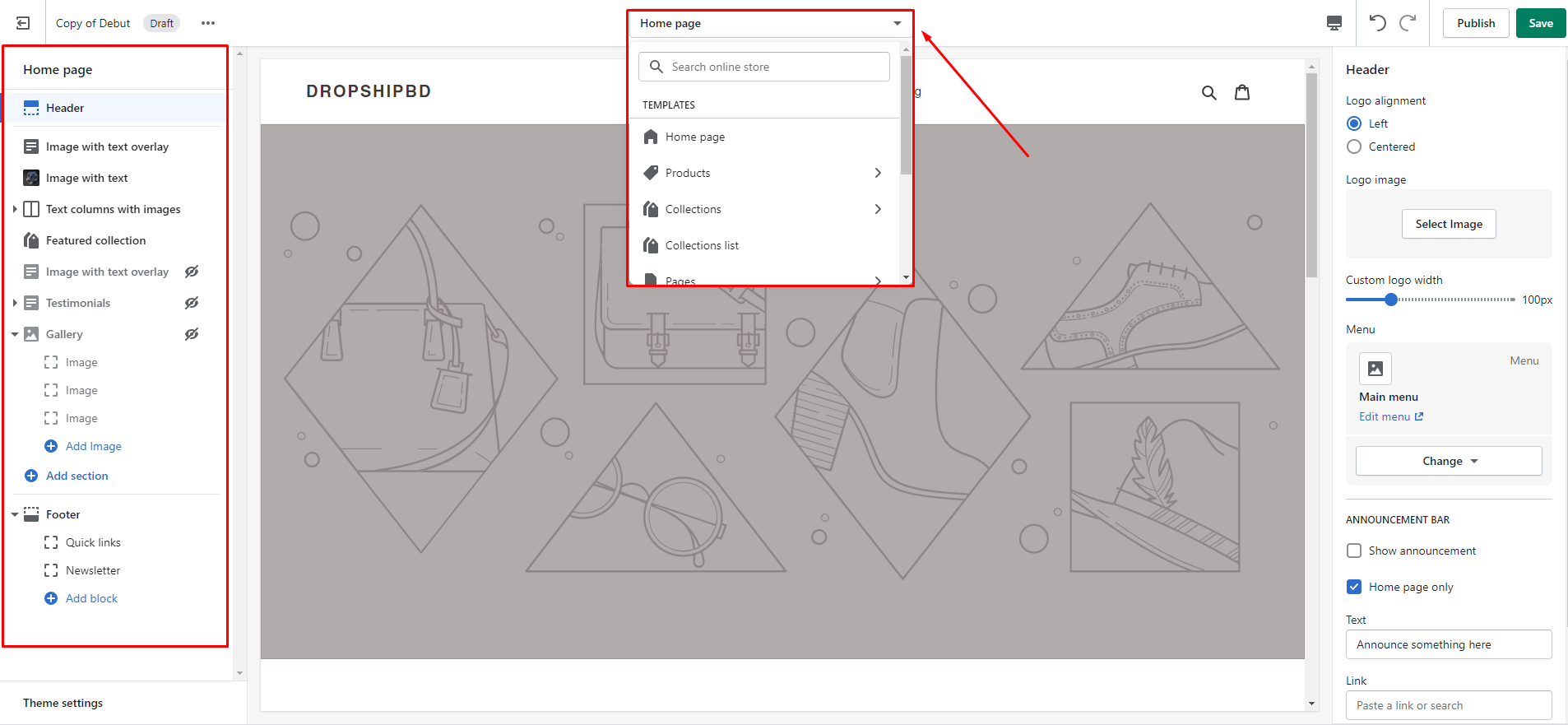 You will find the different templates for different pages of your site. Some templates have more sections than others. You can customize each section, add a new section, move a section, and so on when you are customizing templates.
2. Overall theme setting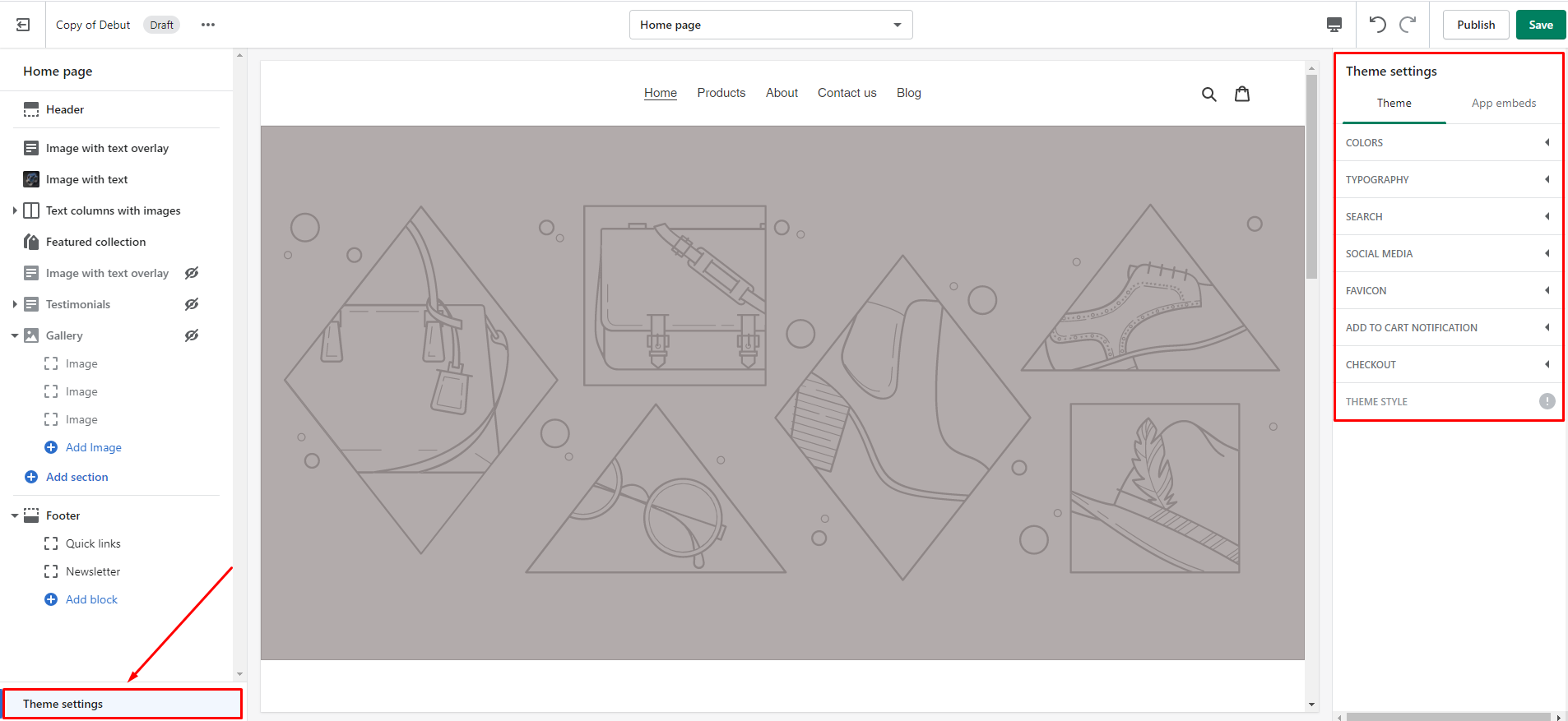 It gives you more options to customize your store and give it a completely unique look. In this setting, you will be able to edit color, typography, favicon, social media, etc.
Slider Revolution makes your store visually appealing to your customers
Slider Revolution is an amazing app that you can use to display your content beautifully. People tend to get attracted by visuals than text. If you can represent content through sliders, carousels, hero images, and video scenes, these will definitely outstand your store among the competitors. Using Slider Revolution to beautify your store along with Shopify theme customization will definitely bring a better outcome.
Customizing Shopify themes are fun and very effective as well. You can give your store a very unique look that can clearly represent your brand. Being able to edit Shopify themes properly will definitely take your store design to the next level.