You chose Shopify for the creation or redesign of your eCommerce site and you want to use one of the free Shopify themes? That's good, there are 8 of them on the official Shopify theme store site. Each free Theme even exists in several versions, which makes about 20 different Themes for your online store to test without limits.
ThemeStore is the site to go to to get free themes because it is an official Shopify site. It has advantages that platforms like ThemeForest or MonsterTemplate cannot offer.
Indeed, the themes present on the store theme can be tested for free on a Shopify site! Good for free Shopify themes, no need to pay, but this trick also works with paid themes.
Free Shopify Themes Ranking
It should be noted that this classification is purely personal! All the themes on the Shopify site have indeed undergone numerous tests by the entire Shopify team before being published. Even if they don't always offer as many features as some paid themes, they have everything you need to make your store a success!
Simple
Simple is currently one of our most favorite Shopify themes for its modularity. Available in three versions "Light", "Beauty" and "Toy", Simple lives up to its name. Accessible, flexible, fast, and with a little extra: the menu sidebar, a bit like on Amazon.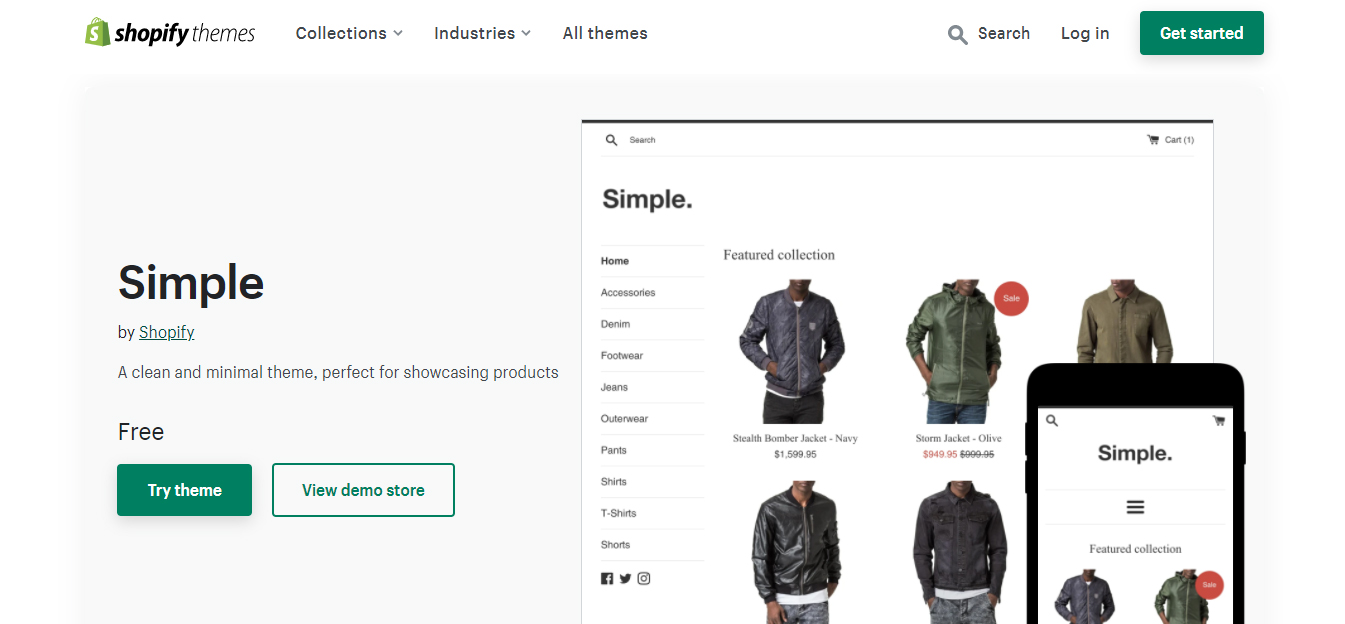 Its low loading time is also one of the points most appreciated by users of the free Simple theme.
Simple Light is the black and white version of the theme. Enough to offer a sober and distinguished setting for your products or on the contrary, a playground for graphic designers to express themselves in complete freedom.
Simple Beauty uses the "Futura" font which makes reading on the theme very pleasant in our opinion while bringing a little roundness. Very useful for a beauty or make-up product site.
Simple Toy uses exactly the same structure as the other two but in a colorful and fun version more suited to a young target or to the world of toys.
Simple is a very highly rated theme by its users with over 80% positive reviews at the time of writing.
Brooklyn
Brooklyn is a hot topic right now as it is chosen by many fashion brands as the main theme. Available in two versions, classic and playful, it is more specialized in fashion sites (clothing, shoes, accessories) for men and women.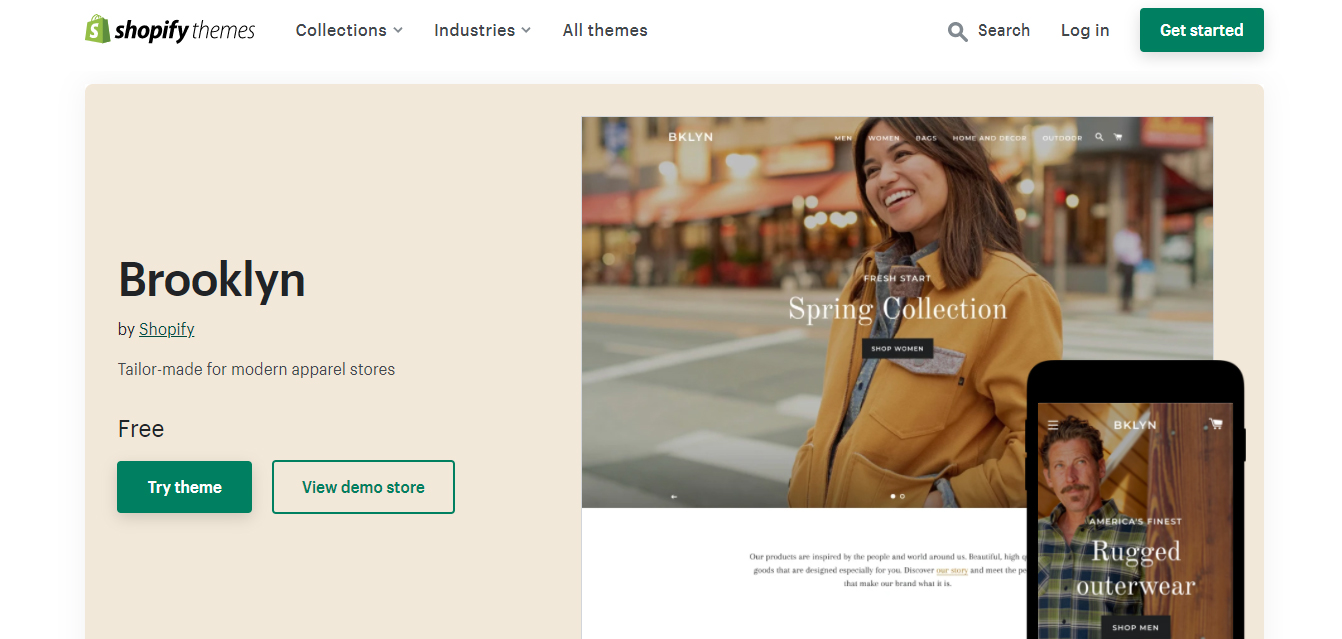 Obviously, nothing prevents you from using it for something else, but if you are starting a fashion eCommerce store, it may be for you. If you like the unstructured side of blocks of varying sizes, Brooklyn may be the right theme for you too.
Brooklyn classic is more oriented to use large photos of the shooting or scenario type. the rest is a little more discreet.
Brooklyn Playful has a more pop and colorful side. It will depend on the graphic charter of your brand but if you are looking for a fun side and a little more 50s, this version is for you.
Minimal
Minimal is a 100% free Shopify theme available in three versions: Vintage, Fashion, and Modern. The theme lives up to its name both in terms of design and functionality. very refined, it is not there to offer you thousands of things but on the contrary for only one: to highlight your products.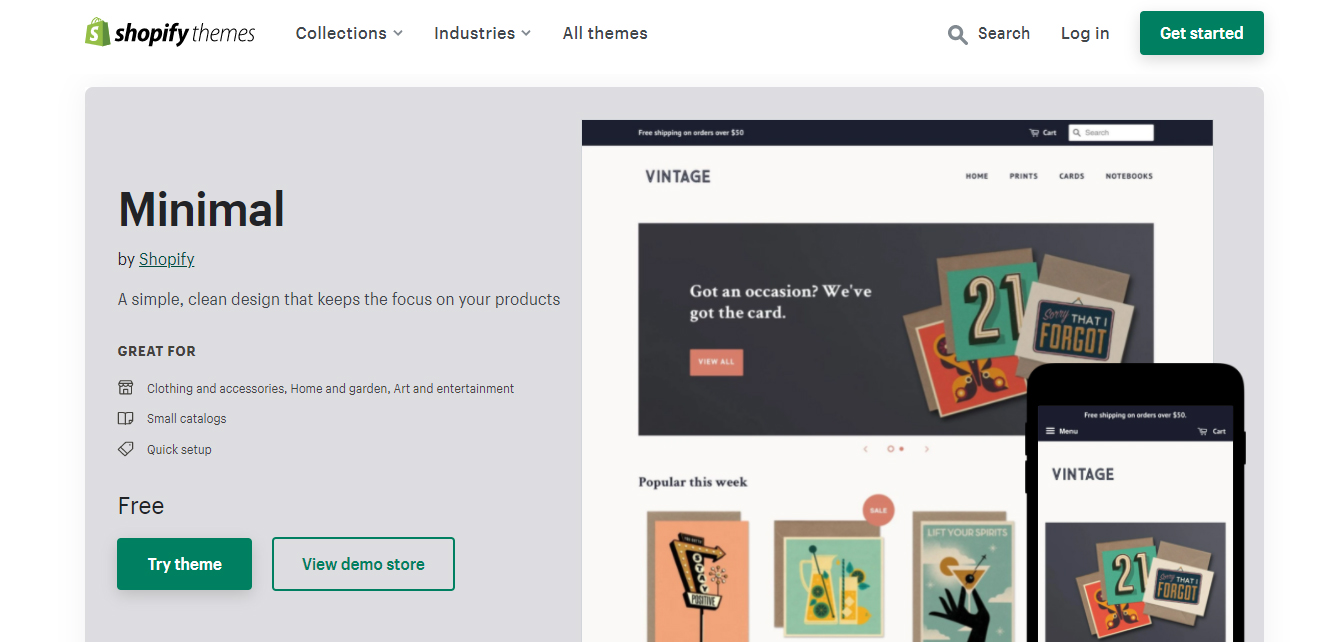 So ideal for those looking to put their range on the front of the stage, even if it means having to install a lot of Shopify apps for the functional side.
Minimal Vintage is the postcard-like version of the theme. With its atmosphere a little garage sale, this theme is perfect for second-hand products or products with a story.
Minimal Fashion: More fashion-oriented, Minimal Fashion is a theme that is easy to work on to create, using an eCommerce agency, to create a custom theme for your store.
Minimal Modern: More modern, with more spacing and a stricter font, Minimal Modern is aimed more at decoration or tableware brands. Of course, it is possible to add any products of your choice, but the atmosphere is resolutely contemporary.
Note that many merchants emphasize the high quality of this theme in its responsive version. So ideal for having a mobile-first site.
Narrative
The narrative is a hot topic at the moment and that doesn't surprise us. Very focused on storytelling and highlighting the story, the theme will appeal to many brands. If visuals are as important to you as stories, then Narrative might be your go-to theme.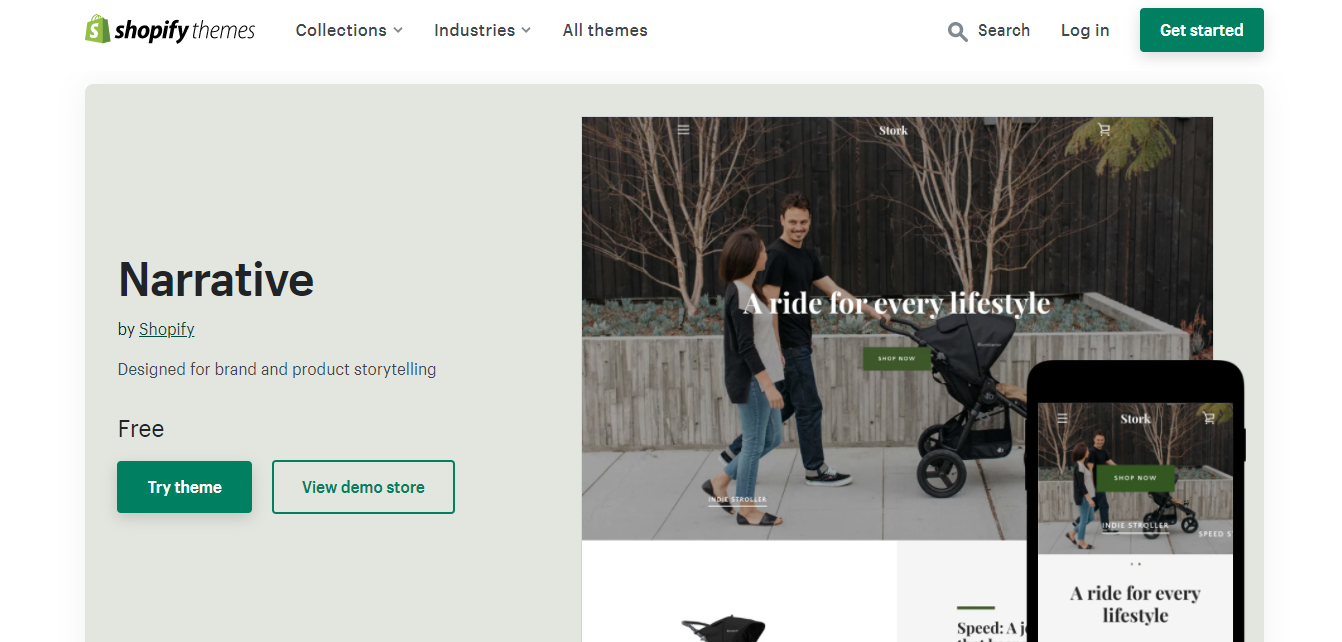 Available in three versions, Warm, Cold, and Light, narrative can therefore suit different atmospheres and themes.
Narrative Warm, pastel colors, a Monotype Baskerville font that brings great reading comfort, this theme is surely one of our favorites.
Narrative Light is "brighter", hence the name. Ideal for highlighting a small product catalog but can be a little more technical. Ideal for presenting know-how, for example.
Narrative Cold, the atmosphere of Cold seems more appropriate for technical products but always with this high-end atmosphere
The narrative is a theme loved by the Shopify community with over 68% positive reviews, which still feels a bit light compared to the quality of the theme. The bad ratings seem mainly to come from the compatibility of the slideshow between the desktop version and the mobile version.
Boundless
Boundless's goal is to showcase photos rather than the rest. If you are looking for a light and uncluttered theme to highlight great visuals such as for photoshoots or moods, this could just be your theme of choice!
Boundless exists in 2 versions, a "Black and White" version and a "Vibrant" version.
Boundless Black and White is, as the name suggests, black and white. This is the type of theme much sought after by many luxury brands who need a cocoon for their product, and therefore discreet themes.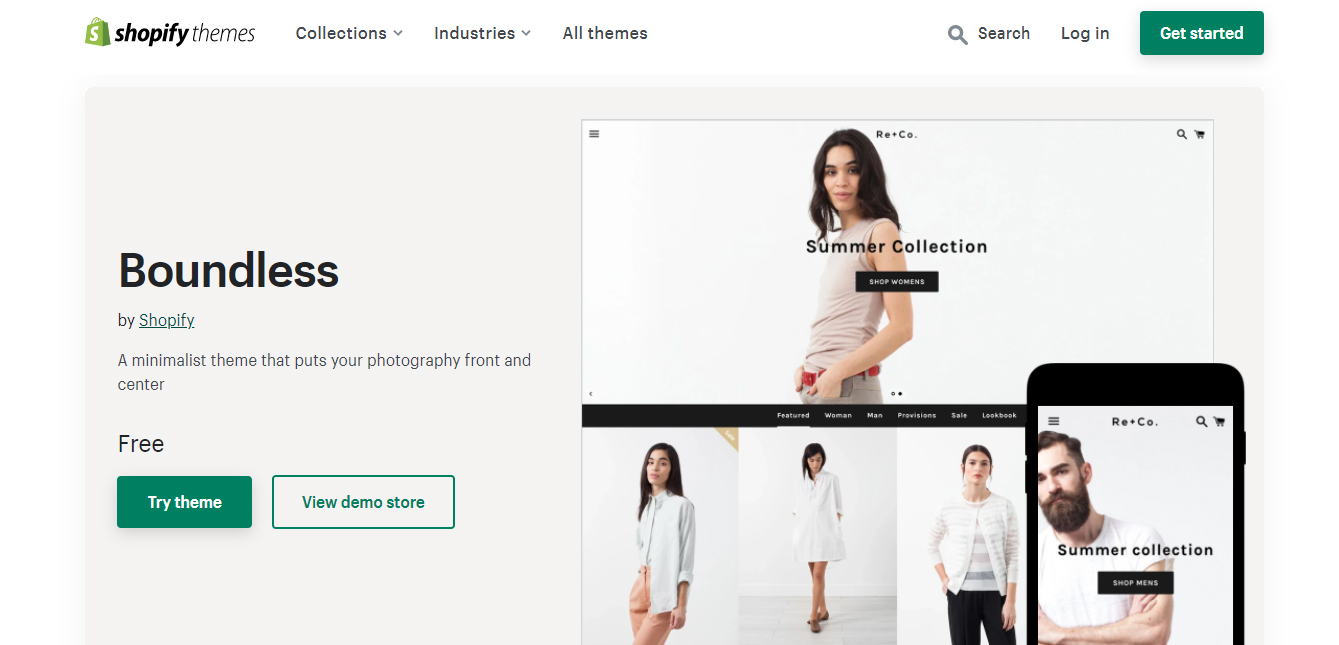 Boundless vibrant is very similar to Black and White but offers a more colorful environment while keeping the high-end spirit that drives this theme.
Little more of the theme that we like a lot, the "Sticky Navigation" or in other words the sticky menu at the top of the page. Very practical and modern to facilitate navigation, especially on mobile. The theme is not very well rated, however, the fault of a few recent comments complaining about the product images being too large … which is the main function of the theme. Strange. It just goes to show that spending some time analyzing the perfect theme for your store is important!
Venture
The venture is also available as one of the free Shopify themes for the users. It is available in 3 distinct versions to maximize the possibilities: snowboards, outdoors, boxing. Rather than intended for large catalogs (do not understand single product sites) Venture is rather made in our opinion for sites with many categories.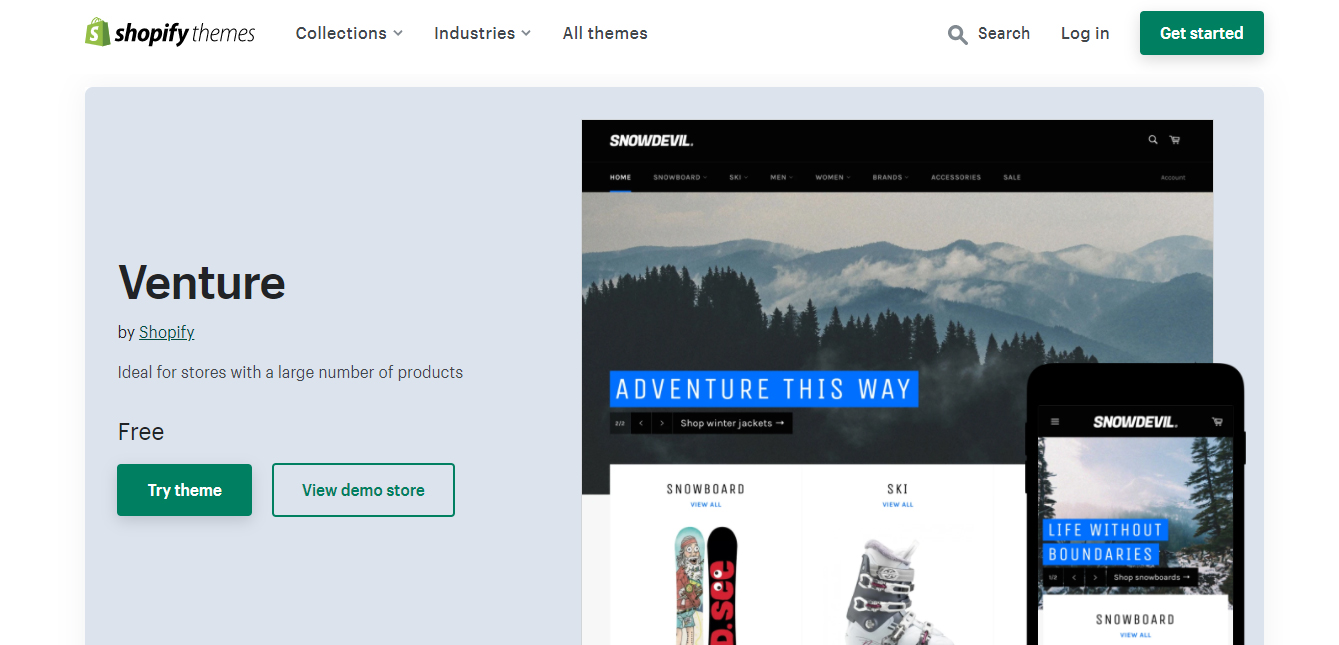 Its little specialty, in fact, is to offer drop-down menus by default, which few Shopify themes offer.
If you don't need the drop-down menus, just go your way. Venture doesn't add much more unless you like different atmospheres.
Venture Snowboards are perfect for products with strong visuals such as winter sports. With beautiful highlights and a classy and upscale atmosphere, a sports brand will be able to find its happiness there.
Venture Outdoors: Do you prefer the great outdoors and nature? Then go for Venture Outdoors. What allows your customers to take the air while remaining in front of your site. This theme all by itself is a call to adventure.
Venture Boxing. Need a wilder, hormone-filled theme? Then Venture Boxing is for you. Ideal for selling products around combat sports, bodybuilding, or simply products that need a strong visual impact.
The venture is at the bottom of our ranking but so is the opinion of other merchants. It is especially criticized for its simplicity which is not only apparent. We quickly tour the theme but after all, it is free!
Supply
Supply is another free theme for Shopify, it comes in two versions. A "blue" version and a "light" version. Supply is defined as "Easily present and filters large inventories".
Supply is therefore rather intended for large product catalogs. To test if your site will offer many categories and many different products.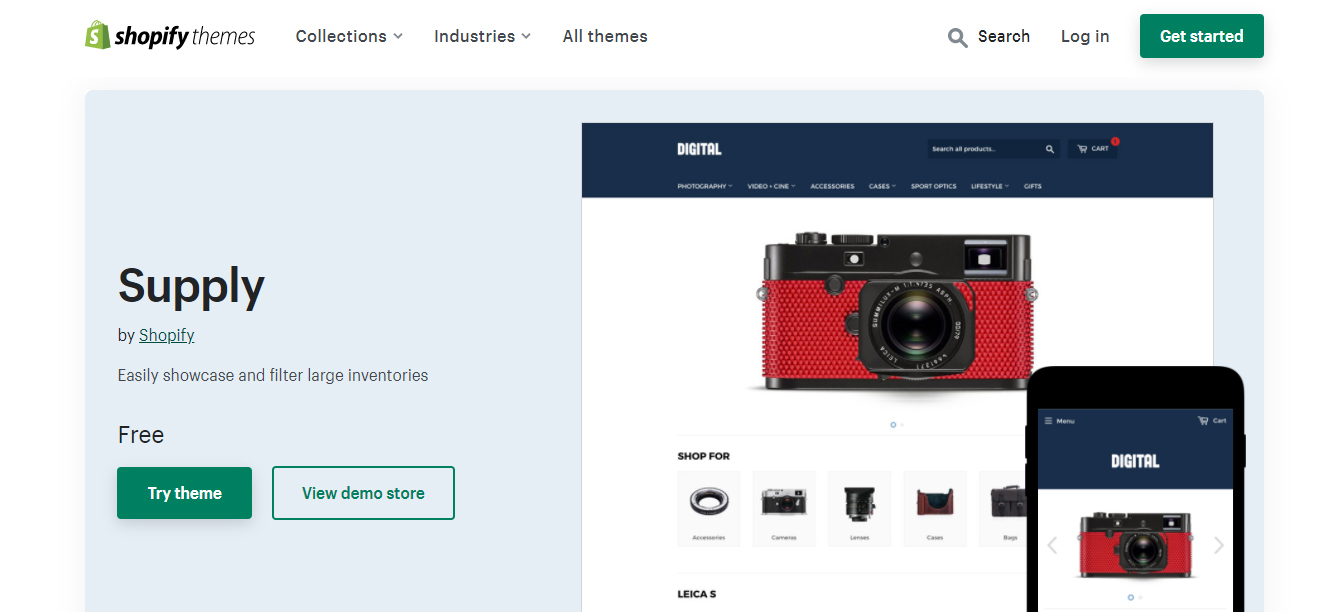 The " Supply Blue " version is more oriented for electronic product catalogs with a fairly square and strict atmosphere.
The " Supply Light " version is more fashion and fashion-oriented. The font is rounder, the colors lighter and the theme's vibe makes it more of a DVNB (digital vertical native brand) brand of clothing.
The functions delivered with this theme are quite limited and the management of filters, one of the "advantages" of this theme, did not convince us more than that. The other merchants also remain moderately convinced by this theme with only 65% ​​positive opinions.
Debut
The Debut is Shopify's default theme. So you must have seen him more than once. Available in two versions "default" and "light", Beginning with all the elements necessary to start in eCommerce:
A slideshow (carousel) on the homepage
Managing banners for highlights
Predictive research
Product recommendations
Videos on the homepage
Customer reviews
Filters produced on category pages
Debut describes itself as "The theme designed to showcase your brand and your products".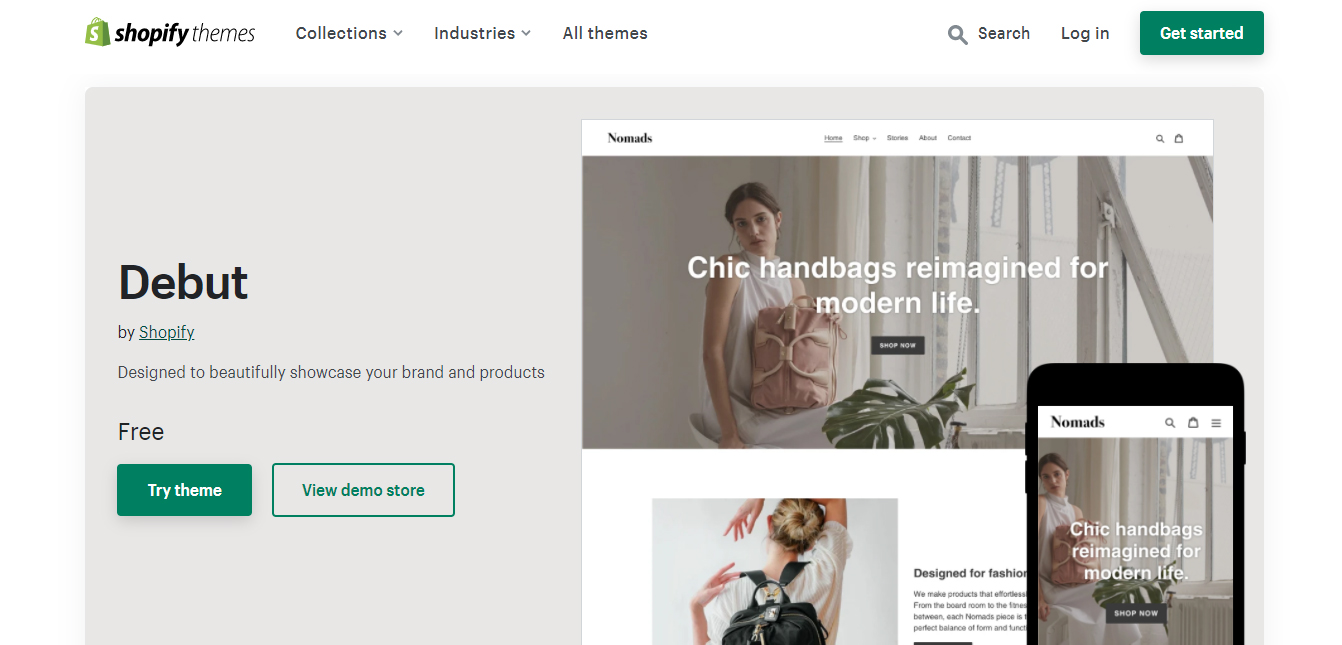 As the name suggests, this is a good theme to start with but it is a bit limited for our tastes. The homepage widgets are limited, the filters are very basic and do not handle the meta fields and it's much less efficient than an app like "Smart Product Filter & Search ".
In short, if we look in detail, this is really a starting theme that will often require a lot of work to match your needs.
On the other hand, to launch a site with few products and relatively simple and to highlight large photos, the theme is suitable!
It's up to you to test Debut on your store to get an idea, but the comments under the theme are not the most complimentary.
You May Also Read: Top 10 Outstanding Shopify Blog Apps That You Must Know
Some Tips for Choosing the Right Free Theme
How do you choose the right Shopify themes for you? This may be the question you asked yourself when you saw this list of topics above.
First, you don't need to choose based on the price! Indeed, as all the Shopify themes mentioned here are free, no need to deprive yourself. You can even use multiple themes (not at the same time) if you feel like it.
Design
This is of course the No. 1 criterion for choosing a theme. Even though there are technical specifics to each design and you can customize almost everything using CSS, choosing a theme with a design that speaks to you is essential.
Analyze Product Pages
The product pages are, in my opinion, almost more important than the homepage or the category pages. A product page will indeed have to convince the Internet user to check out. it is a heavy and strategic mission for a commercial site.
So check that the product sheet for the theme you like can contain the necessary information you need to make a sale. It is always possible to add meta fields but if you start with an already adapted theme, it's always time to win.
Functionalities
Some agencies love feature-packed Shopify themes. And some merchants too. They thus have the impression of "getting a good deal" with lots of features for a reduced price. In my opinion, it is a choice that can be discussed.
The purpose of a theme, free or not, is not to add functions. This is the purpose of apps. Choosing a theme filled with javascript code and conditional logic to suit all cases can slow down your site.
So we always try to choose the lighter themes first.
Conclusion
We can see that even if the number of free Shopify themes seems quite small at first, there are still many variations and differences. There is certainly something to find your happiness in and customize the CSS files of the free theme to get a version that will suit your business.
You can also tell us in the comments your favorite themes and the reasons that push you to choose one over another!