If you are going to build a website with Shopify, you will be eager to know the benefits that you can get using Shopify over other website-building platforms such as WordPress.  Although WordPress is one of the most popular website building platforms, Shopify has many more unique features so that the users can be more benefited by choosing Shopify over WordPress.Like other Shopify users, I was also curious to know the benefits of Shopify over WordPress. I decided to do a little research by myself to figure out the benefits of Shopify.
Today I am going to share the findings of the research with you so that you can understand the benefits you can get from Shopify.
8 Astonishing Benefits of Shopify Over WordPress
1. Effortless set-up
The process of building a website is not easy as it consists of so many activities. A person has to go through a long process and perform all the activities to make a website ready to launch. If you want to build your website with WordPress, you need to buy a domain, hosting, and all other necessary software to launch your website.
On the contrary, Shopify is a platform where you will get literally everything in one place so that you can enjoy a quick and effortless set-up. It is basically a complete set-up for people who wants to avoid those technical and hosting-related problems. You will get the greatest hosting service and all necessary apps here that are required to launch your website. So, you barely have to struggle to start your online store from scratch with Shopify.
2. High loading speed
If your website takes more time to load, there are more chances that you will lose your visitors. People do not want to wait and browse a slow website. Shopify has an awesome infrastructure with optimized hardware and software to ensure the high loading speed to its websites. Your eCommerce site will be loaded within a second and ensure an amazing user experience for your customers.
As WordPress users take hosting services from different providers, their sites usually take more time to load because of less optimization and integration.
3. SEO friendly
SEO is a must if you want to boost your business online through organic traffic on your website. No paid advertisement can guarantee a closer outcome than SEO. Shopify has built-in SEO facilities so that you can optimize your website without adding other apps. Shopify allows you to add specific titles, metadata to appear during search results and customize URLs to know your site better.
If you want to use SEO features in WordPress, you have to use additional plugins on your website. You may have to charge if you want to use paid plugins to ensure a better SEO practice for your website. So SEO is another major built-in benefits of Shopify.
4. Amazing customer support
Whenever it comes to customer support, Shopify is undoubtedly the best. Having customer support is almost mandatory when you are operating your business through websites. You may face countless challenges in order to run your website and having good customer support is lifesaving in this regard. Shopify offers 24/7 customer service over the phone, live chat, and email, and an onsite help center. You can get your necessary supports with various Shopify plans. You have the freedom to choose your plan according to your requirements.
WordPress has no direct customer support rather than getting supports from the community. This is helpful but not convenient enough to run your website properly. It takes more time to ask for the answers to the community forum. But major benefits of Shopify over WordPress ( the community edition) is better customer support.
You may also read: Shopify For Restaurants: The Benefits Of Getting Your Restaurant Online With Shopify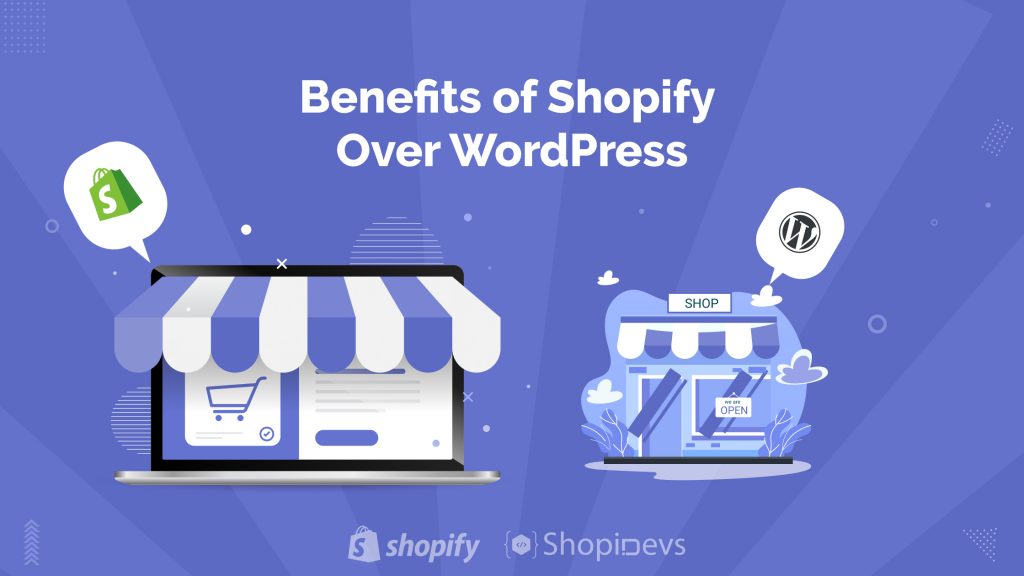 5. Built-in payment methods
When you are selling online, you must have to support different types of payment methods. Shopify has built-in payment methods so that you do not have to use any additional apps. Shopify supports more than 100 payment gateways to ease the transaction between you and your customers. Having an eCommerce store in Shopify should be considered a blessing because you will enjoy the best experience of running your website.
For WordPress, you can also use different kinds of payment methods, but you need to use additional plugins in order to avail this kind of facility.
6. Quick launching of your website
If you want to launch your store within a very short time, Shopify should be your ultimate choice. Shopify comes up with built-in features such as eCommerce tools, payment methods, and all the necessary things that you need in your store. As you are getting everything built-in, you can build and launch your website with the least possible time.
Although WordPress allows you to build any kind of website, it will take more time as you have to do various activities one by one. You have to buy domain and hosting, install additional plugins for specific purposes.
7. Superb Analytics
Nothing is a more valuable resource than having an analysis of your website's data. Shopify has some awesome built-in analytical tools that show important insights such as conversion rate, customer behaviors, and so on. These analytics help to understand what is going on in your store and what you can do next to boost the growth of your business.
If you want to get these analytics in WordPress websites, you need to install additional plugins to get the information. This is another powerful benefits of Shopify over WordPress.
8. Easy for beginners
Shopify has everything that you need and very easy for beginners to launch their first website. It may surprise you, but it is totally possible to create and organize a full-functioning online store in Shopify without having prior knowledge of coding. As you are getting everything in one place, you will get relief from complicated tasks.
WordPress is a little bit complicated for a beginner as they have to do everything of their own. Buying a domain and hosting from a provider and install plugins on their own. People often get confused about which one they should use as there are many plugins available for the same job. Moreover, basic coding is needed to create and customize a WordPress website.
These are the major benefits of Shopify one can get from this powerful platform that may not available in WordPress although it does not clarify that Shopify is better than WordPress. They both have different pros and cons; it is the user who will decide which one to choose based on their own requirements.  If you choose to use Shopify, you will be blessed with these amazing benefits.