With over a million retailers, Shopify is one of the most popular eCommerce platforms worldwide.
However, Shopify can do more than conventional eCommerce: Gastronomy businesses can also go online with Shopify and offer their products or meals digitally. Because restaurateurs, in particular, are among those in the Corona crisis who have been hit hardest by the economic consequences – and, as of March 2021, will still be.
But how exactly can restaurants and catering businesses go online with Shopify and open a shop? At first glance, gastronomy might not be associated with an eCommerce platform, but Shopify, in particular, offers great advantages.
Let's take a closer look at the benefits and functionalities.
What are the Benefits of Shopify for Restaurants?
Let's start with what is probably the biggest and most relevant advantage: With a shop on Shopify, restaurants can save themselves listings on platforms for food delivery services. Because while restaurateurs are among the losers of the crisis, food delivery services are experiencing a boom and are among the biggest profiteers. After all, people have to spend more time at home and besides working from home and maybe even homeschooling, many do not want to be involved in cooking as well.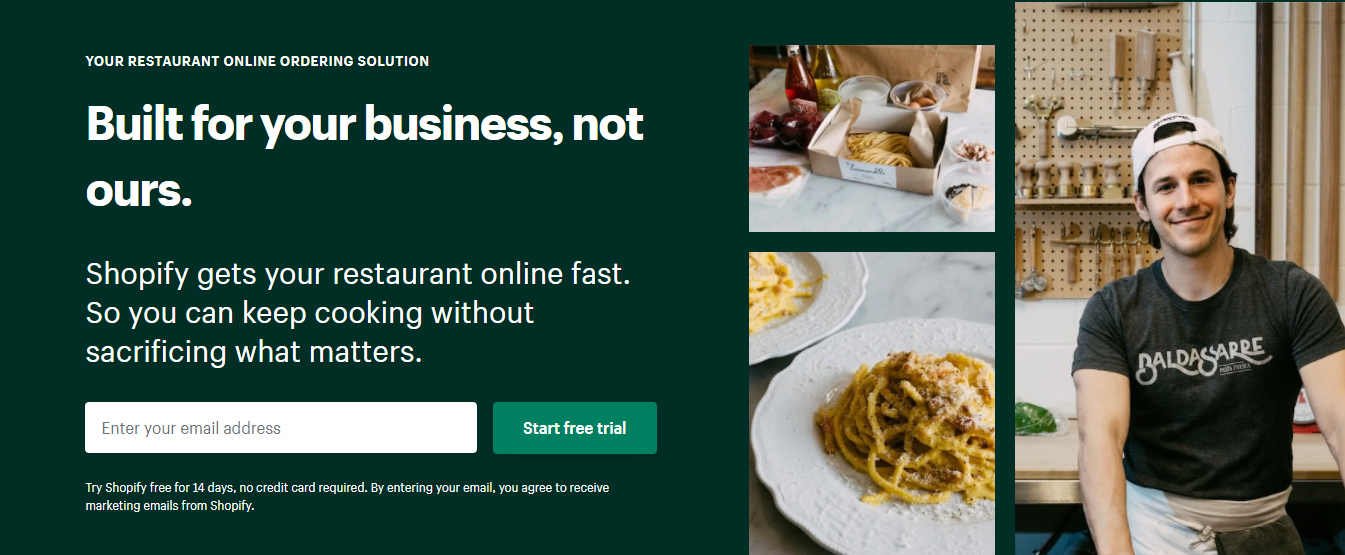 However, one man's joy is another man's pain – literally. Because, one has to say quite frankly, the profit of the food delivery services is at the expense of the already troubled restaurateurs,  which also repeatedly leads to criticism. After all, commissions of 30% are not uncommon and a big chunk even in "normal" times; and especially in times of crisis.
What Functionalities does Shopify Offer?
In addition to functionalities that traders usually make use of and benefit from, but which also benefit restaurateurs, there are functionalities that are explicitly tailored for restaurants.
Local Delivery
In contrast to conventional online shops, restaurants have a limited delivery radius. After all, it shouldn't take so long that the food delivered gets cold. Shopify offers the greatest possible flexibility in terms of delivery options because, in addition to (inter) national shipping, local delivery is also possible. They can be individually defined in the Shopify admin area ( Settings → Shipping and delivery → Local delivery ).
The delivery is limited to certain postcode areas or a specific place in the vicinity of the restaurant:
Local Pickup
Since Corona, self-collection has experienced a real boost. Terms such as to go or takeaway are increasingly emblazoned in many shops. This is also possible with Shopify and, like local delivery, is individually defined, for example, the expected pick-up time or instructions for pick-up.
Tip Online
A problem that has made headlines several times in connection with food delivery services is the failure to pay out tips paid online to drivers. However, since restaurants use a Shopify store to deliver their own food, the tip also benefits those who deserve it. The online tip option was introduced explicitly for restaurants in 2020. How you can set up the tip option is explained step by step in our instructions.
Industry-specific Themes
In the Shopify Theme Store, themes are available that are explicitly tailored to the needs of Shopify for restaurants. From free themes such as Debut as an all-rounder for beginners: inside or Express, which is designed like a menu, to paid themes such as Vantage or Canopy as advanced solutions, there is something for every budget.
Sell ​​Vouchers
Shopify offers the ability to create and sell coupons. What used to be more popular in retail has now also arrived in the catering industry. Whether vouchers for a meal or a visit, if it is possible again: restaurateurs can design their vouchers individually. Since 2020, the year the pandemic began, vouchers have also been available free of charge in Shopify's cheapest Basic plan.
Sell Products
In order to generate further income, restaurants can of course, like every retailer: also, sell products: Whether cooking boxes, kitchen utensils, or food that have become popular in recent times. A wide variety of categories can be created. And because you can define individual shipping rates on Shopify, such products can of course be sent (inter) nationally.
Shopify POS: Linking an Online Shop to a Restaurant
At Shopify, the motto does not apply to Either online shops or stationary businesses. Special both, and. Because with Shopify POS (Point of Sale) you can link the Shopify shop with a stationary business, i.e. also with a restaurant. Orders go through the Shopify shop, but can be picked up in the restaurant and even paid for there. So, it must say that the importance of Shopify POS for restaurants is huge.
Industry-specific Apps
In addition to functionalities that Shopify offers as standard, restaurateurs, as well as retailers, can expand their shops with the help of Shopify apps in order to optimize work processes. There are also apps in this area that particularly meet the needs of restaurateurs.
For example, the free Shopify Local Delivery app developed by Shopify can be used to plan routes for local delivery. The app uses Google Maps and suggests the fastest route so that the delivery process can be optimized. This is especially helpful for the drivers who deliver the food
The Delivery Date & Time Suite app is particularly useful for customers, as they can choose the time slot for the delivery themselves. But the app, which costs $ 9.99 a month, also offers many advantages for restaurateurs: You can set a time as a "deadline" for the last order and days on which the restaurant is closed (public holidays, days off) and therefore no delivery takes place. The number of orders can also be limited in order to adapt them to your own possibilities. Many orders may be a sign of popularity, but if there is no capacity (personnel, material) to process them all, this can be adjusted accordingly.
If customers should decide in the shopping cart whether and when they have delivered the order or if they want to pick it up themselves, the App Store Pickup + Delivery is a good option. Here, too, times can be defined after which orders are no longer possible. However, the app comes with monthly fees starting at $ 29.
In addition, there is a whole range of apps for product reviews that have now become must-haves. Because product reviews are so-called social proof elements; thus elements of "social reliability". In particular, they encourage new or skeptical customers to place an order when they see that others have also ordered and were satisfied with it.
With the Delivery Rates by ZIP Code app, however, the shipping costs can be calculated depending on the zip code and shipping weight. Shopify can display the shipping costs by postcode or region itself, but not for the shipping weight. However, the app costs $ 10 a month, so you have to decide whether you need it for your own shop or restaurant.
You May Also Read: How To Configure Shopify Order Numbers
Blog Function
Shopify stores come with blogs by default. In this way, restaurateurs can, for example, share information about their products, publish recipes, introduce themselves and the team if they want. There are no limits to the wealth of ideas.
Conclusion
Shopify offers the best conditions for presenting a restaurant or any catering business online. Finally, in addition to the existing functions, functions were also introduced to specifically help restaurateurs. And not only because of Corona and the associated restrictions, but the presence on the Internet and the digital offers are also important, in the age of digitization, these are basically inevitable. if you have any queries about Shopify for restaurants, feel free to notify us.