You have already launched to create your own online store with Shopify. You want to make it unique, and offer all your customers the best functionalities so that their shopping experience is flawless.
It's time to find the perfect apps for your business.
We know that researching the thousands of apps available on Shopify can take a long time, and finding the best ones for your store can be challenging with so many options! But do not spread panic.
For your convenience and so you don't waste a second of your time, we've rounded up the 15 best free apps for Shopify stores here. Just download them and let your business grow!

1. Plug in SEO : everything to optimize the SEO of your store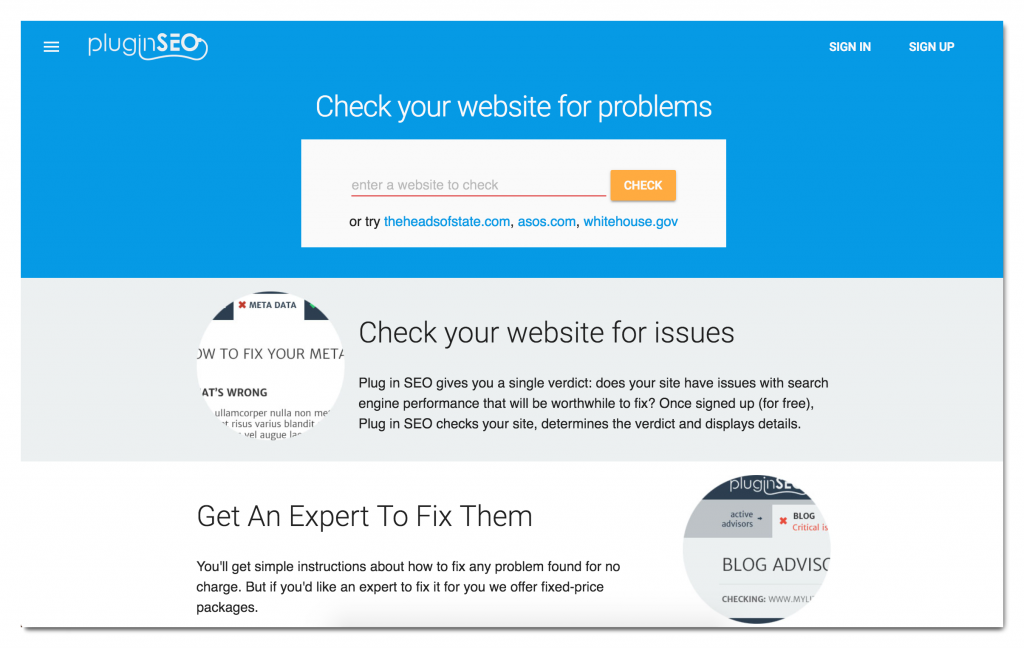 Did you know that 35% of online purchases (ENG) start with a Google search? Therefore, if your store does not appear among the first results, it is very likely that you are losing a significant amount of traffic to your website (and, consequently, some very valuable sales).
SEO can be tricky, especially if you're just starting out in ecommerce. Luckily, there are tools available to automate the main search engine optimization tasks and improve your store rankings – almost automatically!
And what does Plugin SEO do? This app checks your online store to optimize your store's SEO. The app checks page titles, headlines, meta descriptions, site speed, blog post structure, content newness, and other elements that may be affecting your website's performance.
Price: Free for 7 days. Premium plans from $ 20 / month.
2. Sumo: grow your email list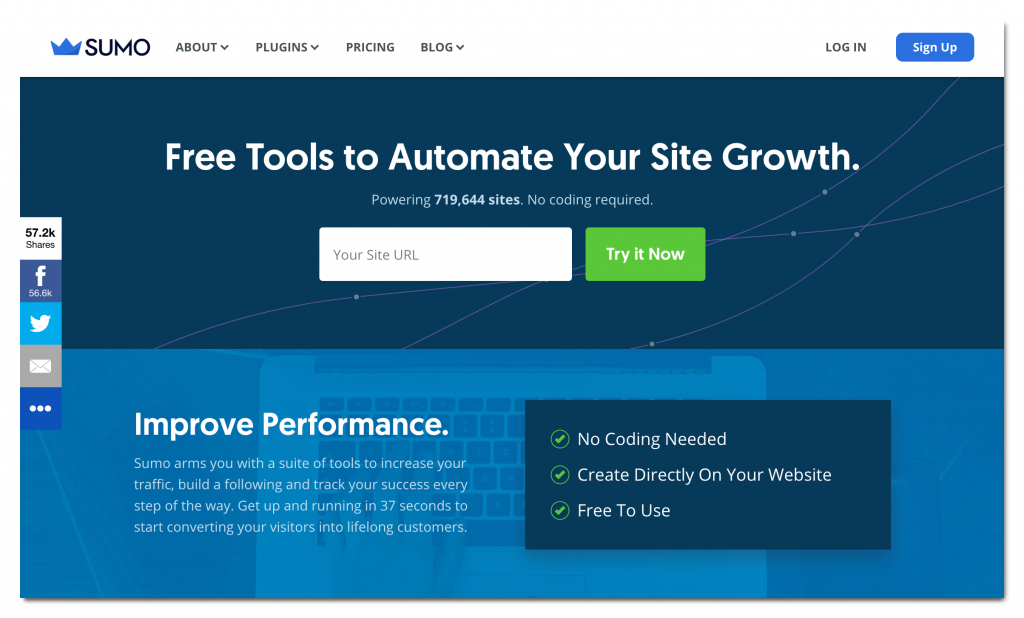 The email marketing or email marketing is a very effective promotion strategy, since virtually everyone has an email account. Therefore, it is essential when developing your marketing strategy. Growing your email list is something that takes time, but there are many automation tools to make it easier for you.
What does this app do? Sumo provides a set of tools to help you attract emails and quickly build a list with them. From pop-ups to text boxes, as well as smart bars and welcome mats. Sumo has it all, plus it integrates with most email service providers.
Price: Free. Upgraded plans from $ 49 / month.

3. Omnisend : automate your email marketing campaigns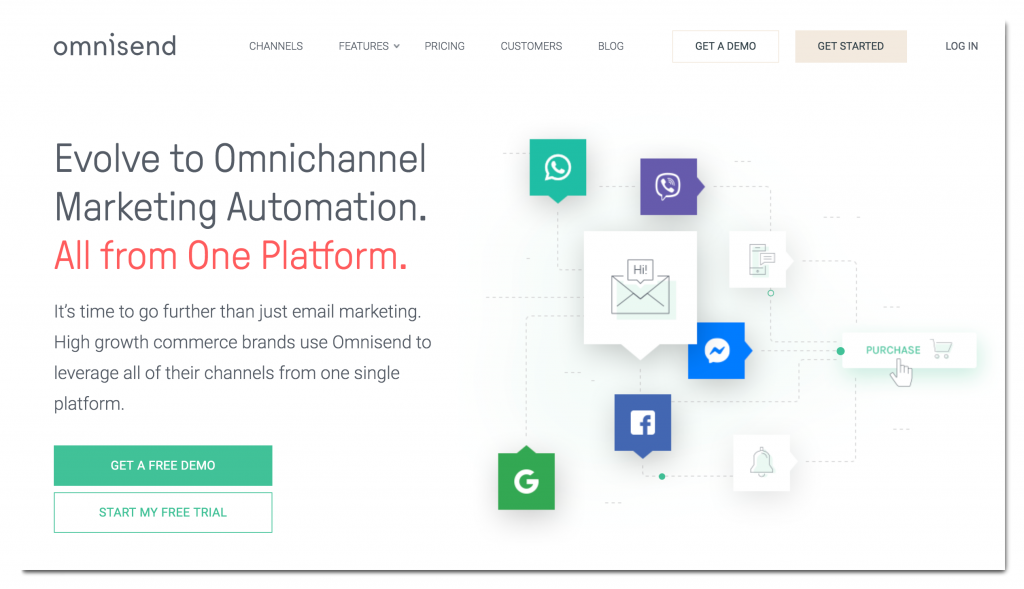 You already know the importance of creating a good email marketing campaign. So, once you have converted your visitors into subscribers, it will be the perfect time to transform them into the most loyal customers !
If you are looking for an app that not only offers you useful tools, but is also as flexible as your business, Omnisend is for you.
What does this app do? Omnisend allows you to send attractive campaigns, develop your own automatic email flows, segment your customers, offer discounts by email … and much more!
Price: Free. Improved plans from $ 16 / month.

4. PushOwl : send notifications with the news of your store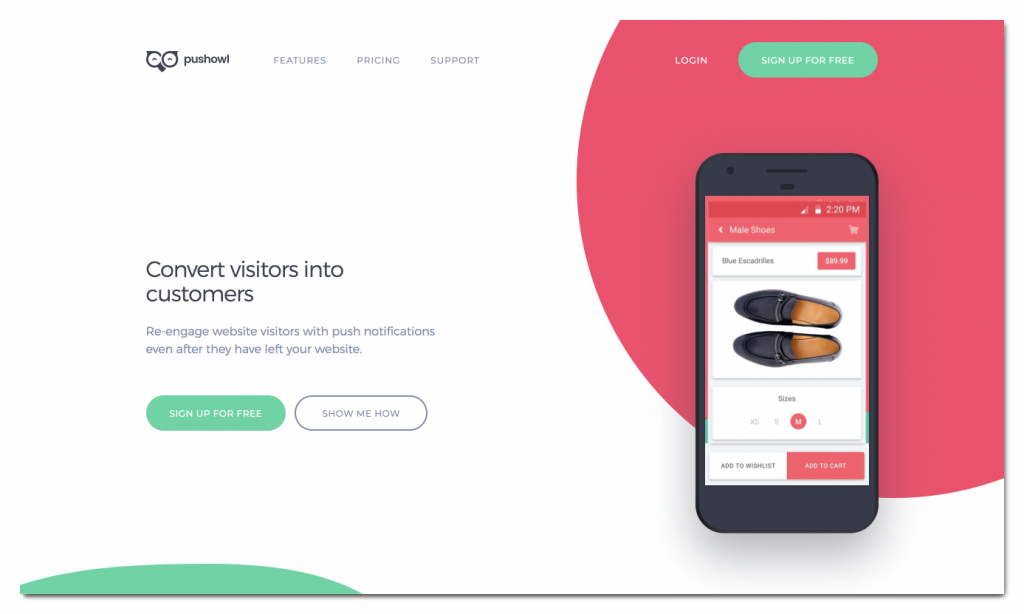 If your email campaigns are not working as well as you would like and you think that you have already tried to improve them in every possible way, the time has come to try a new communication channel. Have you thought about web notifications for your online store?
This communication channel allows you to reach customers in a timely, personalized and automated manner. Also, web notifications have higher conversion results compared to emails.
What does this app do? With PushOwl, you can send automated messages to clients' computers or mobiles to notify them of important updates such as:
Ongoing promotions
Abandoned carts
Changes in stocks
Price changes
Shipment information
Price: Free. Improved plans from $ 19 / month.

5. ReferralCandy : create your own review program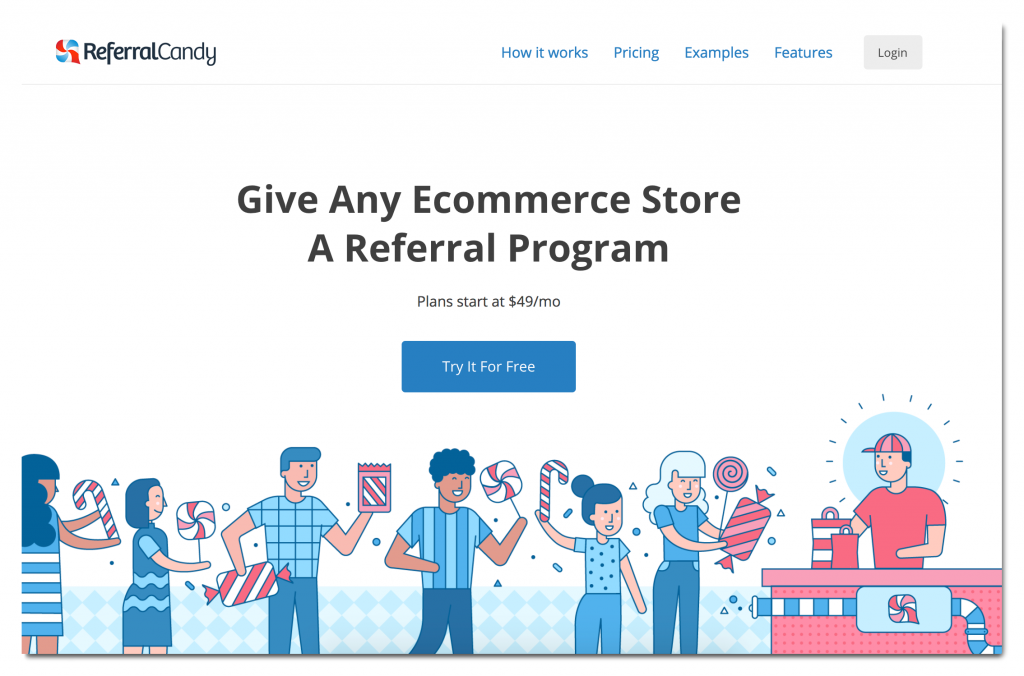 A satisfied customer usually shares his experience, on average, with 9 people. And what's even better: buyers who have heard about you from a satisfied customer tend to spend 10-25% more on their first purchase, buy more often, and share their experience with their friends again! !
What does this app do? ReferralCandy helps you create your own review program in minutes. This app also automates just about everything, including the rewards for each review!
Price: free for the first 30 days. Payment plans from $ 49 per month.
6. Smile.io: create and manage loyalty programs without complications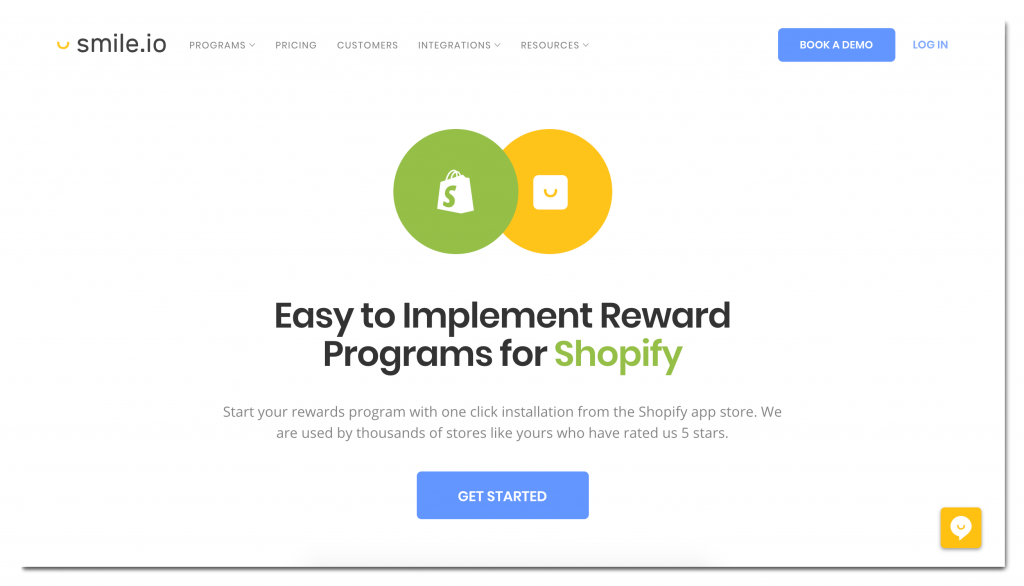 Getting a new customer is 5 to 25 times more expensive (ENG) than selling to an existing one. So instead of just focusing on attracting new customers, it may be a good idea to work on retention. One of the most popular ways to transform unique buyers into loyal customers is to set up and run your own rewards program.
What does this app do? Smile.io gives you the opportunity to create and manage compensation programs with loyalty points, customer referrals and VIP levels. This app integrates with the main e-commerce and social media, email and CRM platforms.
Price: Free. Premium plans from $ 49 / month.
7. Yotpo Reviews : don't miss any reviews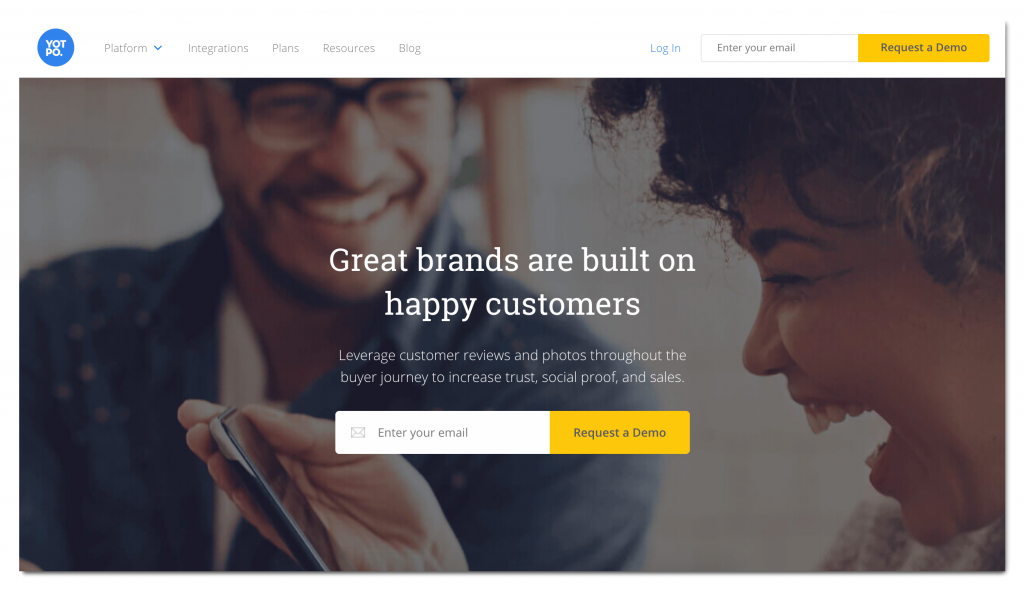 People tend to blindly trust what others say or do. If others do it, it must be a good thing! And if no one else is doing it, there must be something wrong. That's why it's very important to incorporate some social influence into your store that allows interested buyers to see the opinions and recommendations of others about your products.
Discover a few tricks to get more reviews of your products.
What does this app do? Yotpo allows you to post reviews and photos of products in your store. Social reviews like these will attract the attention of visitors, building trust and increasing conversions!
Price: Free. Ask for a budget for improved plans.
8. Pre-Order Manager: pre-launch your new products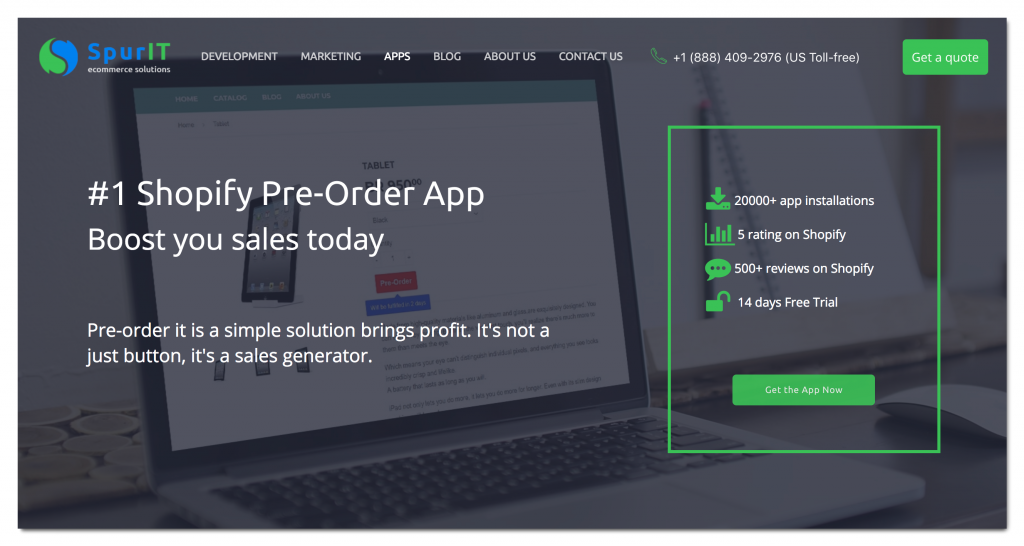 Adding new products to your store is always exciting, but it can also be a process full of unknowns: will they sell well? Have I chosen the correct price?
Before adding a product to your collection permanently, generate excitement among your followers. This way, you can see in advance if the new product is in demand and the amount of sales you can expect.
And speaking of adding new products to your store, have you thought about adding custom pendants and bracelets ?
What does this app do? Pre-Order Manager can replace the typical button "Add to Cart" by " pre – order ", which allows you to sell products even when they are not yet in your store.
Price: 1-day free trial. Enhanced plan from $ 24.95 / month.
9. OptiMonk : convert your traffic into sales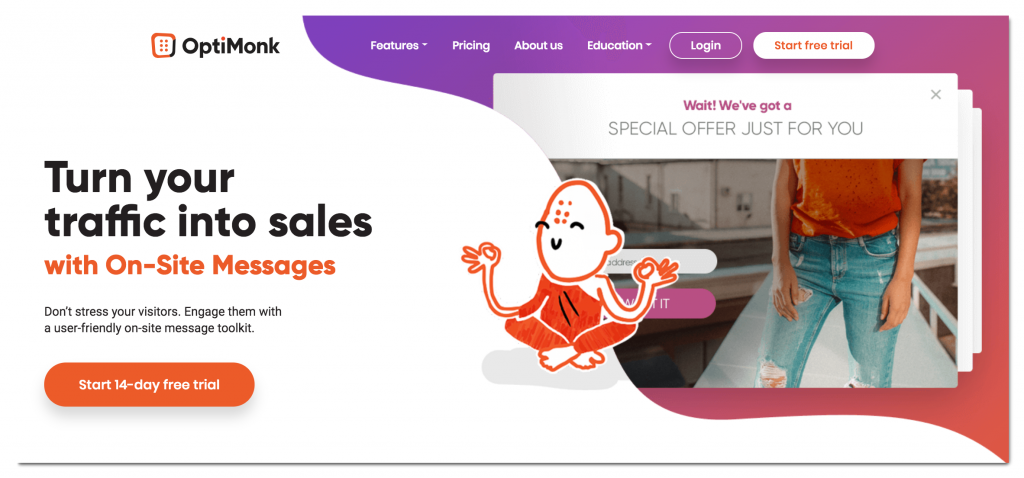 OptiMonk is a tool that attracts the attention of visitors who are about to leave your store with a pop-up message. You choose the strategy you want to follow! You can offer them a special offer or recommend that they subscribe to your newsletter.
Price: free trial for 14 days. Improved plans from $ 29 per month.
10. Whislist Plus : let shoppers save their favorite products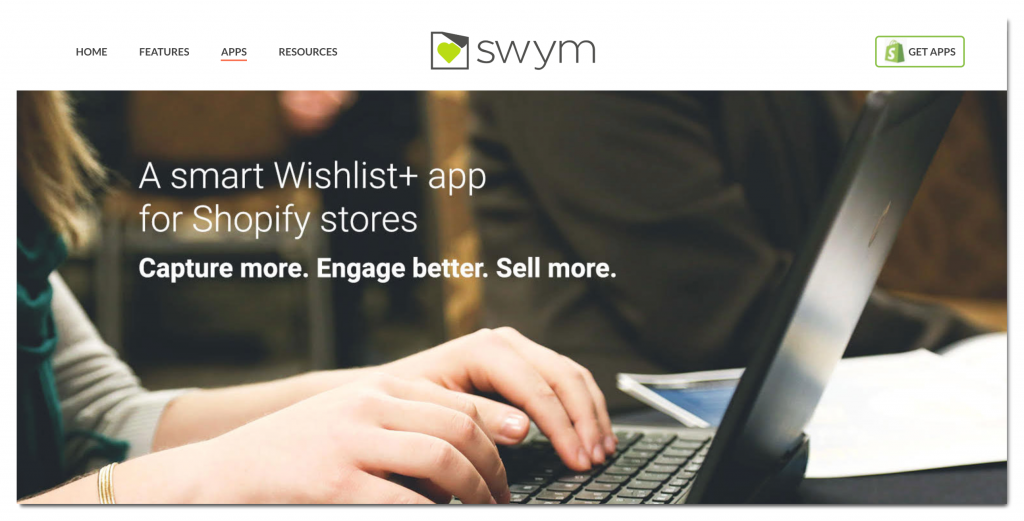 Did you know that 96% of the visitors (ENG) who visit your website are not ready to buy?  Well, your customers are probably doing the same.
Rather than trying to get all of your visitors to buy your products immediately, offering them the option to save the products that interest them on their wish list for later can be a good strategy.
What does this app do? Wishlist Plus increases the chances of "just looking" visitors to become shoppers, allowing them to bookmark or save the items they like. The app reminds you later, when the visitor is ready to buy.
Price: Free 14-day trial. Enhanced plans start at $ 9.99 / month.
11. HelpCenter – Create an attractive FAQ page
Your clients are always going to have questions. And some of these questions will come up more than once! So to save precious time, you should address the most popular customer concerns on a page on your website.
What does this app do? HelpCenter allows you to create a customizable FAQ page on your website.
Price: Free.
12. Printful : create and sell your own designs online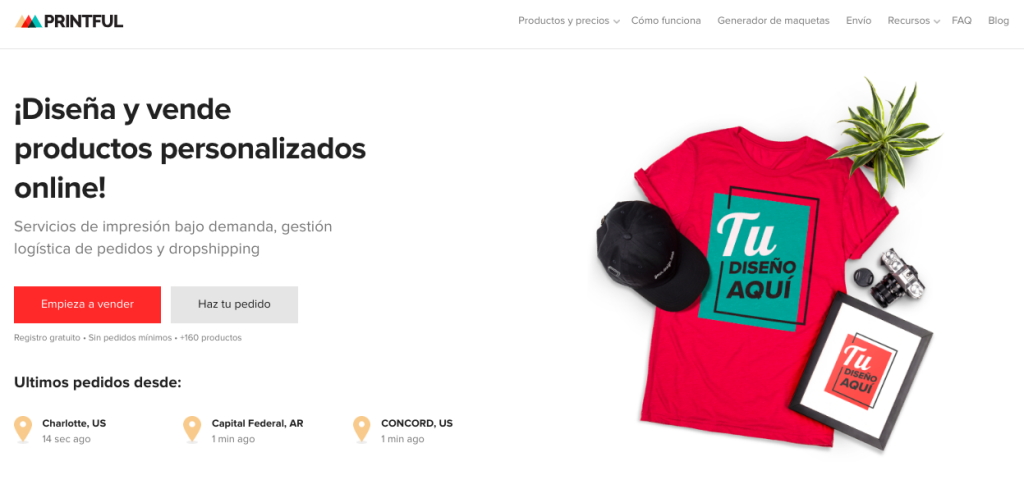 To start a business you need two things: an internet connection and a good idea. And with Printful, you can create unique designs and print them on-demand on more than 160 original products – from classic T-shirts to engraved puffs or pendants.
What does this app do? The best application to sell clothes or any personalized product that you can think of! . In addition, we print, manage and ship each order that reaches your client completely automatically.
And if you already sell products from another vendor, you can store them in the Printful warehouse and let us take care of shipping your orders.
Price: Free installation, you only pay when an order arrives.
13. Socialphotos : show images of your products in real life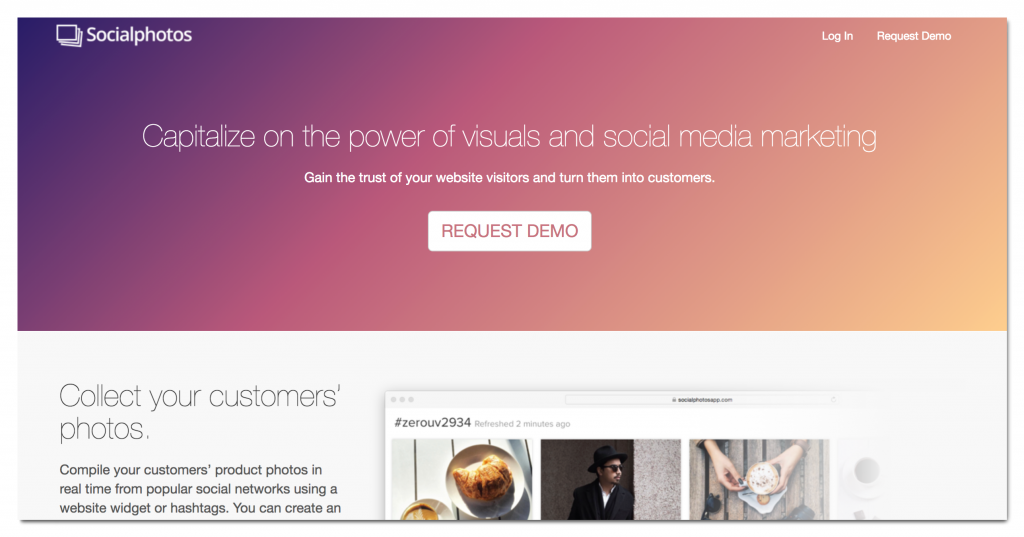 Although selling online has many advantages, it also has some disadvantages. One of the biggest problems buyers may encounter is uncertainty about the quality of a product, as it can be difficult to determine the texture of a product's fabric or whether the size will be correct just from a photo.
That's why online shoppers are very curious to see what your products look like in real life – unedited, true to size and on different people.
What does this app do? Socialphotos collects product photos on social media taken by your customers using a web widget or hashtags. You can decide which of these photos reach your website and which do not.
The fact of sharing the photos of the users on your website gives you the opportunity not only to achieve greater social influence, but also to establish a stronger connection with your audience (ENG) by making it part of the success of your brand.
Price: Free 30-day trial. Improved plans from $ 10 / month.
14. Kit : manage your Facebook ads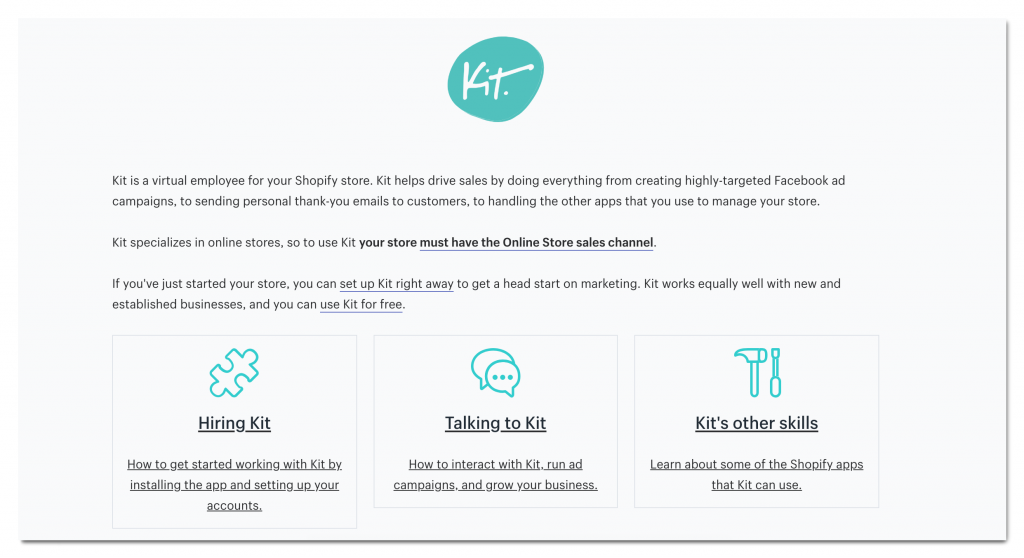 Managing accounts on social media is not difficult, but it is time consuming. Especially if you have a social media strategy to respect. In addition, it is important to be online practically 24 hours a day if you want to respond effectively to any photos or comments that may affect the performance of your store.
Wouldn't you use a second set of eyes to keep up with any changes to your Facebook and Instagram accounts? Well you're in luck! Because there is a very simple way to automate this process without having to hire anyone.
What does this app do? Kit helps you create Facebook and Instagram ads and social posts to increase traffic (and hopefully conversions) on your website. Working with Kit is like talking to a friend: the app communicates with you through Facebook Messenger or SMS, reminding you of advertising / repromo opportunities and configuring them for you.
Price: Free.
15. Snapppt Instagram Store: Let your customers buy without leaving your Instagram profile!
If you've been on Instagram lately, you've seen that almost all online store profiles offer the ability to buy their products directly from their feed! And it is that Instagram is a very important channel for electronic commerce because of the scope it has. It is your best showcase!
And, if you decide to use Instagram as part of your strategy, don't forget to choose the best hashtags !
What does this app do? Snapppt allows you to add links to your products directly on your Instagram photos. When buyers enter your profile and see something they like, they can simply click the link and a pop-up will appear with the featured products in your store! There is no simpler and more efficient purchasing process!
Price: Free.
Your turn!
We know that there is always room for improvement! Do you have a favorite Shopify app that we didn't mention? Let us know in the comments!