What better way to engage your potential customers and target audience than by using the most prolific conversation tools. With the new change in the eCommerce markets, you are now focusing more on viable customer support. The Shopify chat app undoubtedly swings into action to make this happen.
The fact is, the customer is your only resource for strong and sensible markup on every product in your online store. In a rewarding way, the Shopify app market is, for the moment, taking flawless steps towards optimizing its store performance.
As a merchant, your biggest concern is turning your website traffic into significant income. As is the case with any other investment, achieving a decent ROI is unquestionably a breakthrough.
But the truth of the matter is that technology has changed the way we conduct business. Shopify, for example, is trying to change the old age of brick and mortar stores. With just a few dollars, the internet, and a computer, you can elevate your niche store to tremendous heights. The e-commerce model now takes center stage, irresistibly.
At first glance, it seems like a daunting task for a newbie. The opposite is actually true.
But here's the catch.
You need the right tools to work. And this review tries to give a perfect focus on the same. Choosing a responsive instant messaging channel is practically unavoidable if you want to make your customers happy.
Let's be honest.
You are likely to experience overwhelmingly high bounce rates and so many cart abandonment issues if you don't optimize your customer service techniques. With brick-and-mortar stores, customers must figure out on their own how to seek help. Maybe make a call or write a long email. Considering the new trends, that totally sucks!
Shopify addresses this restriction in a simplified way. Shopify Chat enables an unprecedented sphere of convenience by creating a powerful real-time customer engagement framework.
Right now, you can't overlook the dominance of live chat as a marketing automation tool. If you do, the consequences could be very unpleasant and exhausting, commercially speaking. And my arguments are pretty straightforward.
If you are a marketer navigating a fairly saturated niche, the deciding factor is that you will lose so many good customers to your thirsty competitors. Why? Because their customer support system is a bit slow and not slick in any way.
In addition to answering your customers' questions almost immediately, it is imperative that multitasking is part of the game plan. What do I mean? Well, this is not quantum physics or rocket engineering. It's as easy as chatting with your customers while they review other products in your store.
This is also an advantage for retailers. It is not only a good abandoned cart recovery remedy but also a profitable strategy for ordering your customers' conversations. If you don't want to spend a lot on phone support, don't look back.
In this article, we will look at the correct applications to connect your store with Shopify's very own chat tool. Your potential customers don't necessarily need to email you for some simple product description inquiries. There are more or more sales than just making the ordinary minimum.
So let's get started and then take a look at Shopify's live chat alternatives to use in your store.
Shopify Chat Review: Brief Overview
Technically this is a Shopify tool of its own (read our Shopify review ) and is available in your market for free. Assuming you're not new to dropshipping I bet you already know that. If you are a brand owner, no matter what plan you are using (Basic, Advanced, as the case may be), this application provides you with a real-time solution to communicate with your customers.
Its ease of use is quite remarkable. Basically, you won't need any professional skills to get everything up and running in your store. I gave it a full spin and didn't find its setup procedure complex.
So what exactly does this live chat tool bring to you?
You should probably think of this app as a multi-faceted extension that does more than just build rapport with you and your customers. Help new visitors to contact merchants in the easiest way.  You don't want to lose valuable customers as a result of a blurred communication channel.
Shopify Live Chat Review: Shopify Ping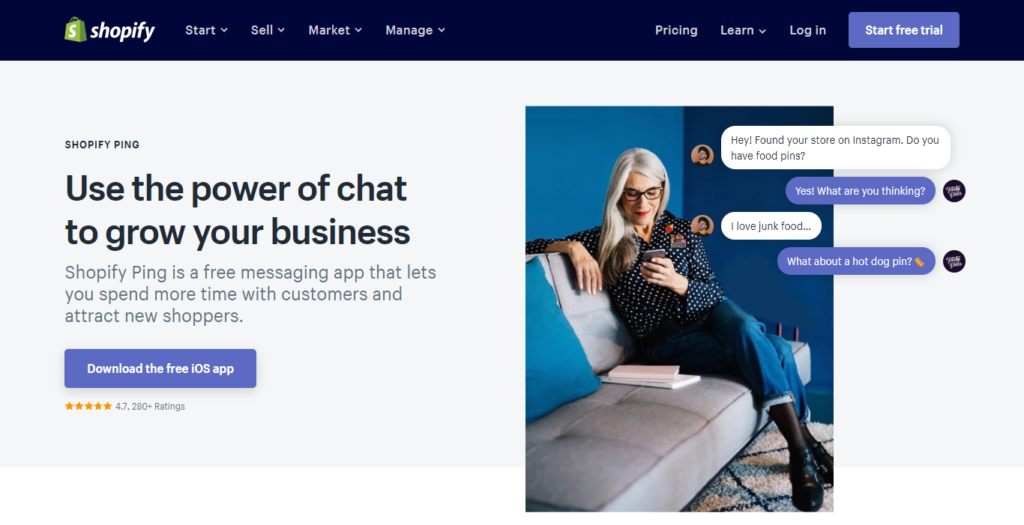 Shopify Chat does the smart job of putting your store on the right track by linking to Shopify Ping (read our Shopify ping review ). Maybe you've never heard of the Ping. However, don't worry. I'm about to tell you what it does and how to use its functionalities to increase the chances of setting up your prospects with already engaged and future buyers in the most fruitful way.
To renew your customers' shopping experience, you must give comprehensive answers to all the questions posed by your customers. So where does the Ping come in?
Like any other application, for the most part, it is designed to solve a problem. In this context, make a conversation relationship with your customers. It goes beyond the threshold by allowing the merchant to share their store's products and make direct sales without customers having to leave the chat.
What about the payment options?
That is already resolved. It is not obvious at all. Well, right now, customers can now use the Apple Pay app to pay for purchased items. This is quite doable since Ping is a free iOS app. Very soon, the app will be available on Android devices to fill the gap.
Depending on how it works, Shopify Chat tends to be a winning online sales channel as well as trendsetters; Instagram, Facebook, and the likes at the same time highlight the social environment that you would expect from one of the main counterparts.
With just a few clicks, merchants can send promo codes to their respective customer bases and make huge sales like never before.  Once you integrate your Shopify live chat application with Ping, you can easily, or if you wish, successfully do these extras;
You can add and make adjustments to the live chat button in your Shopify online store.
Give your customers good feedback in real-time by answering all queries through Ping.
Track all completed sales using the sales channel dashboard and Analytics pages as well.
And what are the prerequisites?
So easy. You just need to have an online store. As far as Shopify Ping is concerned, you need an iOS device to see all the updates and answer questions fairly quickly. As simple as it sounds.
The downside, however, is that Android users have been left out. However, I'm sure Shopify will take a look at this slowdown and consider it in depth before the obvious outcry gets a bit overdone.
What about the Kit?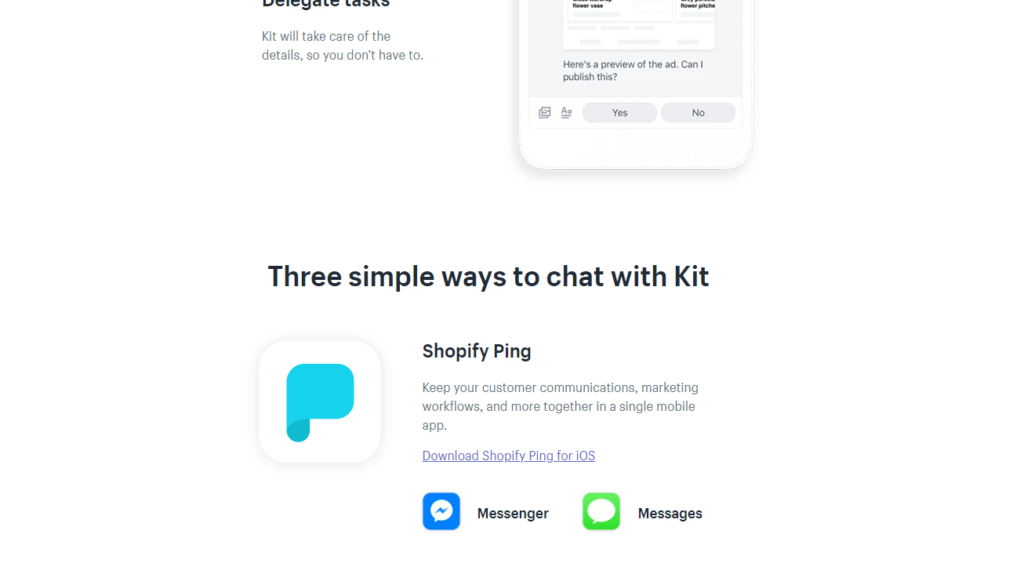 This is confusingly similar to Shopify Ping. The truth of the matter is that the two are intertwined to give you the most achievable results. In the most basic terms, the Kit is more of your virtual assistant.
Simply put, the Kit is owned by Ping. So this is what it does. It helps you run email campaigns, Facebook ads, retarget campaigns, monitor your shoppable posts, and much more from one point. Surprisingly, the Kit has powerful integrations that are built to be assertive. It's so dynamic in the sense that it ties in with other Shopify apps.
This symbiotic relationship between your tools certainly sets you up to optimize your marketing strategies. It has a built-in business assistant that automatically sends notifications to answer frequently asked questions.
Shopify Live Chat Review: Pros
The tool is free. No hidden costs of any kind
Supports mobile devices for iOS users (visitors)
Quick Install. Just a few clicks and you're done.
Integrate your Shopify store with the Apple Business Chat sales channel
Build your relationship with customers through Shopify Ping
Shopify Live Chat Review: Cons
It limits your access to message updates from your Shopify dashboard. Unfortunately, you have to download the Shopify Ping app which is only available on the iOS store.
It doesn't save the credentials of your previous clients This makes all your new messages anonymous or spam, to say the least.
Shopify Live Chat Review: What Are the Alternatives? 
Tidio Live Chat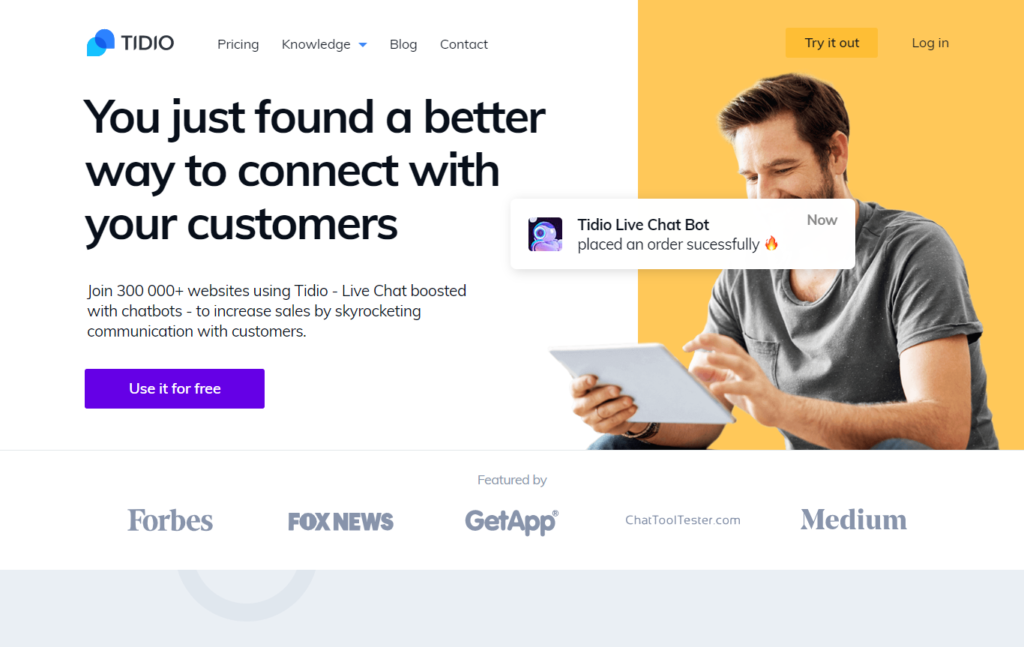 Tidio is primarily a live chat solution created to streamline customer and merchant communications without leaving the site. With this productive application, you can quickly respond to your customers' inquiries in seconds. The nicest fact about Tidio is that it is a free tool but has premium features.
If the free basic plan is not comprehensive and meets your needs, you can upgrade to the paid Communicator plan.
Tidio Communicator Plan 
For just $ 15 per month, you get uplifting and encouraging features that help you get the most out of your eCommerce store. So what makes it bigger than the free plan?
The main advantage of the paid plan is that you can see all the new visitors who are already writing a message, in real-time. This type of competition is very rewarding, considering how satisfying it is to respond to your customers as soon as the notification hits your chatbox.
But that is not the end.
The Live Visitor List also shows which country each potential customer is from. In case you don't know how to use this kind of distinctive information, this is the deal. This allows the merchant to work with accurate demographic data. This option works tirelessly in the same way as the popular Google Analytics to show you where most of your website traffic is coming from.
What is the end result?
You make data-driven decisions while budgeting for campaigns to convert outstandingly from your target audience. In other words, you'll know exactly which placements to focus on the most while modifying your campaign options.
This last option succeeds quite surprisingly. Tidio allows you to see all the page views along with the number of visits and the specific date accordingly. Take your product pages, for example. You can discern between those that get the most attention and the pages that get the least.
Lastly, Tidio allows 3 admins to simultaneously log into this plan. If you need to add a fourth carrier, you only need to part € 10.
Tidio Chatbots Pack
This plan is specially designed to start your conversions. It is mostly CRM (Customer Relationship Management) aimed at promoting the interaction of your store with existing and potential customers, both in equal measure. You should know that lead creation and sales management only need well-structured tools that analyze the historical data of your customers.
This allows you to stick to the most accurate forecasts and sharpens the predictability of your visitors' buying habits. You need to take advantage of the leads. Such signs are good odds that deserve so much attention.Tidio, not only integrates with Shopify, but with a couple of other CRMs such as HubSpot, Zendesk that we will study in a moment, and Salesforce.
The price of this plan also goes for $ 15 a month. Simply put, it gives you access to three impressive features. First, you have an option to help you with car abandonment issues. With the click of a button, you can send messages to customers who left without completing payment.
Second, in light of the above, you can automate loyalty messages to keep your repeat customers in your pockets. This amazing option allows you to recalculate your steps by allowing you to fill your chat box with special offers for your most valuable customers. Needless to say, this is a proven strategy for increasing your sales. The best part of all is building your customers' trust in your products.
In case you're out of reach, Tidio automatically responds to all your notifications, which seems like a great alternative for running your business even when you're in ' Do not disturb' mode, for lack of a better phrase.
This package has indomitable speed and hosting capacity, I must say. It gives you room for 5000 unique visitors. For starters, this is quite generous and exceeds basic expectations.
Aside from the preeminent Shopify, Tidio syncs with other great friends like Magneto, WordPress, Wix, PrestaShop, BigCommerce, and Site123, the list goes on.
Zendesk Live Chat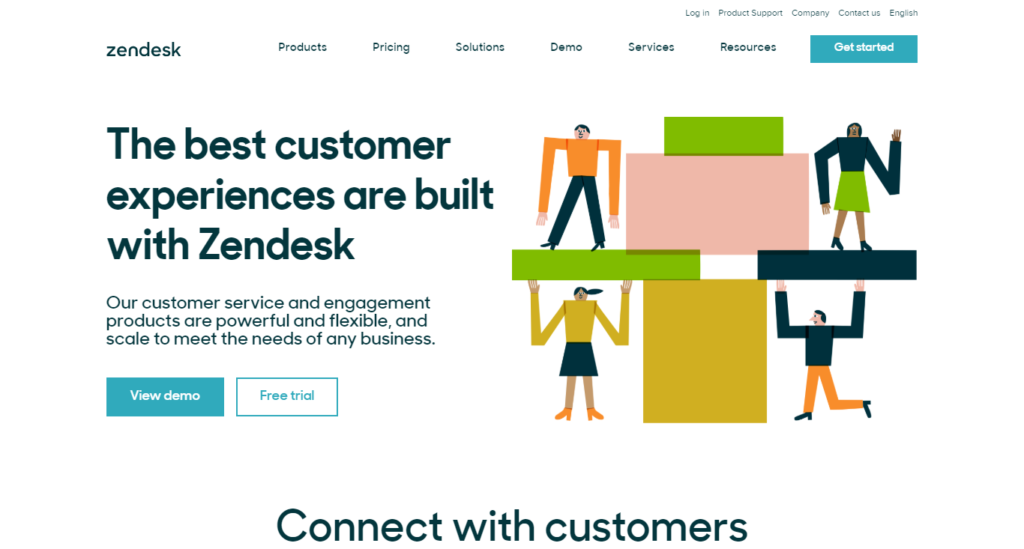 Like Tidio, Zendesk is a live chat application that allows the merchant to connect to clarify conversations with customers. If you don't trust my words, you can try its free trial version.
What makes this tool produce better results is its ease of use and compatibility. Respond both on mobile devices and through the web. As you know, creating a personal connection with your customers increases the likelihood of making sales that are fairly up-to-date.
Well, Zendesk helps you achieve those goals by helping you reach customers in real-time. Since it's practical to keep track of your pages here, you can automate push notifications, for example when your customers get stuck in the checkout process. To an unrelenting extent, this is a rigid solution to attracting your customers while they shop.
Zendesk goes the extra mile to provide you with market-oriented information that will help you make well-informed decisions for the productivity of your business. Its live chat analytics tool lets you measure your customer satisfaction and gives you suggestions on areas where you need to make adjustments.
As a merchant selling on a dynamic channel like Shopify, you typically need to work XNUMX hours a day. For this reason, Zendesk allows you to respond to multiple conversations, all at the same time. What's more fascinating is its pre-chat option that allows a merchant to request visitor information before even starting a conversation. Offline forms, on the other hand, allow customers to contact you for help even when you are not available.
By keeping track of all the activities that happen on your site, Zendesk generates a clear visitor list that shows the total number of unique visitors and the most viewed pages. In addition to that, this platform uses a chat rating system. It greatly improves the performance of your stores by helping you collect user feedback. By doing so, you can spot areas that you need to reconcile.
So what is the price?
Zendesk pricing is flexible for both small businesses and businesses. Each plan comes with a free trial. Let's see them. The Lite plan is usually free. It comes with the chat rating solution discussed above and stores all of your chat history for a period of 30 days.
The Team Plan goes for $ 14 per user, per month. This allows you to customize your widgets and send 2 goal-oriented triggers to your customer base. The package connects to public applications and gives you unlimited space to store all your chats. Zendesk has a Professional Plan that costs $ 29, in case you feel like 2 triggers are not enough. It does not limit the merchant in the number of triggers and has a conversion tracking option.
Unlike the previous plan, this particular package connects you to private apps and creates well-analyzed reports from your chat history. Finally, the most premium of all is the Business Plan  You need to separate from $ 59 per agent, per month to use its most prominent features. It gives you access to a real-time monitoring dashboard and 24/7 live chat support.
Shopify Live Chat Review: Final Say
Judging from the way this tool works, it might be the only chat app you need to interact with your customers on a personal level. If you need to increase your sales, your relationship with your site visitors must prevail. All things considered, Shopifychat Live seems like a relatively competent tool to help you with such tasks.
Alternatively, the likes of Tidio, Zendesk, and Chat can still give you standard performance while interacting with your customers.