As it stands in 2021, there are over 12 million online stores. With this number only increasing, driving traffic to your website will become more and more difficult. One of the reasons for the rise of online stores is Shopify.
The platform makes setting up an online store simple and frictionless. This has led to a significant influx of new sellers. The increased competition has proven to be extremely difficult for some, with many stores receiving minimal numbers of visitors. Minimal traffic means minimal sales. So how do you solve the problem of increased competition and low traffic? Here are our top strategies for finding simple, inexpensive traffic management solutions.
Table of Contents
Why traffic is crucial for store success
Sources to increase traffic
Free sources
Paid sources
Reasons for low traffic to your Shopify Store
Strategies to Drive Traffic to Your Shopify Store
Use search engines organically
Create compelling content
Launch paid advertising campaigns
Integrate social media
Cooperate with influencers
Final thoughts
Why traffic is crucial for store success
Traffic is essential to the success of any website. To put it simply, the less traffic you have, the less likely you are to have buyers. Not everyone who visits a store will make a purchase every time. However, the more visitors you have (higher traffic), the more likely you are to make sales.
Raising traffic rates is about bridging the gap between consumers and brands. The more you can reach interested customers, the more successful your brand will be in terms of sales. However, increasing traffic successfully is only half of your task. You also need to make sure that the customers you bring to your store find what they're looking for. Otherwise, you won't make any sales and your bounce rate will increase. This will cause long-term bad effects due to Google's algorithm perceiving your store in a negative way. This will cause you to rank lower and hamper your traffic instead.
Sources to increase traffic
If traffic is an issue for your website, you may need to find new sources to increase the number of visitors your store receives. Here are some of the best free and paid sources for increasing traffic to your store:
Free sources
Free sources are ideal for those who want to increase their store traffic on a budget. They are also ideal for testing theories on how best to increase your traffic.
Discount codes and offers
Discount codes help attract customers to your store, not only to browse it, but also to purchase. Special offers can also be used with surveys and other tools that help you better understand your customers.
Main Benefit – This method can help attract new customers or at least help you collect more information about why someone is/is not interested.
Connect your social networks.
By connecting and interconnecting all of your social media accounts with your store, people are more likely to find out. Especially if your accounts are active. You can also participate in social media groups where you can find many people interested in your product. However, if you intend to do such a promotion, you should make sure that it appears to be genuine and not an attempt to sell.
Main benefit – You will be more likely to increase the number of visitors to your social media pages, as well as to your store. This gives you a chance to exert additional influence and continue your effort to increase traffic.
Newsletters to existing customers
By regularly sending newsletters to existing customers, you can make sure they are on top of updates to your store. If it's a new product, it can increase both traffic and sales. Additionally, if current customers are notified of updates, they can distribute information about your store.
Main Benefit – Keeps current customers up to date with what's in your store and therefore tends to keep existing traffic levels to a minimum.
Paid sources
Paid sources are ideal if you know how to best increase your traffic. They are useful if you have a higher budget and want to use as many sources as possible to reach new customers and increase traffic to your store.
Paid advertising on social networks
Advertising on social media is a great way to increase your traffic. Social media platforms such as Facebook, Instagram, and Pinterest offer various forms of advertising which all help to market your business. You can even set your goals for campaigns and decide on your budget to keep your advertising profitable.
Main benefit – You can target specific demographics, choose budgets, and set your ad times. You can also choose to develop relationships with current customers or seek out new customers, both of which can help increase traffic.
Paid advertising on search engines
Paid advertising on search engines such as Google, Bing, or Ecosia allows you to appear in specific search terms. If done correctly, it will increase your traffic. You may need to spend some time on this method, as finding the right keywords can take some research. However, the rewards are well worth it.
There are two forms of search engine advertising. One is the traditional search ad and the other is the shopping ad. The main differences between the two forms are where and how your ad will appear. With a search ad, it will appear on the standard Google page, either at the top or bottom of search results pages. With a shopping ad, it will visually appear at the top or side of a page, as well as in the Shopping tab.
You can also combine the two forms of advertising to get the best results and maximize the effectiveness of your advertising.
The main benefit – Attract people who are genuinely interested in purchasing your type of product. Therefore, you not only increase your traffic, but you will probably also increase your sales.
Return to the top of the page or download the complete Google Merchant Center guide
Reasons for low traffic to your Shopify store
One of the main reasons for a lack of sales is low traffic to a Shopify store. But what are the main reasons for the low traffic itself?
Targeting the wrong demographic
Research is important to make sure your store gets lots of visitors. If your ads aren't reaching the right demographic, users will either decide not to click on them initially or to bounce straight out of your store. Either way, the outcome for you is bad. Therefore, you should always make sure you know who to target and when.
Poor quality photos in ads
Ads are a great way to drive traffic to your Shopify store. However, if the photo in your ad is unclear or misleading, people may be dissuaded. They can even choose a competitor's product instead. A good quality image is therefore essential. 
Poor quality stream
The data streams are files containing specific information about the products in your shop. They allow you to keep your stores and advertisements up to date and maximize their potential.
The poor quality feed can seriously hamper the success of a Shopify store. A poor feed might lack a product description, advertise out-of-stock products, or have one variation like another. All of these points can contribute to low traffic because customers will be less convinced by the product in the advertisement, even if they see the advertisement in the first place.
No call to action
A lack of a call to action can lead customers to simply not engage with promotions or advertisements. Therefore, they can fly over your product and your store.
No obvious social media links
No clear social media can get in the way of a Shopify store. Many customers prefer to contact businesses through social media to ask questions about products or services. If a brand's social media isn't visible, they can choose to move on and not buy with you.
No contact pages or information
Similar to social media, if there is no information about the brand, buyers may not trust the company. A lack of capacity to contact them also contributes. It also doesn't allow customers to ask questions and leaves a big gap between the brand and the consumer.
No return policy
This is generally a bad business practice. Customers simply won't trust a store without a return policy.
No website navigation menu
A non-existent navigation menu can make it difficult to navigate the website and therefore deter customers from visiting product pages. Thus, reduce traffic and sales. 
Poorly designed website in general
A poorly designed website can load slowly. This can result in a high bounce rate as customers lose patience.
Strategies to drive traffic to your Shopify store
It's important to have a clear strategy when it comes to driving traffic to your Shopify store. However, there is no one-size-fits-all approach, which means trial and error is often required to find the best strategy for your business. When trying to test a plan to improve traffic, there are a few things that every business should consider. These include:
It's budget
The demographic group she aims to reach
The type of business she runs
The type of business she wants to be
Once these factors are taken into account, a strategy can be implemented. So what are the different strategies that can be used to generate traffic?
Use search engines organically
Using search engines is a great way to drive traffic to your Shopify store. If you decide to drive traffic organically using search engines, you will need to use SEO. 33% of clicks on Google go to the first organic search result. Therefore, successful SEO implementation will generate much more traffic than ignoring this method. However, getting that top spot can be quite difficult. You will need to use all of the following website techniques to have a chance of reaching # 1:
Keyword research – check which keywords high-ranking competitors are ranking for, as well as which keywords are most related to your landing page and product. This will ensure that the right people will see your ad, while Google will see it in a positive light.
Quality Content – High-quality content that both Google and the average user will understand and enjoy
Effective Title and Description – Use the ideal keywords in your title and description (phrases found during topic research)
Organic SEO will generally require a small degree of trial and error. You can measure your organic SEO performance by benchmarking yourself against your competition, regularly checking for keywords, and looking at other metrics including impressions and click-through rate.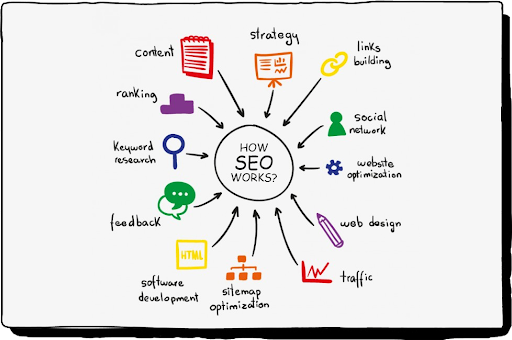 Source: artattackk.com
Create an attractive content
Top-notch content can also drive traffic to your store. Content is especially useful if you regularly engage in creating original content. This helps establish your brand as a leader in your industry, while also driving engagement and building relationships with your existing customers.
The effectiveness of content can also be increased by including keywords so that it ranks well on search engines. On top of that, you can make more use of the content by sending blog posts as newsletters and re-engaging existing customers.
To maximize the effectiveness of your content, you should try to offer a range of forms. This includes blog posts, videos, podcasts, and even ebooks. Better yet, organize your content for each step of the buyer's journey and you can even guide potential customers through a purchase!
source: neilpatel.com
Launch paid advertising campaigns
Running paid advertising campaigns can be very lucrative in increasing your traffic. Paid campaigns can range from social media campaigns to PPC campaigns on Google. Social media campaigns are ideal for many businesses because they can target your specific demographics at any time and any budget you choose. Google's PPC campaigns allow you to target via keywords and charge yourself per click. The amount you pay per click depends on your maximum bid. However, if someone is bidding more than you, your ad may be placed in a less visible position.
Social media campaigns and Google PPC campaigns rely heavily on the quality of the list and its feed. If done correctly, an ad will run to the right audience. Conversely, it will be money lost.
Use Power of social media
Social networks are the gateway for your customers. This is the best way to build relationships with them and also offers a good opportunity to strengthen your brand identity. When it comes to driving increased traffic from social media, Facebook is second to none. Almost two-thirds of all social media visits to Shopify stores come from Facebook. With 85% of all orders based on social visits also coming from the site.
To generate your own traffic from Facebook or other social networks, there are a few things to keep in mind. First, driving social media traffic requires commitment. This means that if you are a large company, you can manage this on different platforms. However, small businesses should probably pick the most lucrative platform for themselves and focus on it.
Second, since social media is a bridge between businesses and consumers, it's the perfect place to get feedback. Many customers will come to you on social media and ask you questions. This is the perfect time to create a relationship with the customer and a positive brand image. This in turn will continue to create more traffic in the future.
Last but not the least, social media posts should be sales posts. They should promote the products and the brand without appearing pushy. Calls to action should always be included, but they should offer something to the customer, like a promotion or a positive message. The goal may be to drive engagement and traffic, but it needs to be done with concern for the brand's customers.
Co-operate with influencers
A slightly different way to increase traffic is to use influencers. By using influencers, the goal is to generate traffic by increasing brand awareness. Using an influencer will ideally generate more store visits and more sales because their opinion matters to those who trust them.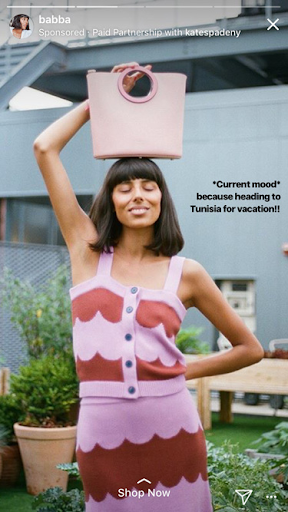 Source: Instagram
Many influencers use social media as their primary marketing tool. Instagram and Youtube influencers tend to be the most viable options for brands. Starting a campaign with an influencer is usually as easy as reaching out to them through social media and agreeing on what both parties want. To find a suitable influencer, try researching hashtags that relate to your goals or campaign. Alternatively, there are different platforms that give you free and easy access to the best influencers in your industry.
You should try to make sure that the influencer you decide to use also reflects your brand and campaign values. Make sure they share your goals and have the audience you're looking to reach. You can usually get a good idea of ​​all of this by looking at their content before your engagement.
Return to the top of the page or download the complete Google Merchant Center guide
Final thoughts
As the competition continues to grow, it's critical to remember your marketing strategy when it comes to your Shopify store. Generating the right traffic will boost your store's success.
Remember to build your strategy around your own budget and your own research. This will allow you to get the best value for money from your advertising while attracting the greatest number of potential customers.
To further maximize your potential traffic, remember to stay on top of your feed. Update it as needed and enjoy your most lucrative products.