Thanks to all the technologies available to us today, the same consumer can be present on several devices. With multichannel selling, you can meet your customers where they are.
In its research, Shopify found that selling through additional channels generates additional income. On average, revenue increases by 38%, then 120% and 190% respectively for each additional channel.
Shopify is a platform that allows you to create and host your online stores. Over 20 channels are available, giving you the ability to extend your reach while optimizing your work.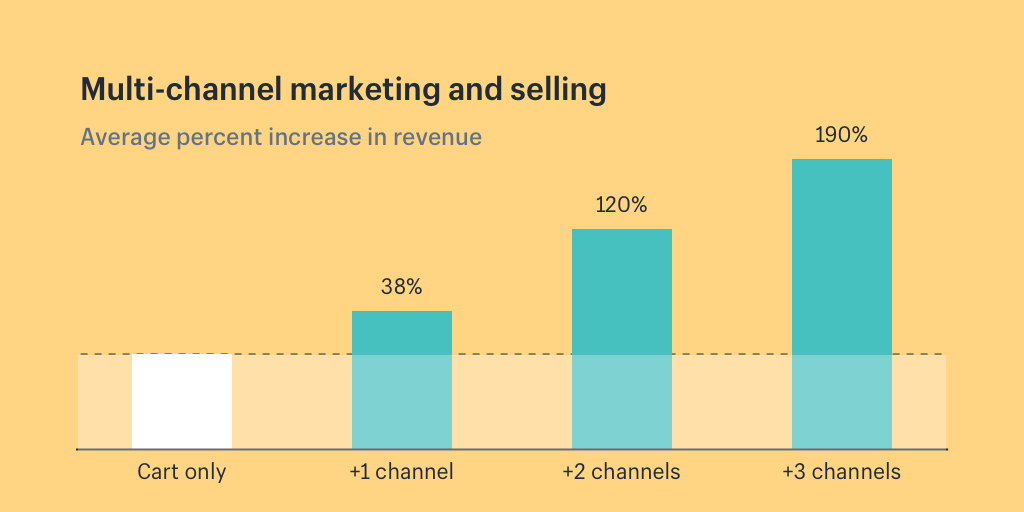 Summary
Go multi-channel: sell wherever your customers are
Multichannel selling: opportunities and challenges
Conclusion
Go multi-channel: sell wherever your customers are
Why is this important?
Multichannel selling goes beyond just advertising and allows you to market your product through different channels. It is certainly not an easy task, but it is worth the hard work to have a solid presence in your market. This encompasses channels such as marketplaces, social networks, marketing applications and online communities. The best way to discover your target market is to know where your customers are already spending their time.
There are many places where your potential buyers can be. This is indeed what a survey of American consumers reveals:
54% have made purchases from online marketplaces
74% made purchases in supermarkets
44% shopped in online stores
36% have made purchases from specialized online merchants
You may have also heard of omnichannel selling. While the two are close, the difference is that the goal of omnichannel selling is to deliver a seamless experience for your audience, regardless of where they come in contact with you.
For multichannel, the strategies are a bit different because they see each buyer's journey as a separate experience. You can choose to present different prices, promotions and advertisements depending on the channel where they are located. For example, you can offer a product at a lower price on your own site, but at a higher price on Amazon.
The different types of distribution channels
Shopify allows you to sell through its own platform, but it is also integrated with other distribution channels. By selling across a wide range of channels, buyers are likely to come across you in more than one place.
Marketplaces
These sites, like Amazon and eBay, allow you to reach established audiences. A study by Digital Commerce 360 ​​shows that in 2019, marketplaces represented 58% of online sales.
Social networks
These include Instagram shopping posts , Facebook stores, and Pinterest shopping pins . Users who browse these platforms will find your articles and can purchase them directly from your posts.
E-commerce platforms
Using e-commerce platforms allows you to sell your products directly from your site. Technically, it is software that makes the link between the merchant and the buyer. Thanks to this, you can manage all the stages of a sale, from the presentation of your items to the payment process. Shopify and BigCommerce are two well-known examples.
Price Comparators
These channels allow you to view many products simultaneously and compare information between different sellers, such as price and shipping costs. The one you probably know the best is Google Shopping.
The best distribution channels for e-commerce
Here are some of the major players in e-commerce that you need to pay special attention to:
Amazon
In the United States, a study by NPR found that 44% of shoppers start their search for a product on Amazon. In comparison, Google ranks second with 33%.
To start selling on Amazon , you need to select the program that's right for you. If you sell less than 40 items per month, you can choose between the fee-per-sale option or the monthly plan. Amazon also has a cost calculator that allows you to estimate the costs to be expected in your case.
Shopify
Shopify makes it easy to sell your products from your own site. They provide you with everything you need to start and run your online store. To get started, you can choose from their fully customizable templates. Then you use this space to sell your products safely. You can either use a domain name you already own or create a new one.
eBay
eBay has 167 million active users. And although the site is famous for its auctions of second-hand items, around 80% of total sales are for new products. By creating a perfect listing , you will be able to stand out on eBay.
How to get started – move your Shopify products to multichannel
To get started, you need to put your business in the center. By having a product feed as a starting point, you will be able to create a catalog for multiple distribution channels like Google Shopping, Amazon or Facebook. Your product feed is a document that contains all the information about the items you offer. It includes unique identifiers, titles, prices, images and many other elements. Usually everything is saved in a text file or spreadsheet.
If your products are already on Shopify, you can export your feed:
Go to the administration page
Click on Products> All products
Export
Choose the products you want to include
Indicate the file you want to use
However, in the long run, this method is not recommended because it is not possible to update the file automatically. To ensure that your products are up to date, you would have to manually download the file at regular intervals, which might take some time.
To make sure your products are up to date, you can connect them to a third party app. For example, if you are using DataFeedWatch, all you need to do is create a connection by adding a store and inserting your Shopify address. This will give you peace of mind, since your out-of-stock products and any other changes made will be updated periodically. Your data will be downloaded daily and sent to the channels you use to keep it always up to date.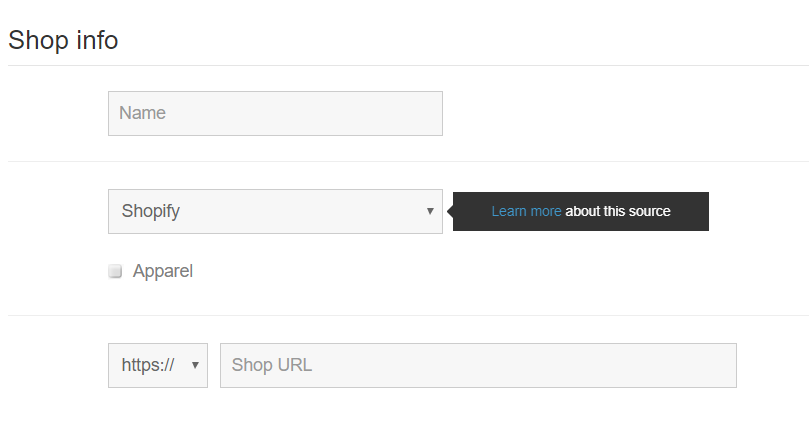 Another way to generate your Shopify feed is to use a direct API connection. This method also allows you to regularly send data about your current products to the channels you use. The only downside is that you won't be able to optimize your feeds for specific channels ahead of time. Instead, they'll be delivered exactly as they are in your Shopify store.
Also, you may not want to distribute all of your products to all channels. A useful tip is to specify for each channel the products you want to include or exclude. Determine which items will be sold on which channels and whether you are able to compete with other sellers on price.
There are a few rules that you should keep in mind when building your multi-channel strategy, here they are:
Determine which channels your buyers are choosing
Identify common buying patterns for these channels
Find out how the platform works
With this information, you can begin to reconstruct the buyer's journey. Each is unique, so you can use them to approach them in a personalized way.
Return to the top of the page or download the complete Google Merchant Center guide
Multichannel selling: opportunities and challenges
Inventory and logistics Challenge
As you expand the platforms you sell on, some aspects could become problematic as well. The two biggest hurdles you are likely to encounter are inventory management and planning.
Indeed, when you sell on several sites and there is no communication between them, there could be conflicts. You risk selling out-of-stock products while advertising them.
Another potential problem is the stock shortage itself. While you wait for your product, buyers will likely find it elsewhere, causing you to lose a sale.
Solution
This is where Shopify's "inventory tracking" feature comes in handy. It allows you to automatically hide unavailable items.

It is important to note that if you are using Shopify POS (Point of Sale), you can continue to sell the out-of-stock items as the system assumes that you have the products in your possession.
As a security measure, you can create rules in your feed for each channel to prevent out-of-stock or very low-quantity products from being visible. This will prevent you from wasting your advertising budget and selling your products beyond their capacity. In DataFeedWatch, you can do this by creating a simple exclusion rule:

As you sell on multiple channels, you cannot wait until your product is completely sold out to stop its distribution. You need to give yourself some leeway, since someone might make a purchase on another channel before your product data has synced. Once these products are back in stock, they will automatically be displayed.
With inventory tracking, you can also predict which items you need to restock and when. To do this, you must take into account:
Previous data on quantities sold
Upcoming promotions you plan
Future forecast for this product
Pricing

Challenge
Consumers have become accustomed to seeing different prices depending on the channels they frequent. But this can create difficulties for sellers. Each channel you use has specific costs and competitors, so each of them needs their own strategy.
For example, some channels may have higher costs than others, which means you will pay more per product sold.
You might also notice that there is a higher demand for a given product on a particular channel. In this case, you will need to implement a competitive strategy. To compete with other sellers, sell your products a little less than the competition to get more buyers to come to you.
Solution
You have to adjust the price of each channel in a simple way. Remember that this will not be possible for everyone, due to their specific requirements. For example, with Google Shopping, your products will be rejected if their price does not exactly match what is on your site. But with Amazon or eBay, that won't be a problem.
Here we have increased the price of products sold on Amazon by 10% to compensate for fees which are generally higher there than on other channels:

Promotions
Opportunity
Determine the perfect time to present the right promotion to the right customer. A good example is the use of overlays when entering and leaving your site. When a consumer arrives at your site, you can display a pop-up window with a time-limited promotion that will encourage them to complete their order within that same session. This gives him a unique experience directly based on the actions he performs.
Shopify has a section called "Automation". It contains a wide range of free and paid applications to automate your marketing.

To find them:
Go to the "Marketing" tab.
Click on "Automations".
Click the "Create Automation" box.
A window appears. Click on "Visit the Shopify App Store".
Search! As you can see, there are a ton of results.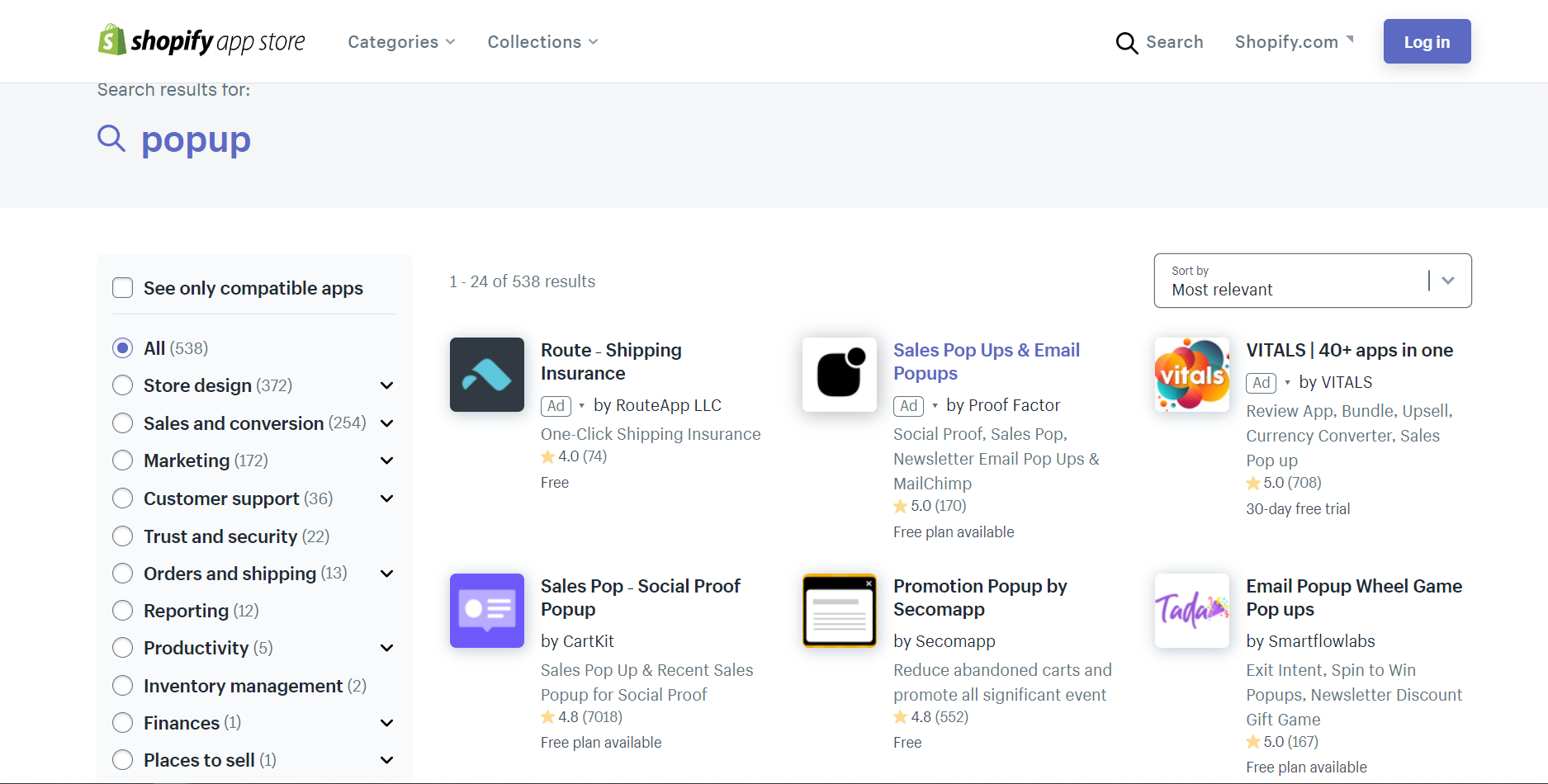 Selling on the wrong channels
Challenge
Not all channels will be right for you and your business. Before committing to a new channel, do some research and analysis. You need to ask yourself questions like:
Will this platform make it possible to reach the right audience?
How long will it take to configure and manage it?
Does this platform match my budget?
Is the channel compatible with your existing order management system?
Flux
Opportunity
Your product data feed is the backbone of your multi-channel marketing strategy. Channels generally have slightly different criteria and stream formats. For example, ads for products on Facebook require the attribute "status", while for Google Shopping it is optional for new products. By creating a main flow, you will reduce your workload. Rather than creating a whole new feed each time, just clone your feed and make changes from there.
When using DataFeedWatch, you can easily create your main feed using internal fields . Then it's just a matter of optimizing the cloned stream and making sure the data appears the right way. All required fields will be displayed so you can be sure that you don't miss anything that is required.
To copy the mapping from one channel to another:
Select the channel feed that you want to create and optimize.
Click on the "Mapping" tab.
Click on "Copy from another channel".
4. Choose the channel you want to copy.

Return to the top of the page or download the complete Google Merchant Center guide
Conclusion
People who visit your site can come from social media, an organic search result, or paid ads. No matter how they find you, each channel reveals a slightly different situation. By using multi-channel e-commerce software, you can organize and manage all your channels on one dashboard, so you don't get overwhelmed.
From there, you will be able to edit the ads, change item descriptions, and most importantly, measure the effectiveness of the results. By combining DataFeedWatch and Shopify, online store owners can use their product feed to sell and serve ads across multiple channels.